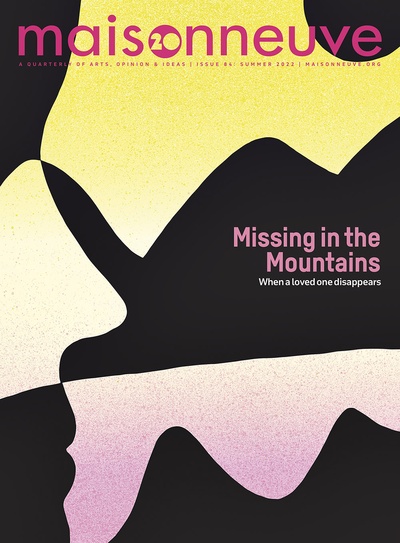 Our Summer 2022 Issue
June 23, 2022
Cover story: Canadian Jesse Galganov vanished while travelling in Peru in 2017. As his community looks for answers, it's impossible to know when to stop searching or start mourning, writes Ben Libman. On our cover, artist Eunice Luk and art directors Rachel Wine and Brian Morgan show the haziness surrounding this kind of loss.
In the Okanagan, reports Paloma Pacheco, wine and wildfires make for a problematic pairing.
Time restraints in long-term care homes create tension for residents and workers. Jackie Brown and Leanna Katz consider alternative ways to structure their days.
Yasmine Dalloul is proud to be Palestinian. She unpacks why that makes Canadians uncomfortable.
Cori Howard didn't think anything could come between her and her closest friend—let alone a vaccine.
When Jess Goldman's bubbe died, her grief was matched only by her horniness.
"I Am So Impressed With You": A new comic from Napatsi Folger.
Sharine Taylor reviews photographer Jorian Charlton's first solo exhibition. 
Alina Smutko chronicles life through war in Ukraine.
Plus new fiction from Tom Thor Buchanan, a Letter from Montreal by H. Felix Chau Bradley, The Book Room, The Music Room, and more!