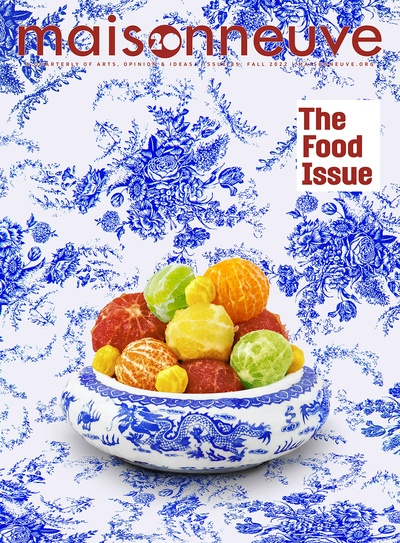 Our Fall 2022 Issue
Sept. 20, 2022
Cover: Food can be personal and political, soothing and shocking, miraculous and mundane. On our cover, artist Shellie Zhang and art directors Rachel Wine and Brian Morgan show a bowl of fruit brimming with possibilities.
As climate change threatens global food security, Ruth Kamnitzer explains how seeds from the past are safeguarding food for the future.
Right-wing populism is on the rise in some Canadian farming communities, reports Sophie Kuijper Dickson. Will it put our food systems at risk?
It's not easy being hot and serving ice cream waffle sandwiches at the Ex, Alexandra Kimball knows—but someone has to do it.
Asian supermarkets have become a one-stop shop for cultural identity. Katia Lo Innes wonders if consumerism comes at the cost of community.
Washing meat is tradition in Black homes, writes Jody Anderson. The practice shouldn't need defending.
Abandoning the desire to make a perfect cake, Chantal Braganza finds meaning in the mess.
Métis people have always asserted sovereignty through their food knowledge. Samantha Nock's family carries on the tradition through kitchen table governance.
From her nenek's kitchen, Sofia Osborne shares a recipe for holding her grandmother close.
In a country with countless culinary options, Jadine Ngan asks why it's so hard to find food from the Philippines.
Diablita: A new comic from Dora Prieto.
Plus new fiction from Billy-Ray Belcourt, poetry from Britt McGillivray, the Book Room, the Music Room, and more!