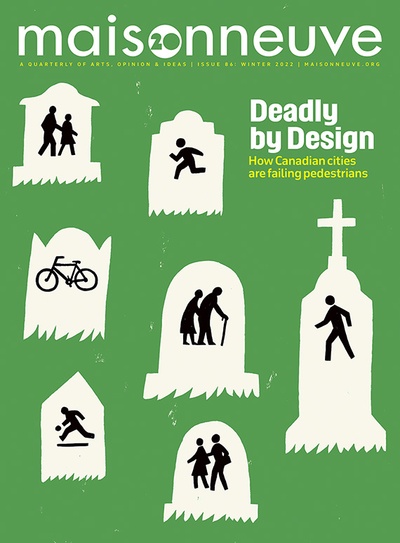 Our Winter 2022 Issue
Dec. 9, 2022
Cover story: Canadian cities keep prioritizing cars over communities, reports Lana Hall. On our cover, artist Gillian Wilson and art directors Brian Morgan and Rachel Wine show the deadly fallout.
There is a pill that makes Fawn Parker happy, she writes, and another that makes her see her own death.
For Scarborough residents, the closure of a major transit system means losing more than a mode of transportation, reports Sakeina Syed.
When a blue whale dies, asks Allison LaSorda, are we grieving for the animal or ourselves?
Angelina Mazza spends a lot of time looking at her body. And yet, she explains, she's never truly seen it.
Plus new photographs by Caroline Monnet, a comic from Paterson Hodgson, a Letter from Montreal by Cason Sharpe, and much more!