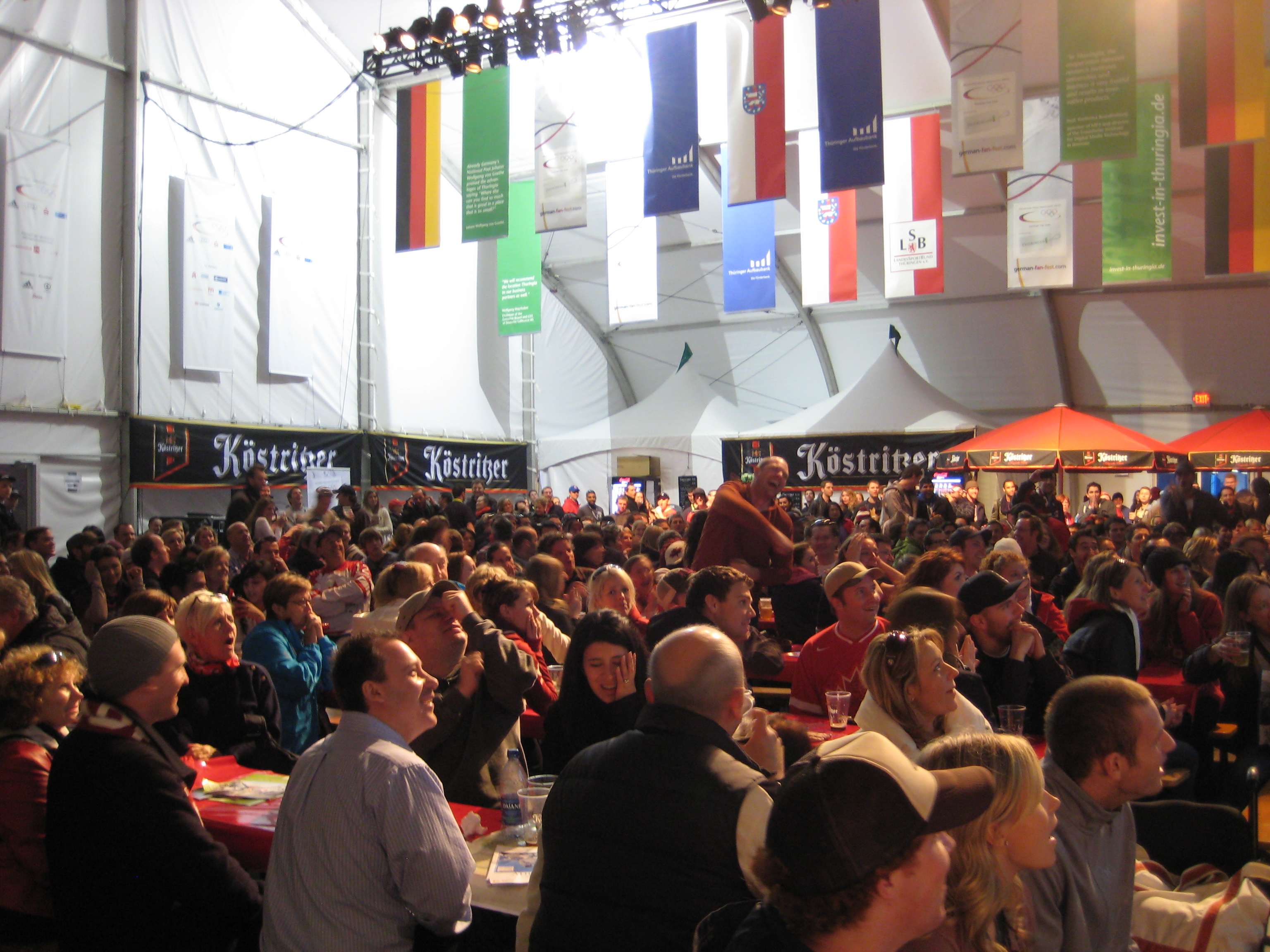 Olympic correspondent Paloma Friedman is in Vancouver to take in the 2010 Winter Games and related celebrations. Today, she profiles the fan-demonium at the German House.

"We will win men's hockey this year," deadpans Tobi, a teacher from Hanover. I'm inside the German house, a huge tent erected at Vancouver's Waterfront station, several hundred meters from the Olympic cauldron.
Tobi's bold claim is edged in doubt, and then he caves. "We are no match for the Canadians. But we win gold in this," he says, lifting his plastic beer cup several inches off the table.
Late on a Sunday afternoon, as the day's glorious sunshine fades into dusk, the German house is packed to the rafters with fans of all nationalities, and hundreds more are lined up patiently outside to get in.
"You don't see this in Germany," says Nadin Preidel, a former speedskater and one of the German House's organizers. She seems surprised that people would wait for two or three hours, even in the rain, to get into the tent. "People are very friendly. We feel very welcome."
The men's moguls finals are playing on the television screens, and fans, fueled by Thuringian bratwurst and Köstriker Schwarzbier, cheer their respective athletes. The clear favourites, however, are the Canadians. But the fans share one thing: intense dislike for the Americans. When U.S. skier Bryon Wilson readies himself at the top of the run, the room fills with thundering boos.
Skier Dale Begg-Smith also garners some jeers. Begg-Smith, who is Canadian by birth, but competing for Australia, where he lives, is considered traitorous and refuses to give interviews to Canadian media. His lightning-fast run puts him in first place, knocking out Vincent Marquis, a Canadian who is leading in the standings. Then Alexandre Bilodeau zooms down the hill, bouncing flawlessly between humps of snow. The crowd erupts into deafening cheers of "CA-NA-DA! CA-NA-DA!" and breaks into an impromptu singing of "O Canada." Canada's first Gold medal on home soil is all but certain.