Five Ring Circus: Neutral Ground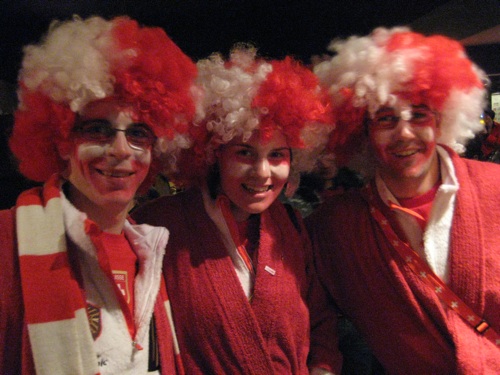 Photo by Iva Gruden
Olympic correspondent Paloma Friedman is in Vancouver to take in the 2010 Winter Games and related celebrations. Today, she profiles the House of Switzerland.
The first thing I encounter when I enter the Swiss House is a wall of stench. A few seconds later, the scent jogs my olfactory memory and I am taken back to Geneva, where I first met the putrid aroma of cheese fondue.

While I adjust to the smell, I take in my surroundings. The resto-bar is lively and a Swiss sports channel replays the highlights on flat-screen TVs. A crowd gathers around a young man as he puts back a pitcher of beer. A trio bedecked in red and white clown wigs and Swiss flags walk past. Nearly everyone is dressed in red and white, and in the dim lighting, it takes a little longer to register who is Canadian and who is Swiss.

Some are wearing jerseys, and I learn that the House is playing host to the Swiss women's hockey team, who were defeated 10-1 by the Canadian team earlier this afternoon. However, true to the Swiss stereotype, the ladies don't seem so dejected by the loss. In fact, there is a lot of celebrating (read: bar-dancing) going on. Goalie Sophie Anthamatten, 18, is happy with the day's game. "We are a young team, and the Canadians are very strong."

Rico, from Zurich, likewise does not seem disappointed. "Women's hockey is not so popular," he says. "But she's looking really good," he says, pointing to Sophie, "so maybe she make hockey more popular."

This is his sixth time in Canada—he says he loves it here. To prove his point, he begins singing "O Canada," but off-key and with words mangled. When he's done, he wishes me a "Happy Olympics."
Read about Friedman's visit to the German house.