82nd Academy Awards Celebrate Mediocrity, 3D Blue Things, Sandra Bullock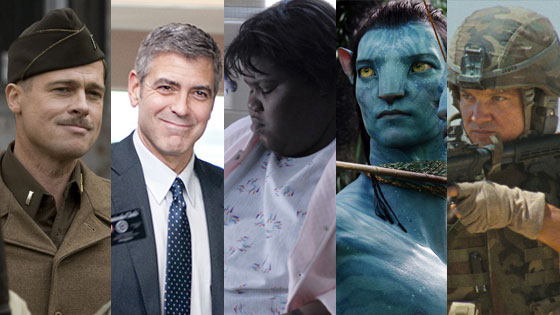 This morning, the Academy of Motion Pictures Arts and Sciences released the complete list of nominees for the 82nd Academy Awards. It's an interesting list.

First off, I'd feel remiss if I didn't mention that I really don't give a shit about the Oscars. Like its showboating cousin, the Grammys, the Academy Awards are just another annual celebration of mediocre entertainment. Its narrow (read: American) focus only serves to repeatedly reward the same gaggle of filmmakers, actors, and producers. See, for example, Meryl Streep, who landed her sixteenth nom for her appearance in Julie & Julia, in which she performed a whole one step above a MAD-TV parody. But all these gripes are pretty old hat.

This year proves curious for another reason: ten best picture nominations. You'd be hard pressed to find ten studio pictures released this year that are decent enough to be feasibly considered the "best" of anything. The L.A. Times blog reported that Oscar voters were scrambling to find ten films for the list, some opting for dark horse picks like Drag Me To Hell just to pad out their ballots. (Drag Me To Hell, for the record, diagrams the human fallout of the 2008 economic meltdown with far more panache and vigor than Up In the Air.)

So who do we have for best picture? All the usual suspects. There's The Hurt Locker, Inglourious Basterds, Up in the Air, the poverty porn Precious. There's glitzy stuff like Up, District 9, and of course Avatar. Then there are the quieter contenders; The Blind Side, An Education and the Coens' excellent A Serious Man. What's going to win? With ten pictures it's a bit of clusterfuck. If there's any justice in the world, Avatar will sweep the Achievement in Visual Effects, Achievement In Third Dimensions, techie categories and leave the real daramas alone. Now I'll defend Avatar until I'm Na'vi-blue in the face, but never as a real movie. Cameron's a popcorn salesman. And he should be rewarded accordingly.

Otherwise, the real competition would be between the two best films on this list: The Hurt Locker, and A Serious Man (both of which a near-perfect, and slightly better than Basterds). Between these, The Hurt Locker would take it. It's a timely, exit-strategy epoch Iraq II film, which speaks to the bleak realities of the U.S. military's role in the Middle East that really seemed to resonate with Obama's America. But because there is no justice in the world, the Oscar will likely go to Up in the Air.

Up also seems a likely candidate, as the whole expansion to ten best picture nominees seemed to be a response to the shaft Pixar's prestige pictures have gotten in the past few years. It's the first time since Beauty and the Beast in 1991 that an animated film has been nominated for Best Picture, and considering the momentum of Pixar outings like Ratatouille and WALL-E, it may be time for the little-studio-that-could to reap the rewards of the near-universal critical acclaim they've been garnering pretty much since Toy Story.

So, I guess my pick for Best Picture? The Hurt Locker. Or Up in the Air. Or Up. Maybe Basterds. But probably not. With ten movies, it really does seem like a crapshoot.

Speaking of crap, another Oscar first: Sandra Bullock has been nominated for both Best Actress (for The Blind Side) and Worst Actress at the Oscar's snarky doppelganger, the Razzies, for All About Steve. Something about Sandra "Speed 2: Cruise Control" Bullock getting nods for both Best and Worst Actress honours seems to aptly sum up the state of commercial filmmaking ca. 2010. I can't really suss out exactly how right now. My head still hurts from seeing Precious get nominated for an Academy Award.