Interview With Patrick J. Stefano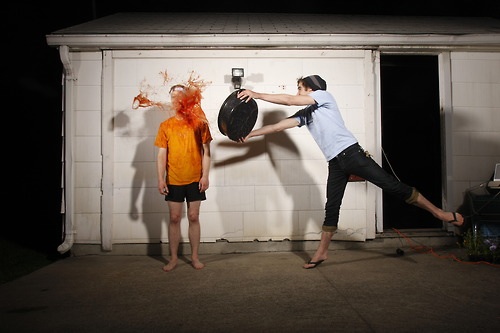 Should an uprising against bad tunes ever take root, this issue's main feature, "The Music We Hate," just might be its manifesto—and our cover image its greatest piece of propaganda. New York-based photographer Patrick J. Stefano teamed up with model Travis Johansen and Maisonneuve art director Anna Minzhulina to capture that most contradictory of characters: the revolutionary hipster, finally rebelling not against his rich parents or his (over)education but against the arbiters of his own aesthetic.

Aaron Vansintjan: How did you come to do the cover for this issue?
Patrick J. Stefano: Anna Mininzhula found some of my Gaslight Anthem photos and asked if I wanted to do it. I thought it was a really cool idea. I'm normally a photo-journalist-type photographer. I hate doing conceptual photos, I hate working with models, I don't ever do it, because it doesn't seem genuine. But this project was fun. We threw tomato juice at Travis. I made sure to buy a case of beer for all of us to drink beforehand.

AV: Do you live off of your photography?

PJS: Yes. That's how I make a living, but I'm very low-key about it. I just started shooting weddings for the first year and it's just from the fact that I want money. I make enough money to pay my bills and I'd rather barely get by than to actually have to work a job I'm not gonna enjoy.

AV: What camera do you use?

PJS: I started shooting with a Nikon, and then I broke that at a small waterfall. I dropped the camera. Then a friend of mine sold me his old Nikon for 50 bucks and then it broke while I was photographing a friend's wedding. For the cover shoot, I brought my friend Bill's Canon 40DD, but, I mean, after a while a good camera is a good camera.

AV: Even though you don't have your own camera, you still make pretty good photography. It's almost like your limitations determine what your photos look like.

PJS: It's always weird because I'm always in situations where I have to work with what I have. More or less, it's how you use the camera that you have, I've become really good at making it work with I have. I'm more focused on my content and how to make it work. After shooting so many hardcore shows, I always thought that the camera can always be replaced, but the moment cannot be replaced.

AV: What was the process of photographing the cover photo?

PJS: Anna sent me a photo as an example of what she was after. She said, "We wanna get this, but making fun of hipsters." And I love making fun of hipsters, I like the idea of ripping apart people's music, I mean, not in a malicious sense, more in a constructive, theoretical sense. I mean, my life before photography was music, I studied music and played saxophone, guitar, and piano, I was in a jazz band and all of that stuff. But there's so much music I hate, but if someone takes offense at that, that's just retarded, because that's just one person's opinion.

AV: So that was tomato juice?

PJS: No, it was actually blood. We sacrificed a pig earlier in my backyard.

AV: I thought it was gatorade or something.

PJS: No, tomato juice. The next morning we had to wash off stains of tomato juice off the white walls of my house. As I said earlier, I'm a very honest shooter; the best way to get Travis in that moment was to get him drunk and throw tomatoes at him.
Drop by Maisonneuve's "The Music We Hate" issue launch party on July 8 at le Cagibi (5490 St. Laurent) in Montreal, along with Carl Spidla, Pat Jordache and Charlotte Cornfield. $5 cover includes a copy of Maisonneuve Issue 36 (Summer 2010). Check out the launch party on Facebook.
Related on maisonneuve.org:
—The Music We Hate: Online Supplement
—Interview With Charlotte Cornfield
—Edge of the Island
Subscribe to Maisonneuve — Follow Maisy on Twitter — Like Maisy on Facebook