This Is My Brain On Facebook, Or: How to Procrastinate Using Facebook Without Actually Using Facebook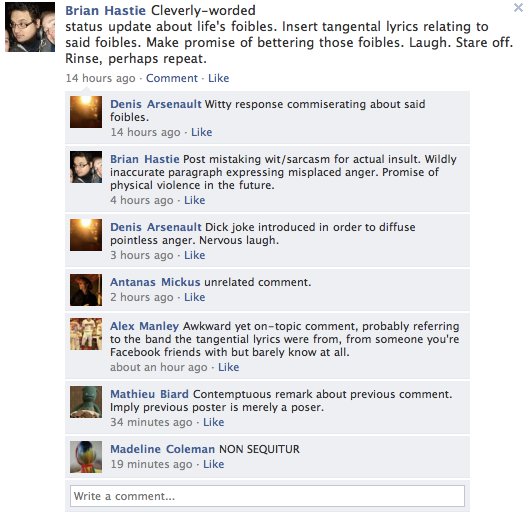 Important facts about Facebook:
— The people who use it think it sucks.
— But Roger Ebert found a movie about it "exciting."
— Facebook users (also, presumably, its enemies) need help writing Facebook statuses.
— The plural of status is not stati, but that is the past tense for "to be" in Esperanto.
— There is a Facebook group asking Barack Obama to introduce Esperanto in American public schools.
— ...which he hasn't done, but he has done a lot of other things.
— Like hire someone to update his Twitter.
— Something which Mark Zuckerberg, the inventor of Facebook, has failed to do since March 2009!
— Which is okay, because Malcolm Gladwell says Twitter and Facebook don't really matter.
— My father has a Myspace page.
Related on maisonneuve.org:
—The New Testament, Abridged
—In Defense of Blogging
—Tips for Becoming a Better Smoker

Subscribe — Follow Maisy on Twitter — Like Maisy on Facebook