Ancient Chinese Secret: Terracotta Warriors at Montreal's Museum of Fine Arts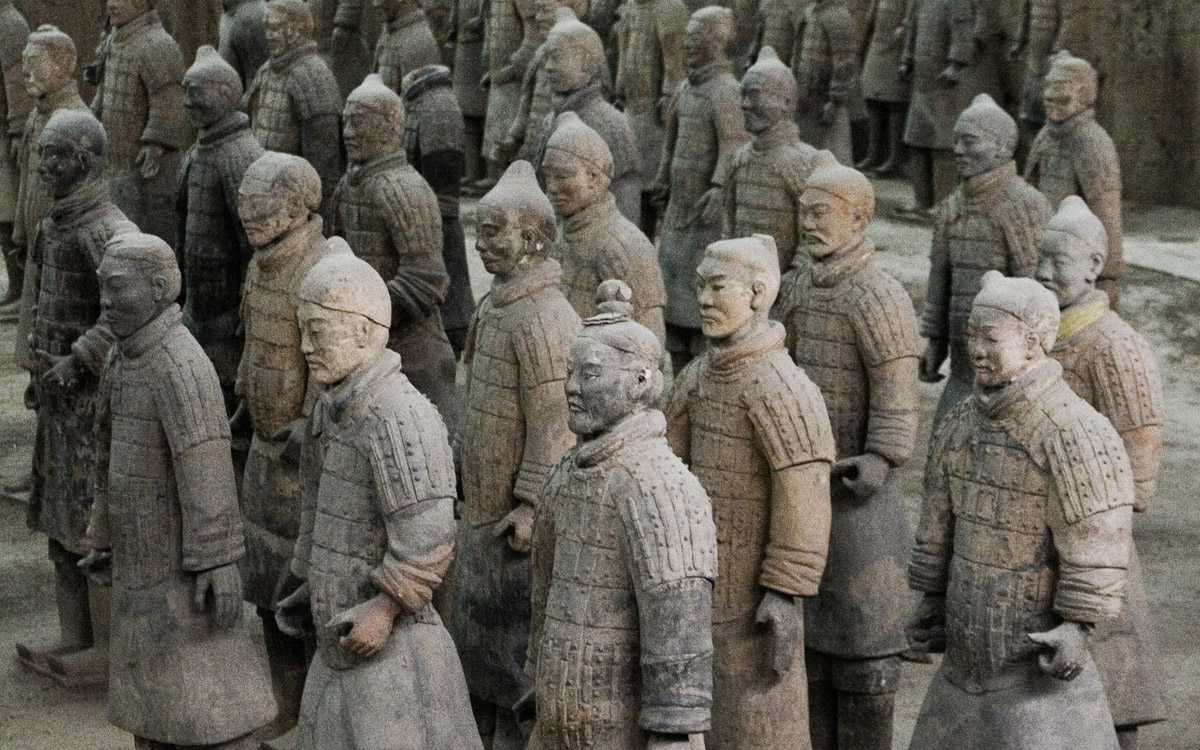 The woman in the pashmina leaned in closer, her face almost pressed up against the glass as she tried to get a better look at the terracotta effigy labelled Civil Servant. "It just gives you such a feeling," she said.
Her friend pointed out the figure's carved ponytail. "Isn't that sweet?" she could be heard saying, as the two floated off towards a display of naked eunuchs.
Last Thursday, the travelling exhibition The Warrior Emperor and China's Terracotta Army opened at Montreal's Museum of Fine Art. The figures shown here were largely excavated from an ancient funerary complex discovered in China's Shaanxi province in 1974. Commissioned by China's First Emperor circa 200 BCE, the complex has already yielded thousands of earthenware soldiers and household items—and still only less than a third of it has been uncovered. (Not all the figures in the MMFA's show came from this tomb, although they all originate from between 800 BCE and 200 CE.)
What's almost equally crazy is how famous those soldiers have become. Since they were first shown at London's British Museum in 2007, they've trampled museum attendance records everywhere they've gone—more than two million people have already visited them (to put that in perspective, the MMFA usually gets around 600,000 visits a year). Toronto's Royal Ontario Museum, the exhibition's last stop before Montreal, reported that The Warrior Emperor was their biggest hit of the last decade. And an MMFA rep told the Gazette that they are "crossing their fingers" it will do the same in Montreal.
When the first terracotta warriors were unearthed in 1974, Chairman Mao, still alive and kicking, hailed them like conquering heroes—proof of China's exceptionalism. The news coming out of China these days speaks a very different dialect, and the western media is obsessed with China's progress; "China buys up the world," read one Economist headline last year. This is riveting stuff. So why are people still so obsessed with Ancient Chinese Secrets (ACS)?
Compare the massive popularity of the terracotta warriors with North American museums' support of more recent Chinese art. As those in the art world could tell you, Chinese art is hot property—but that doesn't often translate into major exhibitions. New York's Guggenheim had their first retrospective of a Chinese artist in 2008, featuring superstar Cai Guo-Qiang—a major step for Chinese artists in North America. The MMFA was planning Quebec's very first exhibition of contemporary Chinese art for this March, titled Red Flag, as a tie-in with the warriors show; however, it now seems to have been struck from their calendar. Looks like the focus is still on Chinese art with both feet in the grave.
At the opening last Thursday, the crowd buzzed around glass cases full of ACS—both miniature and larger than life—as projections of moving clouds or 2002 kung fu movie Hero rolled by. One room featured a soundtrack of dripping water (presumably in the tomb). An elderly couple peered at a collection of bronze dildos in a glass vitrine.
"I don't know how those would work," said the man, laughing.
His wife slapped his arm playfully—"Those are for the women!"—as a Quebecois couple squeezed by, their adopted Chinese daughter in the man's arms.
In one room, a phalanx of soldiers on horseback was mounted on patinated metal stands of varying heights; when standing in front of them, it was as if they were frozen while charging through a hilly landscape. The effect was impressive. The lighting was excellent. Museum goers lingered in front of an orange wall studded with "arrows", marvelling at a massive, kneeling archer whose crossbow had long disintegrated.
But why was the archer facing away from the arrow-wall, as if all the arrows had been aimed (rather inexpertly) at him, instead of being their source? Why did the curators feel the need to display wall text on polyester "scrolls" hung from the ceiling? Why do you so many of said texts conclude that "we will never know"? "Why did the First Emperor believe that he could recreate his world in the afterlife?" reads one. "An unanswerable question..." Chalk one up for ACS.
As the crowd trickled out of the exhibition and into the party—a room lit by a red glow and hanging lanterns, with fried wonton wrapper snacks for all—a young blonde man told his date that he had just gone to Shanghai. The food, he assured her, was amazing.
"What's your next adventure?" she cooed, slipping her arm through his.
"Indonesia," he said, and they pushed forward into the crowd.
The Warrior Emperor and China's Terracotta Army is at Montreal's Museum of Fine Arts (1380 Sherbrooke St. W.) until June 26.
Related on maisonneuve.org:
—"Sleep Together and Have Sons": Celebrating Chinese New Year with Sex and Dumplings
—Water Calligraphy
—A Tale of Two Beijings

Subscribe — Follow Maisy on Twitter — Like Maisy on Facebook