Montreal Comfort Food: Pasta from Walnut-Cream Gnocchi to Aglio e Olio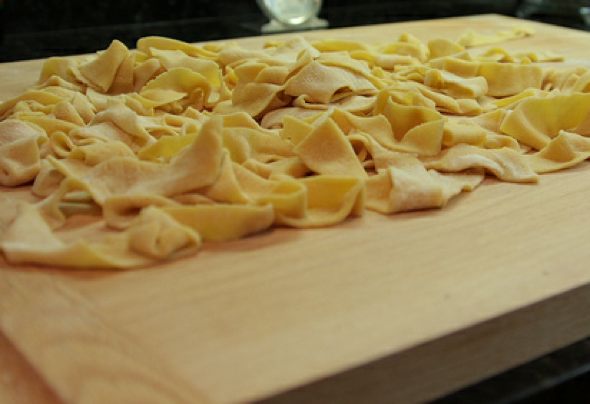 There are other kinds of pasta than the Italian standards - ramen, rice stick, chow mein, and soba to name a few—but the North American vision of pasta as comfort food brings to mind steaming plates of meaty red sauces, cream, garlic, and olive oil-drenched, freshly-made noodles. Italians could eat a different shape of pasta and a different sauce every day for at least two months: circular strands of spaghetti and vermicelli, ribbons of linguine, fettucine, and tagliatelle, spirals of fusilli and rotini, tubes of penne, rigatoni and cannelloni. And then there's the odds and ends of pasta: the orecchiette, farfalle and agnolotti. But even with all the options, only a few make it to the weekly North American dinner menu, and most often they come from a box.
Fresh pasta, made with only eggs, water and flour (traditionally with durum semolina) is a rare treat most often reserved for restaurants where chefs or machines put in the ten minutes of work and expertise (or proper programming) to extrude tender noodles. Often even in restaurants, however, the "fresh" pasta comes from a box, pre-frozen cannelloni stuffed with processed ricotta or low-quality veal.
Just ten minutes. Why buy boxed or frozen pasta when all it takes is ten minutes of labour? That's less time than...well, a lot of enjoyable activities, and the pay-off can be as (or more) satisfying.
The truth is pasta is hard to make well. A little extra kneading can turn pillows of doughy gnocchi into leaden glue-like knobs. Simmered sauces made with low-quality tomatoes require added sugar and salt to improve flavour. But with only three ingredients in most kinds of pasta, there's surely hope for anyone willing to mess up a few times.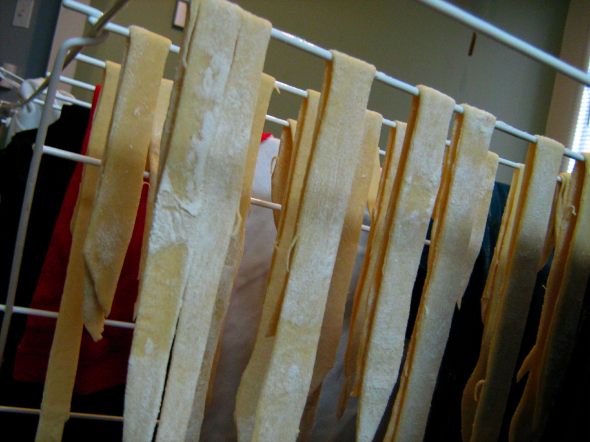 If you have absolutely zero faith in your culinary ability (or don't own a clothes rack—see above), fear not. Some of the best pasta in Montreal (and other North American cities) comes from restaurants and grocery counters that never mess up. Montreal is lucky enough to have one of the largest Italian communities in North America—but it's also home to some of the worst, most touristy Italian restaurants. So when you're craving tagliatelle in a walnut-cream sauce, it's a good idea to dog-ear a few places you can trust for quality noodles and earthy sauce.
For home-style fare there's Pasta Casareccia (5849 Sherbrooke St. W) in Notre-Dame-de-Grace. One of the oldest pasta places in the Montreal, the restaurant makes sheet and sheets of 100 percent-durum semolina linguine, penne, tortellini and gnocchi every day. A small splurge will get you fluffy gnocchi topped with a rich walnut and gorgonzola cream sauce, but simple tomato sauce and homemade spaghetti will give you an enormous $10 lunch of way too many carbs (aka heaven). Homemade meatballs will cost you an extra $5, but if you take the fresh, uncooked pasta to go (or opt for a tray of stuffed ravioli or hearty lasagna), the entire meal can be recreated in the comfort of your own home for even less.
Da Enrico (264 St-Zotique St. E) does a very similar service in Little Italy. Definitely not fine dining, this affordable spot has made its reputation on reliable, filling servings of pasta for $12 and table d'hote specials with pasta, meat, and dessert for $25. The fact that it's BYO-wine means food will be simple (since it's not subsidized by liquor sales), but it's a world apart from chains like East Side Mario's.
True Italian fine dining should include antipasto, primo, secondo, contorni, dolci and/or formaggi—before dinner snack, appetizer, main, dessert and optional cheese course. If that's what you're looking for, walk a couple blocks from Da Enrico to Il Mulino (236 St-Zotique St. E). A full meal here will cost you a fortune and is best reserved for a special occasion when you're craving goat, rather than simple pappardelle in puttanesca.
11Scalini (4894 Sherbrooke St. W.) does a passable take on fine dining Italian in the other historical Azzurri haunt of the city, Westmount. For just pasta, however, their $10 lunch specials gives you a fresh serving of oil-drenched noodles that have never seen cardboard packaging. For dinner, you can fancy up your pasta options to linguine alle vongole (clams, garlic and white wine), or rich gnocchi with gorgonzola cream sauce. Fine dining doesn't have to be all meat and molecular gastronomy.
Then there's Graziella (116 McGill St.), a lesser-known Italian place in Old Montreal that does traditional Italian so well that it got boring and contemporary cuisine stepped in. Ravioli is up-scaled with truffled tomato sauce and pecorino sheep's milk cheese instead of parmesan, and fresh pastas of the day come with duck ragout or rabbit stew. Owner Graziella Battista's food philosophy reflects the belief that "as a society we must encourage local producers who make natural products in responsible ways." While "local" durum semolina may be hard to come by, Battista's pasta skips the cardboard box.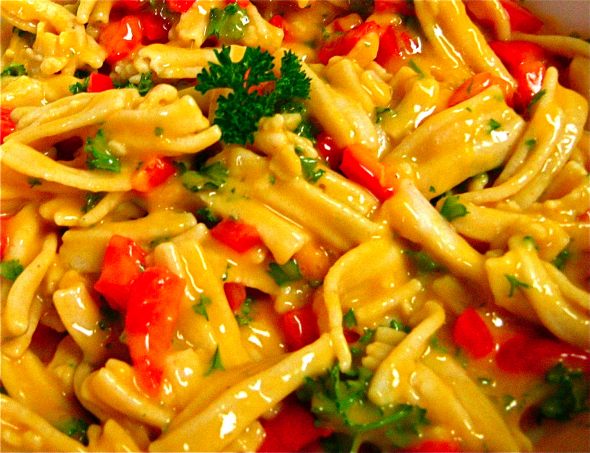 The best bet for recreating the Italian experience at home, however, is to go to one of several fine foods grocers in the city and get their pasta and sauces to go, as you can at NDG's Pasta Casareccia. Sauce is relatively easy to make at home (though a rich romanesco or lamb shank ragout is a little more challenging than chili peppered arrabiata).
But unless you have a pasta maker or a lot of patience and skill—i.e. you are hiding an Italian grandmother in your pantry—you're better off buying the penne made fresh at gourmet grocery Garde-Manger Italien (6132 Monkland Ave). Bistro Unique (1041 Beaubien St. E) is a restaurant that also gives you the option of stepping next door to the take-out épicerie. Places such as Diabollissimo (1256 Mont Royal Ave. E.) and La Maison des Pates Fraiches (865 Rachel St. E.), however, feel too big for their pasta to really be made with love (ie, without preservatives); anywhere that can crank out that much spaghetti per day wrecks the image of nonna in a kitchen apron hand-stuffing agnolotti.
At least these grocery counters get the price right: you can feed a family of four on gourmet pasta for under $20. To split a platter of spaghetti all'aglio e olio (simple garlic and olive oil-sauced noodles) at comfort food ashram Macaroni Bar (4448 St-Laurent Blvd), it'll set you back $10 each, and that's only if everyone at the table's on board. Your friends won't be allowed to opt for the restaurant's infamous gnocchi poutine if you want to take advantage of that deal.
With all these options, there's really no excuse to go to chain restaurants that pump out boxes of overcooked, canola oil-basted starch. While a box of spaghetti and a can of tomato sauce is a simple evening dinner fix, there's nothing quite as satisfying as noodles where you can actually taste something: oil and arugula, or sundried tomatoes and olives, on top of al dente ribbons of comfort. So find your neighbourhood Italian grocery and hunt down some real pasta.
Top photo by Papalok's Flickr. "Hanging Pasta" and "Pasta with Red Peppers and Parsley" by Amie Watson. Follow Amie at her blog Multiculturiosity, at Midnight Poutine and on Twitter.
Related on maisonneuve.org:
—Montreal Comfort Food: Soups from Chicken Noodle to Ramen, Pho', Lamb Noodle and Pork Bone
—Will Pay For Food: The Montreal Highlights Festival vs. Toronto's Winterlicious
—Being In Between: Yung Chang Talks Films and Food

Subscribe — Follow Maisy on Twitter — Like Maisy on Facebook