Another Montreal: Special Tours for the Indifferent Traveller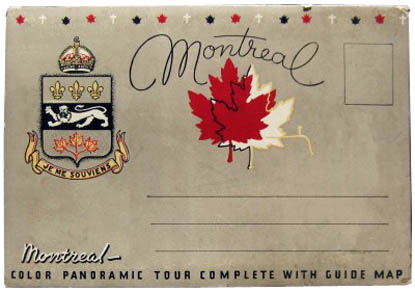 Picture this: You're strolling down a cobblestone street in a well-tailored trench coat. When you look up, your gaze falls upon majestic Beaux-Arts mouldings and strangely charming gargoyles. Beautiful dark-haired girls on antique bicycles trill "Bonjour!" as they roll by. Someone, somewhere, is playing the accordion. Suddenly, the air is full of the enticing odour of fresh bread and you find yourself in a rustic bakery, where you exchange two golden coins for a crisp baguette. Later, as you sip red wine, you think, C'est la vie.
Then you hop in a cab and rush to the airport, where you catch a flight to Montreal. Welcome!
The truth is, Montreal isn't like Europe at all. But don't let that dissuade you—most of the other places you could go are also not in Europe! And while you may have hoped that visiting la belle ville would give you the chance to improve your French, you'll probably have a hard time finding someone to humour you. And why should they, with that accent?
But you haven't wasted your plane ticket yet. Montreal does have many lovely attractions—and I'm not just talking about those Alouettes cheerleaders (amiright!). What you need is a more authentic way to experience the city: gamboling with a friendly, English-speaking local who can show you her favourite places and tell you what she loves about this town—and why she has found it so darn difficult to leave, come hell or near-complete lack of career opportunity.
Well, look no further. Here at _____ Tours, we dedicate ourselves to providing the most authentic Montreal experiences, whether you like them or not. Just choose from our tempting selection:
The Mistakes of our Forefathers Tour
Once upon a time, Montreal was poised to become a major cosmopolitan centre of arts, culture, architecture and ego. And what a time it was: brutalist skyscrapers sprung from the ground like mighty concrete redwoods, knocking aside classic triplexes like so many dandelions. Thousands of acres were razed to make room for a second airport. Expos were had; metros were built. Out of the way, old-timey charm—make way for Montreal!
Well, we all know how this one turned out. Tour includes visits to Mirabel International Airport and the Olympic Stadium (affectionately known as "le grand boondoggle"), as well as hours of aimless wandering in the inexplicably famous underground city. Torontonians: that's enough out of you.
The Comparative Bagel Tour
Legend tells of an era when Fairmount Bagel and St Viateur Bagel were best buds—more like soulmates, really. They did everything together. Historians are not sure what ended the once-treasured friendship between the two stores (we heard something about a regrettable hook-up), but all you really need to know is which you like better. And one really is better. Which one is it? Let's find out!
Tour consists of wandering back and forth between both bagel shops, devouring and comparing their wares for the sake of "science," until walking becomes impossible and everyone has to lie down.
The Montreal Pizza Tour
We recommend taking this tour immediately after the Comparative Bagel Tour. Then you'll have an excuse not to eat any of the horrible, horrible bread-discs many Montreal restaurants call pizza. We don't know why we offer this tour!
The Is-This-Place-a-Front Tour
Are you looking for a real insider's look at the city—one that takes you beyond the realm of legitimate business? Then the ever-mysterious Is-This-Place-a-Front Tour is for you. Tour includes peering into cafés, restaurants and car washes that never seem to be open, except for maybe three hours on Thursdays. Why are the cops staking out that fishmonger? We may never know, but we'll show you how to rubberneck with the best of 'em. Look casual!
The McGill Student Tour
Some of us prefer never to venture outside a five-block radius, and why should we? That's why we created the McGill Student Tour, specially designed to incubate visitors in a cozy womb of early-afternoon classes and secondhand Ikea furniture. Tour begins at McGill University residences at the top of University Street, ends at a bar near St Laurent and Pine, and lasts four years. What more is there?
The Nice Yards to Puke In Tour
Free when you sign up for the McGill Student Tour (see above). BYOB.
The Montreal Underground Tour
Tour includes taking the metro over and over again until it breaks down, at which point your tour group and hundreds of other commuters will be forced to evacuate, walking single-file along a narrow ledge for what seems like forever. (Actual tour duration: forty-five to sixty minutes.)
Coming Soon: The Winter Tour
Tour includes you picking up a case of beer on the way to my house, then us drinking it on my couch under a big pile of blankets. No, I can't meet you anywhere. It's fucking freezing outside.
Subscribe to Maisonneuve today.
Related on maisonneuve.org:
—Montreal Comfort Food: Poutine
—Montreal: The Olympic Legacy
—Montreal's Navarino Cafe: A Love Letter