Duets for Abdelrazik: Music That Moves People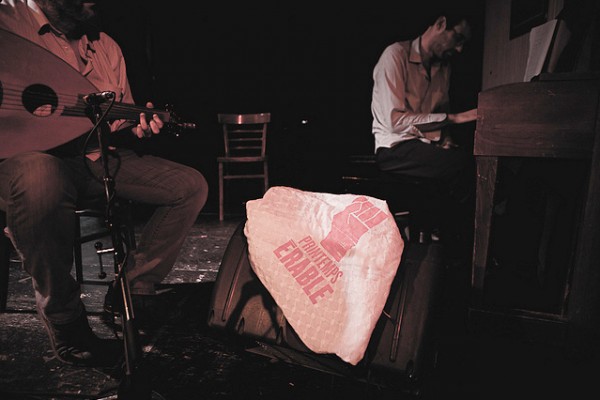 The Duets for Abdelrazik album launch in June. Photo by Thien V.
On a spring night two years ago, a group of human-rights activists hosted an event in the St. Henri neighbourhood of Montreal featuring a half-dozen performers, free food and operators standing by to take your call. The "Sanctions-Busting Telethon" convinced over a hundred people to phone in and pledge money to Sudanese-born Canadian Abousfian Abdelrazik—even though doing so defied federal law.
At the time, Abdelrazik's name was still blacklisted by the UN Security Council's 1267 Committee. No one added to the list is told why, but once on, it's nearly impossible to be removed, and the resulting sanctions forbade him from traveling, opening a bank account or receiving any money.
The telethon came just over a year after the same group of activists raised nearly $1,000 for Abdelrazik's plane ticket from Khartoum to Montreal. Despite last-minute roadblocks, it worked, and the group—Project Fly Home—made good on its name. It had been six years since he was first detained without charge in Sudan, but Abdelrazik was now coming back to Canada. Afterward, the plan was to remove Abdelrazik's name from the UN blacklist—no easy task, considering the opaque bureaucracy around it.
That night in St. Henri, as the musicians set up the stage and operators read the you-could-be-charged disclaimer to potential donors, I chatted with Abdelrazik. He described the racism he'd experienced over his six years negotiating his return to Canada, as well as the federal government's diplomatic failures throughout his ordeal. Despite the topic of conversation, he was smiling, much in the same way he was at a fundraising event for Adil Charkaoui this past winter. There, a friend described Abdelrazik to me as "so nice"; sometimes, I thought, the descriptor really does carry some meaning.
This fundraising dinner, held at La Maison de l'Amitié on a brisk night last December, featured Stefan Christoff on piano with guests Peter Burton and Norman Narwocki playing songs from the Duets for Abdelrazik project. As they do on the eponymous album, released this summer, the ebb-and-flow arrangements allowed for considerable interaction between Christoff's piano, Burton's upright bass and Narwocki's fiddle. Most Duets songs begin and end with the piano's pulse; in between, the two musicians get acquainted, the themes are given sufficient time to develop and, at their own pace, dissolve. The songs' loose structures leave them open to improvisation, some leaning toward the sparser moments, others galloping till the strings suspend and dissipate—the outros allowing the players due recovery time.
At the sold-out album release show put on by the Howl! Arts Collective at Casa during the Suoni per il Popolo festival in June, Rebecca Foon's cello and Sam Shalabi's oud stood out among other memorable moments. And as the guest musicians successively took down and set up their gear, Christoff reminded the crowd that the Duets project ultimately strives to keep Abdelrazik's story connected to the city's cultural scene. Going back to the telethon and events before it, activists have combined their political organizing with art to keep Abdelrazik's name in the news. The Duets project feels like the culmination of these efforts, coming out half a year after his name was removed from the UN blacklist, a reminder that a group of people can take on something bigger than them, and win.
Tonight, Howl! and CKUT-Radio will host a panel discussion, "Abdelrazik: justice, survival and music," featuring presentations from Abousfian Abdelrazik, Dolores Chew and Stefan Christoff. The event begins at 6 pm and takes place at Kaza Maza, 4629 Ave du Parc.
Subscribe to Maisonneuve today.
Related on maisonneuve.org:
—Be Afraid
—We Felt No Mercy
—Martyrdom and 9/11