Kosice, Slovakia: What Canada Can Learn from the European Capital of Culture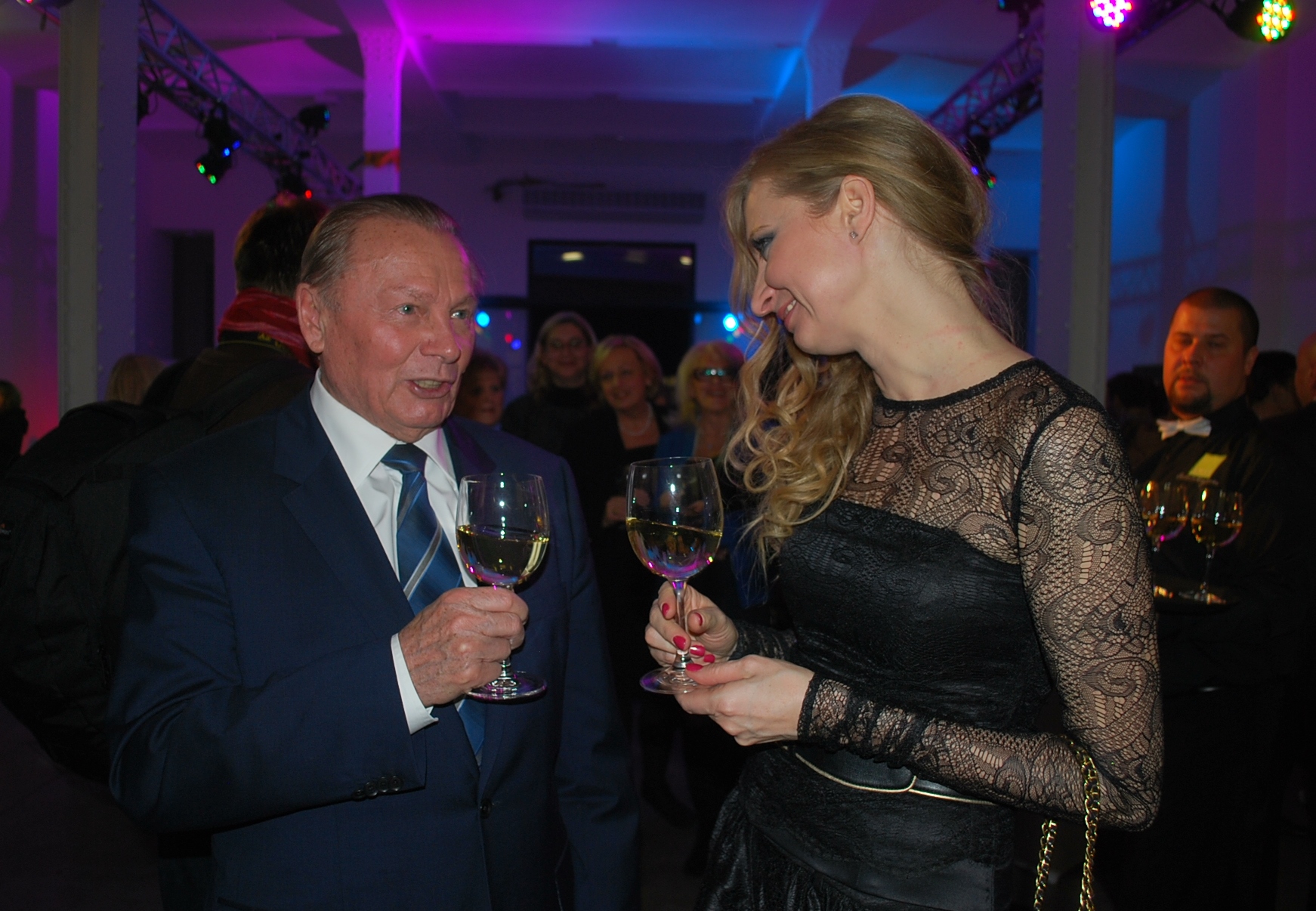 Former president and photographer Rudolf Schuster with Jitka Klett at her fashion show in Kosice. Photos by Nadja Sayej. 

It was half past seven when the country's former president entered the room. Rudolf Schuster, dressed in a silky blue suit, sauntered in with his bodyguard and sat down first row, at the end of the runway. The PR girls started freaking out. ("There are a lot of celebrities coming tonight," one hushed.) Meanwhile, the fashion designer, Jitka Klett, was busy in preparation, one minute carrying a child, the other, greeting guests with Tokaj wine. As the lights dimmed and the show started, we quickly learned the politico was the star tonight (alongside the designer). Schuster's photos were printed on the fabrics of the runway models—including striking landscapes of the Rocky Mountains. (Known fact: Schuster was an ambassador in Canada, back in the day). It was like watching old vintage Canadian postcards wrapped around the boney bodies of models who had either too much attitude or not enough of it.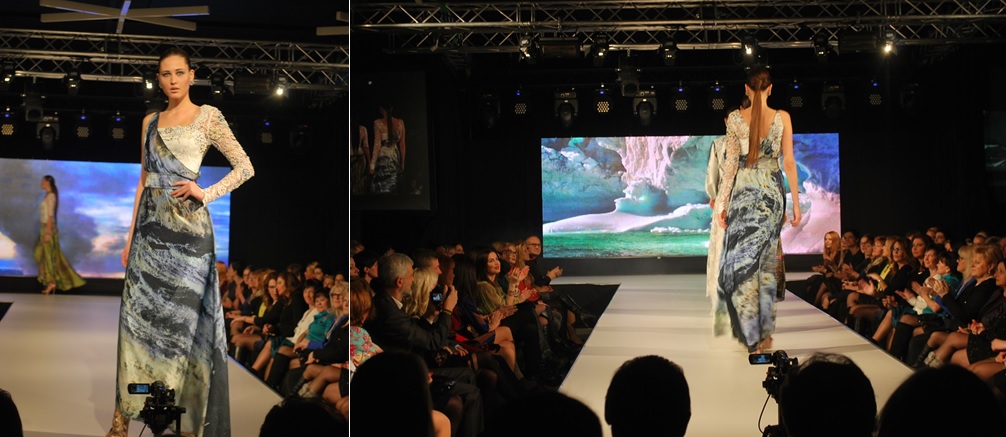 Rocky Mountains and icebergs on the Jitka Klett runway.
It got me thinking: If one photographer can do it, who else? The Slovakian city of Kosice, close to the village where Andy Warhol's 'rents once lived, transforms the idea of how we get the cultural landscape. If it takes coming to Eastern Europe to understand that more often than not, we Canadians take our landscape for granted (which is a guilt in every country, I guess), how is contemporary Canadian culture celebrated abroad, as well as at home? Programs like the European Capital of Culture—go ahead, call it a political, touristic cash grab from the European Union, if you will—may be a point of criticism to some, but they add value to less-than-obvious cities. In other words, spending time in Kosice makes one realize that Canada can do more than just present civic events in major cities as a way to celebrate local talent. 

While we do have Winnipeg artists like Diana Thorneycroft, who creates cheeky dioramas with the outmoded Group of Seven landscapes, as well as Toronto artist Gary Taxali, who recently collaborated with Harry Rosen to illustrate pocket squares for each well-known Canadian city, I would love to see what's going on in smaller locales like Whitehorse and Regina, not to mention non-capitals like Beresford, Milton or Alberton. Initiatives like the recently implemented Youthful Cities organization (which praised its hometown of Toronto as the most youthful city in the world for 2014), as well as the Intelligent Communities Forum, which hails one city a year as the sharpest (this year it was Taichung City, Taiwan), are great, but it is equally important to de-centralize contemporary culture and see less-trodden Canadian cities through a cultural lens.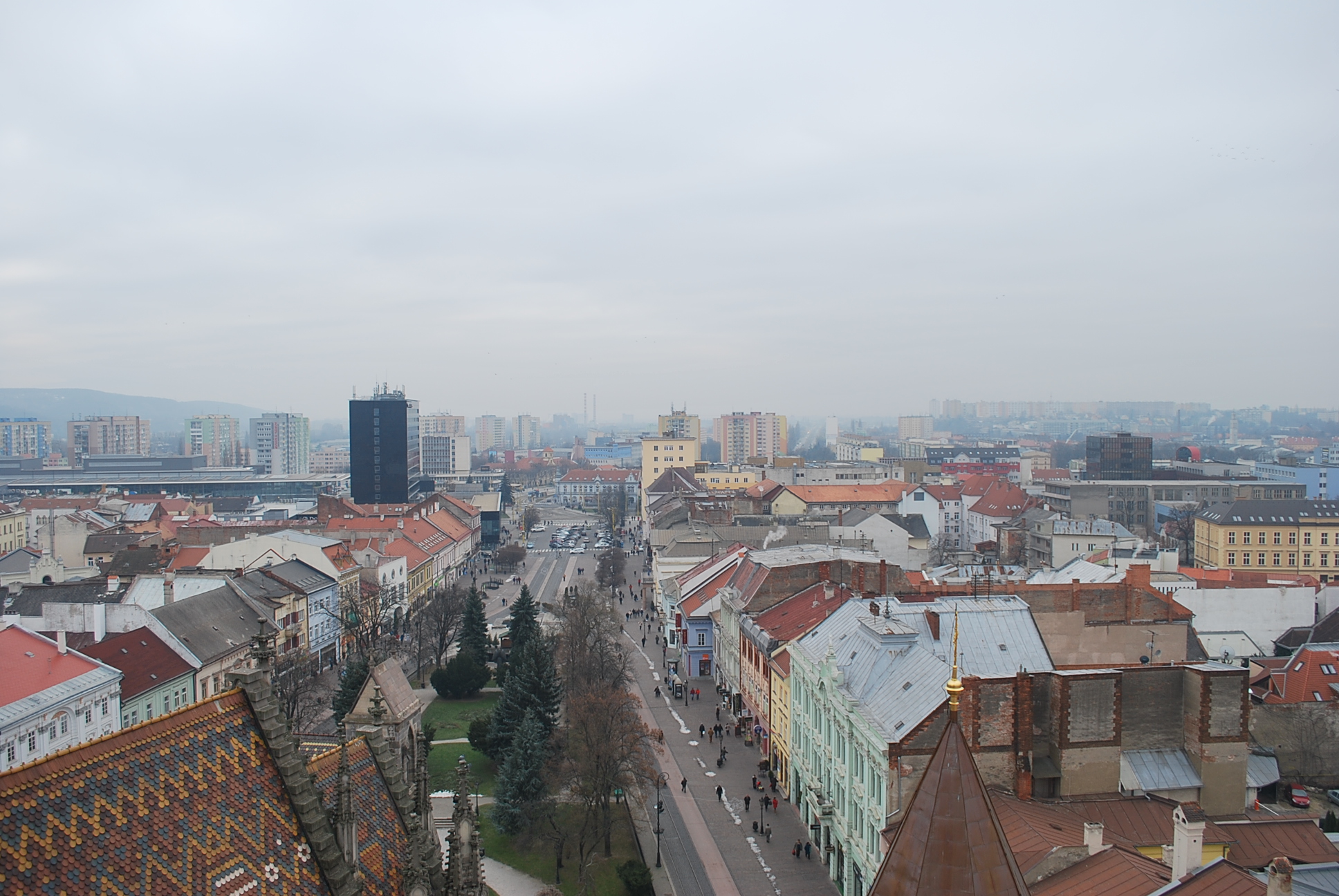 Kosice is known as the capital of eastern Slovakia. It's also pretty damn beautiful at some points.

SPOTs has installed eight different hubs around the city of Kosice to de-centralize downtown culture.
Suburban revival is the goal of the SPOTs program, which is how Kosice de-centralizes culture from the city's downtown core. Take a trip out to the suburbs of Terasa to find one of eight white box hubs scattered throughout the city. Fostered by the locals, there are community gardens, group potlucks and screenings, exhibitions and neighbourhood meetings. I walked into a cabbage soup dinner and got to meet a medical student while taking in a photo exhibition about Germany. The goal is to meet new faces, said organizer Blanka Berkyova, create networks in cultural exchange, from inter-generational dialogue to socially-conscious art, not to mention checking out the smaller city districts on the outskirts of town. While you've got to know the bus routes to make this happen, it may be a worthwhile adventure.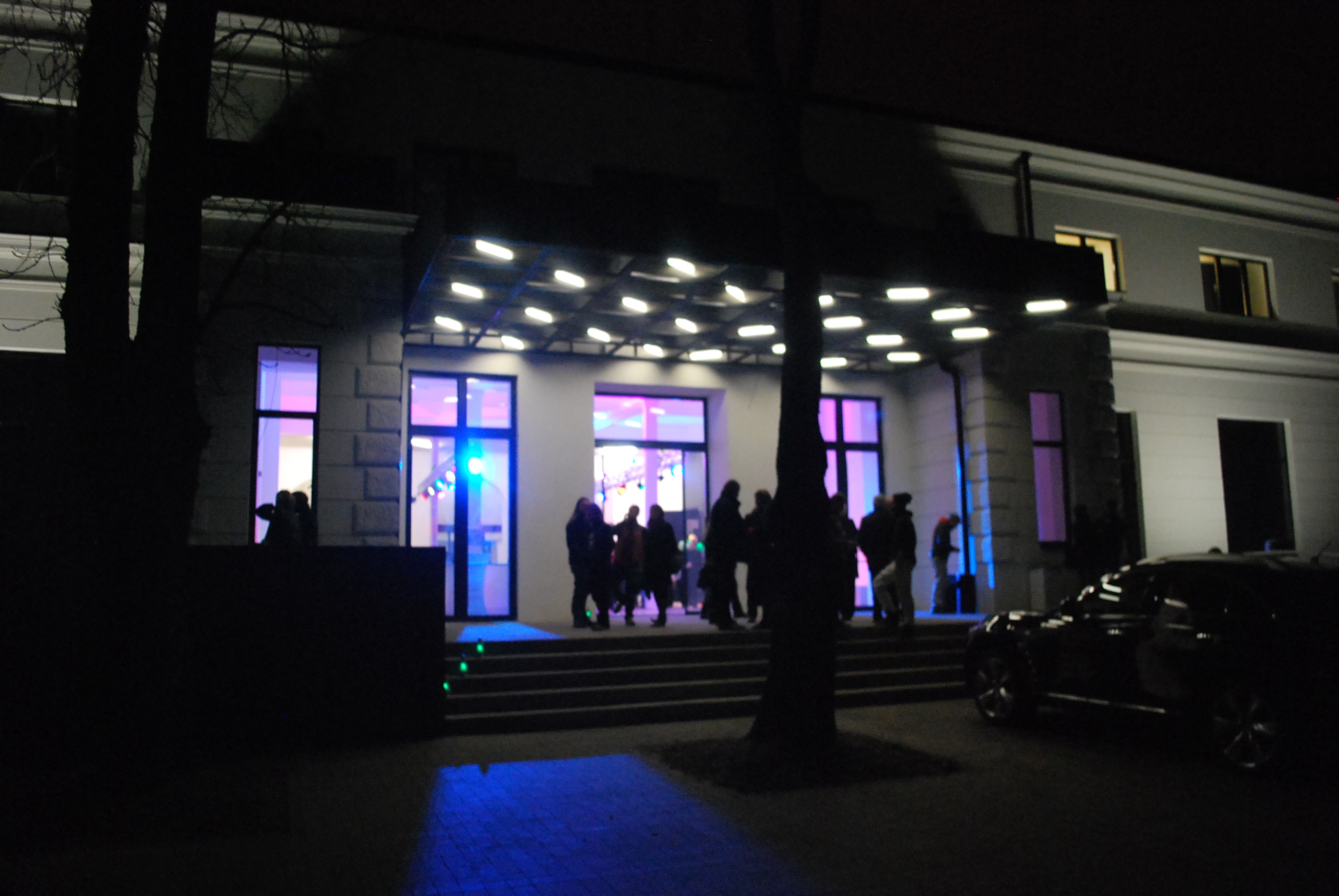 Entranceway to the Kulturpark.
Kosice has recently built the Kulturpark, fifteen new culture buildings, on 18th century military barracks. The tall, mirrored buildings feature pop-up art shows, art galleries, a music venue, a library and, among other delicacies, the KOIR artist residency featuring artists from Japan, Poland and Romania. Sort of like Toronto's Distillery District, the cultural buildings here are more modern (rather than historical), drawing in local up-and-comers (like Klett and her fashion show), as well as international stars, like one recent photo exhibit by French photographer Antoine D'Agata.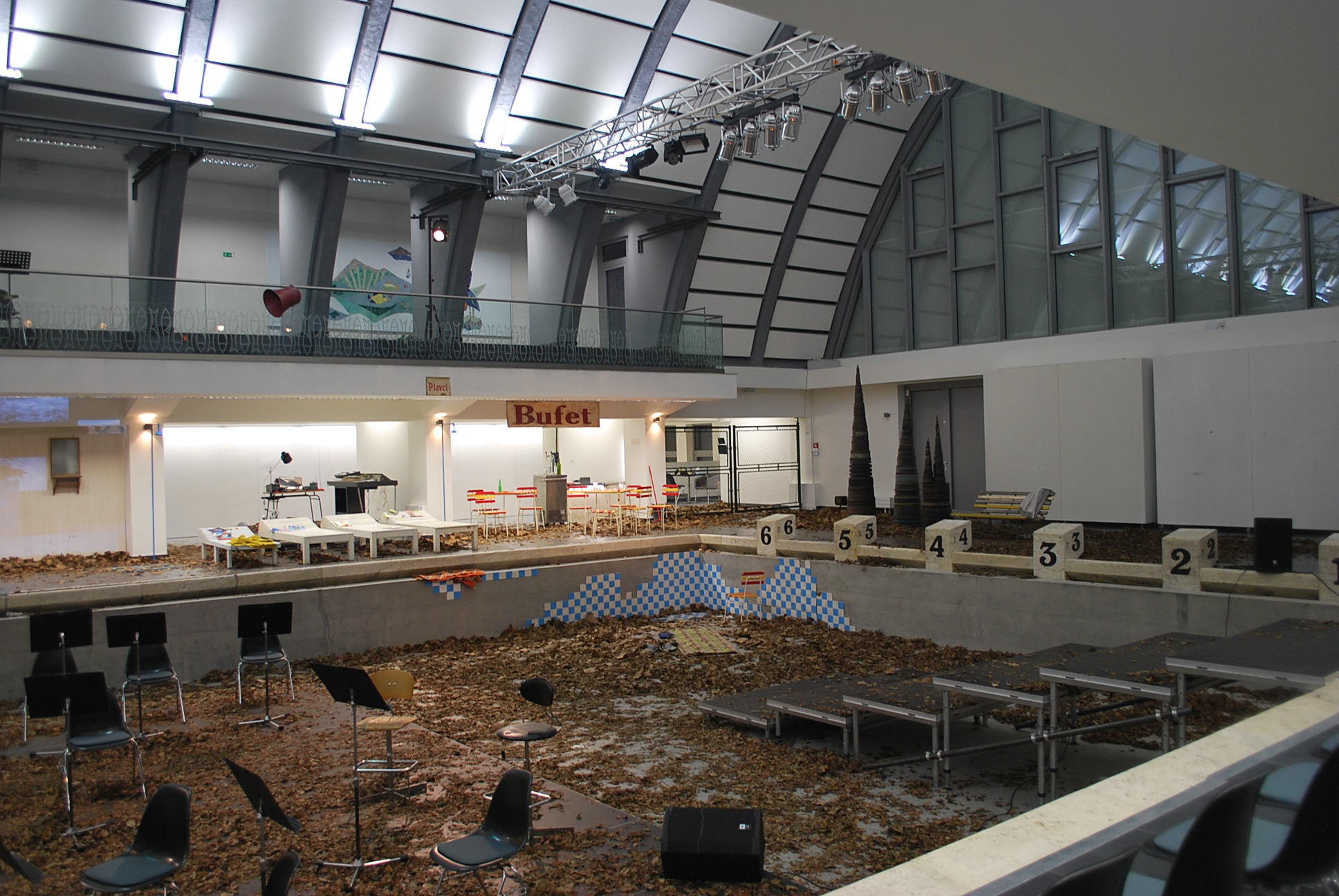 Kosice's new Kunsthalle is a contemporary art institution like Toronto's Power Plant or Berlin's Hamburger Bahnhof. It happens to be built with a swimming pool.
If you're into contemporary art, theatre swims together with opera and visual art wades with performance at the newly-built Kunsthalle, erected around a former swimming pool. When I was there, there was the British Express show featuring blockbuster stars like Damien Hirst, the Chapman Brothers and Liam Gillick. 

Downtown Kosice, which still has some old commie bars kicking around, some filled with Marx portraits.
That being said, with all the new developments, nothing compares to the old-school classics. Near the Smelly Cat bar, there is an old-school commie bar from the times under the Iron Curtain, while the indie culture gems include the Collosseum punk club, the digital and new media DIG Gallery, not to mention the street art and fashion-focused Bazzart festival which happens every September.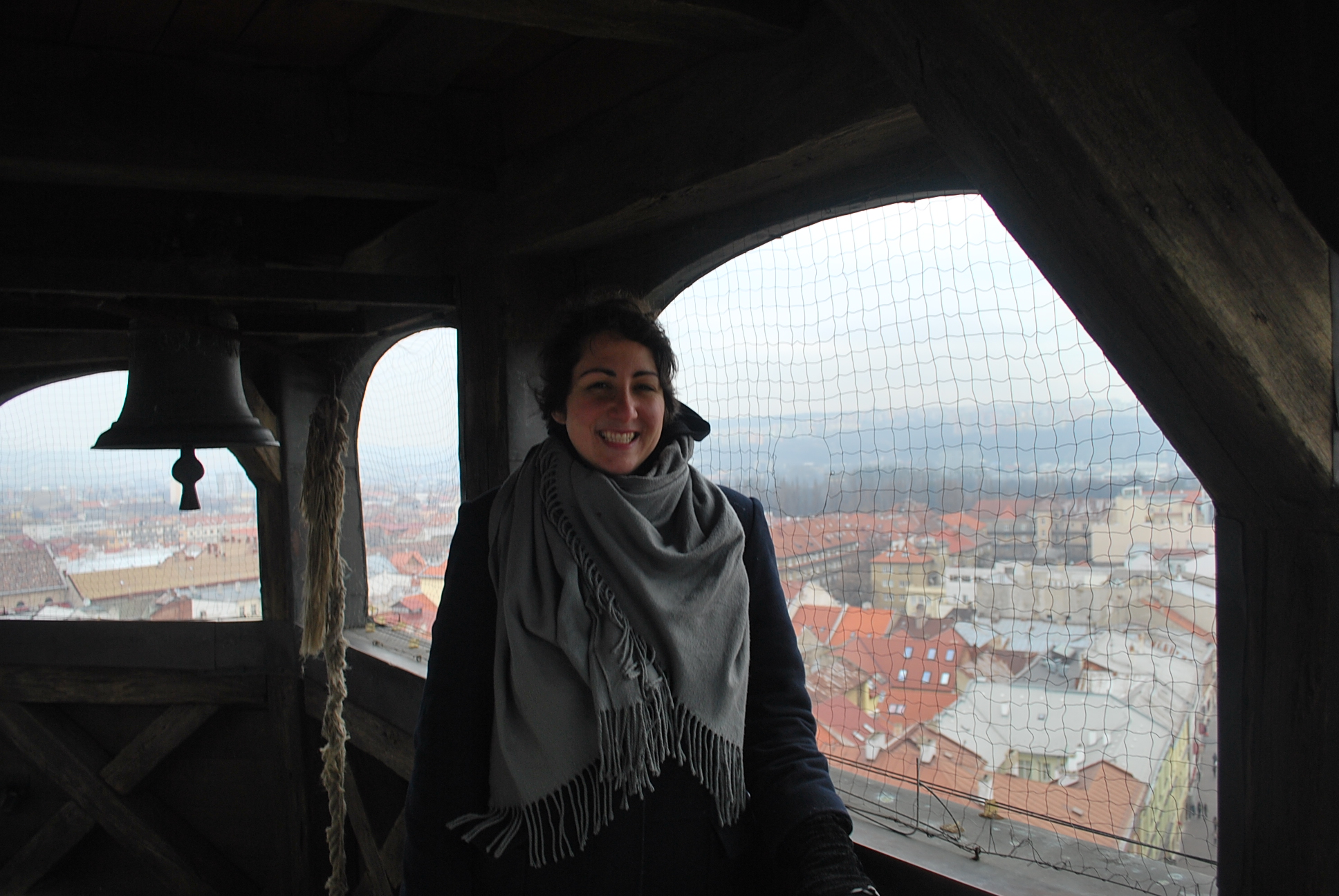 Me at the top of St. Elizabeth's Cathedral in Kosice. Badass view.
Canadians can learn a lot from Kosice.