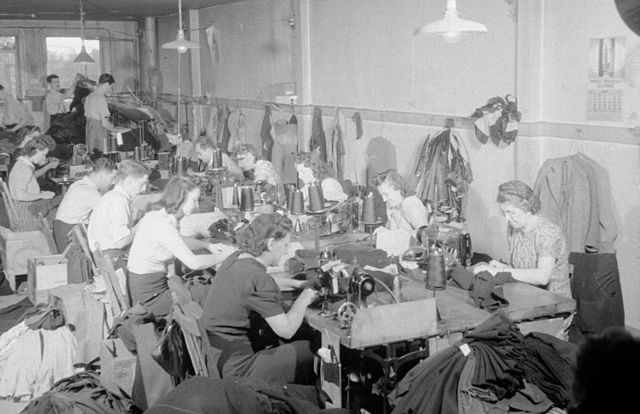 Designers and seamstresses working at a garment factory on Saint-Hubert Street in Montreal, 1941.
It's not an obvious place for a clothing manufacturer—smack-dab in the middle of downtown Montreal. But on the third floor of the Belgo Building, amid art galleries, a yoga studio, architects and psychologists, you can find Véronique Miljkovitch's eponymous women's fashion label.

Downstairs on St. Catherine Street, shoppers stream past. If they choose to enter the souvenir shop on the Belgo's ground floor, they might pick up a $15 "Do Not Feed the Bears" T-shirt, made in China. If they opt instead for the H&M on the next block, they'll find a rack of $19.99 sweaters made in Bangladesh.
Upstairs, in Miljkovitch's sunlit workshop, a man prepares pieces of fabric atop a large cutting table while a seamstress guides material into a whirring sewing machine. The room is bordered with racks of Miljkovitch's garments, casual pieces in muted tones full of intricate bunches and folds, retailing for $165 and up. A metal shelving unit packed with bolts of cloth towers over the desk where she draws most of her patterns by hand.
Miljkovitch's workshop seems improbably small for a brand sold from Halifax to Santa Fe, but the space is typical of the Montreal garment industry these days. The city was once a national hub for apparel production, home to a thriving industry that was also, until just twenty years ago, a major local employer. But it was quickly decimated by globalization, and only a handful of large factories remain. Most local clothing producers, like Milijkovitch, now employ fewer than ten employees, according to municipal statistics.
For Miljkovitch, the decision to start and grow her business locally has been fairly easy. "I don't have a large enough volume to go overseas and deal with all the customs and the shipping," she says. "I don't think I would be saving that much money."
Still, this choice makes her part of a rare and tenacious breed. From avant-garde fashion workshops to centenarian suit makers, modern-day Montreal apparel manufacturers have been toughing it out, and in the process, finding a way forward after years of steep decline. They've shown it's still possible to make money making clothes in this city. What remains to be seen is whether others can repeat their experiments and ultimately bring a storied industry back from the brink.
After all, this new generation is not easy to emulate. "If somebody's going to start," says Miljkovitch, "they have to be sure that they're ready to work their ass off."
Many of Montreal's garment manufacturers are clustered along Rue Chabanel in the northern part of the island. Ponytailed and energetic, Miljkovitch smiles as she explains why she chose to make her clothes downtown. "Look at the place!" she says, pointing to the large windows and hardwood floors. "I started eighteen years ago in this building, very small. It just grew, and I thought 'Ah, I like it here, why am I going to move all the way up north?"
When asked whether the downtown location presents an additional challenge, Miljkovitch shakes her head. There's a freight elevator in the building, she explains. "I receive big palettes. It's not a problem at all."
It turns out this was a stupid question. Built in 1912, the Belgo once accommodated garment makers much larger than Miljkovitch's pint-sized operation. First occupied by a flailing department store, the building was taken over by the rag trade beginning in the 1920s, joiningdozens of garment factories in the neighbourhood. It was one of a few hubs for the industry spread across different downtown neighbourhoods.
Though the pay was often low, the garment industry was a lifeline for generations of Montreal workers, mostly women. It provided an income to immigrants from all over the world—often single women and divorced mothers, or sometimes wives and daughters whose families just needed an extra paycheck.
The conditions could be dire, even just a few decades ago. In 1977, seamstress Mireille Larocque gave an account of her job at the Brodkin womenswear factory to a Christian labour movement publication. Her downtown workspace was dusty, overheated and cockroach-ridden, she said. The bathrooms were dirty, and the windows clouded with filth. Larocque experienced constant pressure to perform. If a worker's output was too low, her employer would convince her to sign a "carte d'incompétence" enabling her to be paid below minimum wage. If she refused, she could lose her job.
However arduous, garment work was plentiful. By 1987, apparel manufacturing employed 3 percent of the Quebec workforce. The sector spiralled downwards soon after, falling victim to competition from abroad and economic downturns. Though job numbers rallied in the latter half of the 1990s, they dropped sharply in 2002 due to the elimination of quotas on imports from China and other countries with low labour costs.
The industry took a further walloping in the last recession. By 2015, local garment manufacturing employed just 6,305 Montrealers, down from nearly 22,000 a decade earlier.
Seamstress Nicole Neveu experienced the decline first-hand. She retired when her employer, the Golden Brand menswear factory, shut its doors in 2008. It wasn't the first closure she'd been through: she'd taken the job after her previous factory, Imperial Pants on Casgrain Street, shut its doors. Though she never made much as a garment worker, Neveu remembers her career fondly. "It was our life, working there," she says of Golden Brand. The factory had a sense of community enveloping workers of many different nationalities.
Located across the street from Rosemont metro station in a neighbourhood north of downtown, Golden Brand made items for the Moores menswear chain. Though its American-owned parent company, Men's Warehouse, had been doing well, it cited the "strengthening Canadian dollar and the increasing pace of imports by our competitors" as justification for putting more than 500 Montrealers out of work. "They said, 'we're going bankrupt,' but that wasn't true," Neveu recalls. She believes her job is now overseas.
Suzy Beaudry, a representative for local 800 of the Union des employés et employées de service (UES), began negotiating on behalf of garment workers after Jeno Neuman & Fils, the factory where she worked for twenty years as an ironer, closed in 2006 and moved production offshore. Eleven years later, in April 2017, Beaudry watched another 140 members of the local lose their jobs when the S & F Apparel suit factory in the suburb of Boisbriand closed. "At least 30 percent [of the workforce] was over sixty," she says, with the most senior employee having worked there for forty-six years. "It was a huge shock for them." S & F Apparel didn't respond to a request for comment.
The union believes that the Boisbriand factory's production was moved overseas, which would be an infringement of its collective agreement with workers. But, she explained, there was little recourse: the company claimed economic difficulties to justify a mass layoff, and without much transparency around its finances, only a court case could possibly settle the matter, long after the closure had gone ahead.
"We held a demonstration, we distributed pamphlets, we notified people," Beaudry recounts. "We were escorted out by the police." The local is, in fact, challenging the closure in court, but with a goal of securing financial compensation for laid-off employees.
But even with big players like S & F shutting their doors, smaller garment workshops like Miljkovitch's are still managing to make a go of making clothes in the city. Alex Carruthers and Stephen Charters co-founded a non-profit called Made in Montreal that promotes and supports local manufacturing. Their membership includes close to a hundred garment manufacturers, most of them small.
Carruthers and Charters say independent designers that find success are fashion trendsetters, producing unique designs for a loyal, specialized clientele. "These smaller houses need to make a niche for themselves," said Carruthers.
The buy-local movement is key for these labels, and Charters says there's an increasing number of boutiques, online shops and fashion fairs in Montreal that market themselves this way. "Even the companies that can ship across Canada really do rely on Montreal as their brand," Charters says. Some stich "made in Montreal" labels in their garments, and a few locally focused boutiques are decorated in an industrial style that evokes a shop floor, bringing to mind the city's manufacturing past.
The non-profit wants the municipal government to make it even easier to support local fashion, he says, including helping fund marketing.  "We believe that it's important for there to be a diversity of work in a city," Charters says. Montreal has a booming economy for people with tech skills, he says, "but not everybody thrives in that [environment]."
The industry is also an important source of jobs for recent immigrants, who make up a majority of the workers Suzy Beaudry represents. Clothing manufacturing can be someone's only option, she explains, if a worker speaks neither French nor English. In factories, newcomers can have tasks explained to them by coworkers who speak their language.
Beaudry sees a future for Montreal garment workers. The high-end menswear companies whose employees she represents manufacture a portion of their inventory abroad, she says, but their Montreal positions are protected by collective agreements. Besides, some of these employers have operated in the city for over a century. "They have a feeling of attachment," she explains.
Charters is also hopeful about the industry's survival, even if it will never return to its heyday. Nearly two decades after the dismantling of trade barriers, he thinks that most "companies that are likely to choose to move their production overseas… have done so by now. Those that are choosing to stay are doing so for a reason."
The ghosts of Montreal's garment trade are everywhere, as old factory floors have been taken over by modern businesses. The dingy Brodkin factory is now an empty office floor, most recently occupied by a videogame developer. The Imperial Pants building houses a coworking space. The floor that was once filled with Golden Brand's sewing machines is home to an educational publisher. A sports centre has moved into the Jeno Neuman factory.
On the other hand, workshops like Miljkovitch's are reclaiming space that was once lost to deindustrialization. And across Quebec, the rate of garment job losses has begun to slow.
Today, one shuttered factory is humming again: the building that housed S & F Apparel reopened in June 2017, putting hundreds of people to work making Canada Goose parkas. A photo from the opening shows apron-clad workers crowded around the factory's inaugural coat with markers in their hands, each ready to sign their handiwork. In the background, rows of sewing machines await their return.