Q-and-A: She the People and the perfect comedy union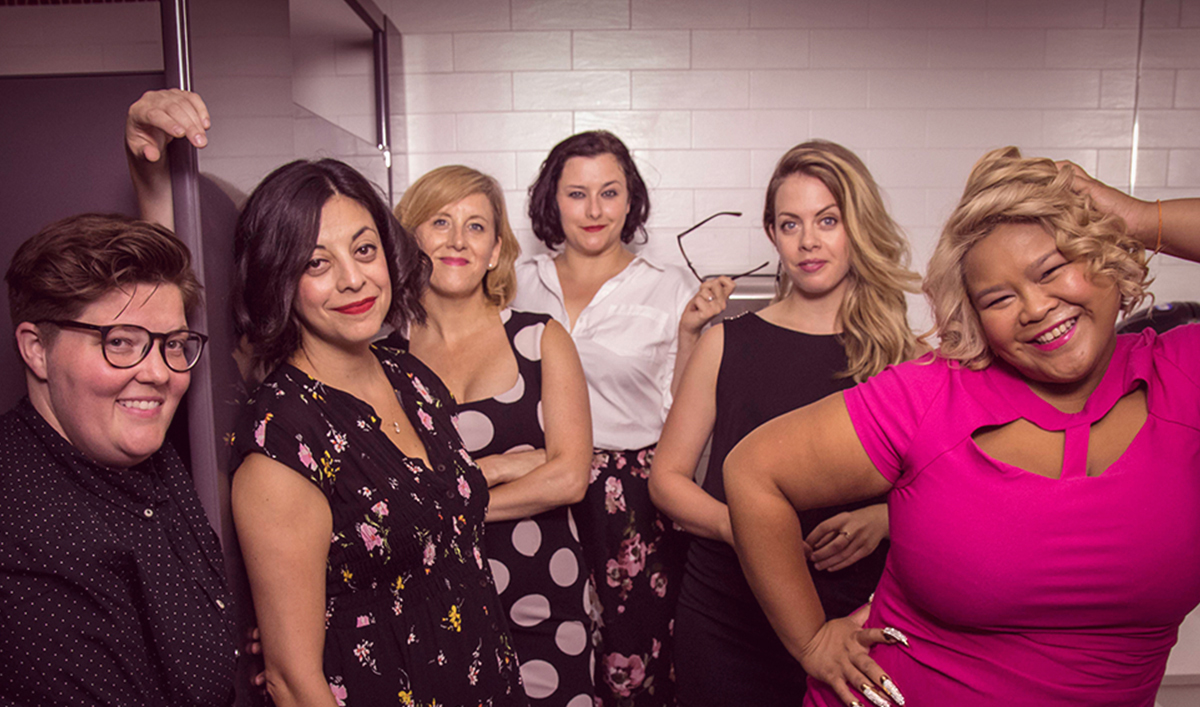 The cast of
She the People
. Left to right: Tricia Black,

Paloma Nuñez , Karen Parker, Ashley Comeau, Kirsten Rasmussen and Ann Pornel. Photo courtesy of Second City Toronto.
A brand-new version of the Second City (Toronto) hit She the People is coming to Montreal this week as part of Just For Laughs. It was written, directed and designed by women and is, of course, being performed by an all-female cast of six, pictured above. Co-writer and director Carly Heffernan talked to Jim Burke about the show.
Jim Burke: The title suggests US-style politics, yet this is a Canadian-created show. Could you tell me something about that duality? 

Carly Heffernan: Each time we approach it, we let it evolve, even change local references to suit the city we're in, or the country we're in at that time. We definitely sought to Canadianize the show in certain ways to reflect our unique experience as Canadians. But then we also did a run in Washington, DC, which definitely became its own version in that we were leaning harder into American politics. You're there in the heart of it, so you've got to lean harder into all that because that's what that audience craved. And that's what the cast were craving at that time, to be honest. 

We have a section that features the least-liked people currently in the news cycle. That's a great cathartic release for the audience. In terms of local (Canadian) politics, we do talk about some proposed cuts that have been coming up, we talk a little bit about education, a little bit about health care. Whenever we approach a satirical sketch show, we're usually looking to find the root of what's bothering us now, and we find it's something that goes back probably centuries, to be honest. There's usually a universal truth buried deep in the heart of all these -isms and microaggressions. 
JB: We're living in increasingly dark and frightening times. How do you approach that in a comedy show?

CH: Yeah, I think it's fair to say there is subject matter in this show that you wouldn't expect to find at a typical comedy show. We are dipping into women's reproductive rights and how they're being threatened in the States right now. And we are dipping into the disbelieving of assault victims. These are things you just don't expect at your traditional comedy show but, again, there is a real catharsis in it. There's this amazing thing that happens when we shine a light on these issues these things that the audience has strong feelings and opinions about. In a lot of cases, it's an actual shared experience, and there's a lot of joy in putting these issues on stage and finding humorous ways to broach the subject. I mean, definitely, we still have lighter fare, of course. We deal with relationships, we deal with our own bodies, our relationship with food, and so on. There really is someone for everyone.
JB: Do you write the sketches with individual performers in mind?

CH: When we originally wrote the show, it wasn't cast. A majority of the material was written without any particular person in mind, but then it's very easy to determine how performers would naturally fall into a certain mold. I'm lucky to have worked with all these women before. It was really a natural process casting them in their roles--they're such distinctive performers and each one comes with an amazing skill set. You know who you want over here to play this wild physical character, and you know who you want over here for your raw dramatic moments. It's really joyous and fun.
JB: Second City is famous for its improv background. Is there improv in the show?

CH: Oh yeah. Everyone involved in the show has got a great improv background. The majority of the scenes in the show are scripted,  but we definitely have improv scenes in there as well. We have moments where we're getting inspiration from the audience, letting that affect the scenes. We have scenes where the audience is actually invited to come and play with us on stage, which is really special. And while we're running a scene in the rehearsal hall, if these women are going to have a particularly wonderful improv moment...hey, you're always going to take what's funny.
JB: Should male audience members worry about getting it in the neck? 

CH: So, I love describing the show as being by women but for everyone. We definitely have a cross-section of humans in our audience every night. I always want to let men know: do not be fearful to come to this show, because everything we approach on that stage, even satire, is coming from a place of love and from a place of positivity, and is about looking forward to the future. I do know that I've talked to a couple of male-identifying audience members post-show and they've said things like "I was a little bit scared, I thought we were gonna get roasted, but that was amazing, it was so funny!" I love hearing that kind of post-show comment.
JB: Given this is a sequel of sorts, can we expect She the People to run to a trilogy?

CH: Ten! I want ten She the Peoples! That's my goal.
She the People plays at Centaur Theatre from July 22 to July 27. Visit hahaha.com for more information.