What to See at Complètement Cirque: Bosch Dreams and La Galerie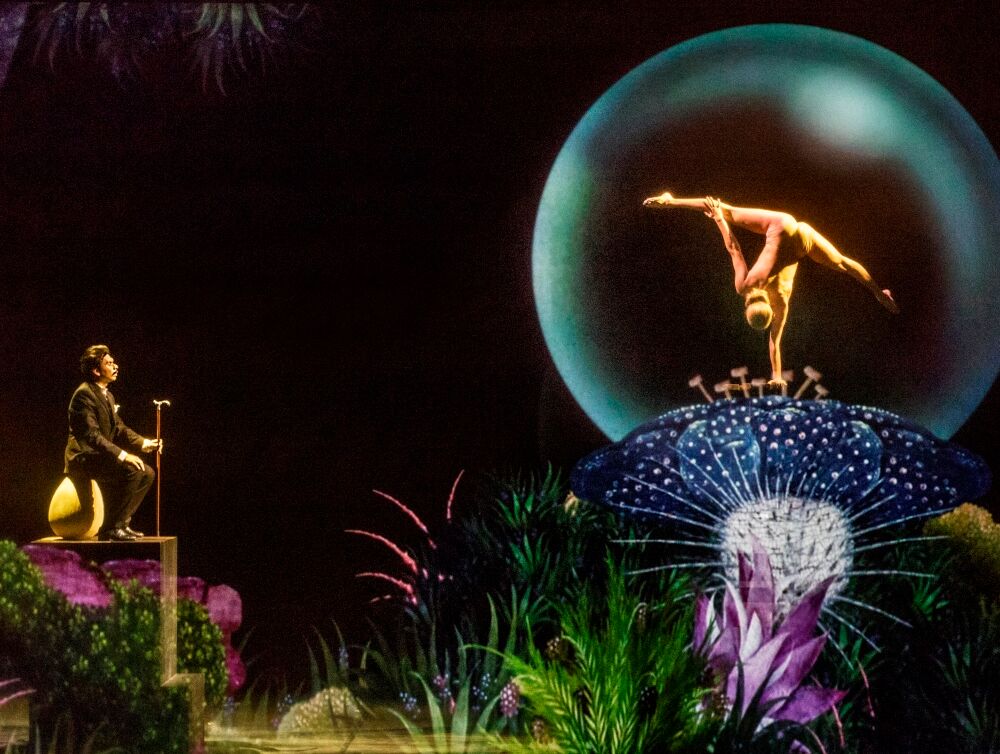 Review: Bosch Dreams and La Galerie
Bosch Dreams, by Les 7 Doigts, at Salle Pierre-Mercure (300 de Maisonneuve E) until July 14
La Galerie, by Machine de Cirque, at TOHU (2345 Rue Jarry E) until July 14


Ten years on, and the Montreal Complètement Cirque festival, which takes over the city until July 14, is demonstrating how New Circus is able to juggle genres as a way of offsetting jaded reactions to familiar circus acts. 
The four shows I've seen so far consist of interesting hybrids. Candide, which you can see for free nightly at Jardins Gamelin, is a wonderful mass spectacle that brings together circus and loose literary adaptation. Spring (which leaves town after July 8, unfortunately) is a joyous and colourful blend of contemporary dance and juggling from Brit company Gandini Juggling and choreographer Alexandre Whitely. And the two shows I'll be talking about here, Bosch Dreams and La Galerie, use dazzling acrobatics to explore the arts world.
The marriage of circus with the work of Renaissance painter Hieronymus Bosch isn't so much of an odd coupling as might first appear. After all, the spectacular imagery of such masterpieces as The Garden of Earthly Delights and The Last Judgement was, for medieval spectators, surely the greatest show on Earth.
That sense of spectacle is certainly there in Bosch Dreams, the show created by Montreal's Les 7 Doigts in 2016 to mark the five-hundredth anniversary of the painter's death. The stage is dominated by three layers of ravishing animations created by video artist Ange Poitier and derived from nine of Bosch's paintings. The human, non-human, and something-in-between figures populating the eerie Boschian landscape spring into life—something in the manner of Terry Gilliam's wonderful faux-naïf Monty Python cartoons—while the performers themselves inhabit the paintings, sometimes as projected images, sometimes moving physically between the three screens. The effect is mesmerizing, often stunning.
Given that Les 7 Doigts was formed by seven performers who ran away from the circus (namely Cirque du Soleil) to form a more back-to-basics troupe, there's something a bit paradoxical in employing massive and technically complex visual backdrops to the performers' feats. Yet, like Bosch's works, the show both dazzles the eye and celebrates humanity in all its folly, yearning, suffering and revelling.
Montreal audiences might recall a similar stage treatment of Bosch's art in Compagnie Marie Chouinard's The Garden of Earthly Delights a few years back. That contemporary dance show was a kind of abstract meditation on the famous triptych of the same name. Les 7 Doigts take a more narrative approach, telling the story of an arts professor and his neglected daughter. The professor is away giving a lecture on Bosch at a conference (in surprisingly wordy sequences—in French, by the way—for a circus show), leaving his teenage daughter to navigate her own way through tricky terrain between childhood and adulthood. 
There's something Robert Lepage-like in the way the show combines academic minutiae with a freewheeling theatrical imagination backed by technical wizardry, though it's arguably not quite up there in terms of organic fluidity or acerbic wit. The circus routines, as skillfully accomplished as they are, don't always gel with the narrative. That said, a transition from the imagery of The Hay Wain to a romantic duet with a Cyr wheel is a lovely moment, as is the sequence in which Salvador Dalí watches spellbound as a contortionist performs in a translucent globe. 
Dalí, a confirmed Boschophile, is one of the real life characters depicted, along with Bosch himself and The Doors' Jim Morrison, whose song "Ship of Fools" was inspired by a painting of the same name. What a pity, though, that this song is quickly nudged aside in favour of that inevitable crowd pleaser "Light My Fire". It's a choice that suggests that, for all the visual ingenuity on display, Bosch Dreams doesn't quite dream big, weirdly or obstreperously enough to do Bosch, that most disquietingly idiosyncratic of artists, full justice.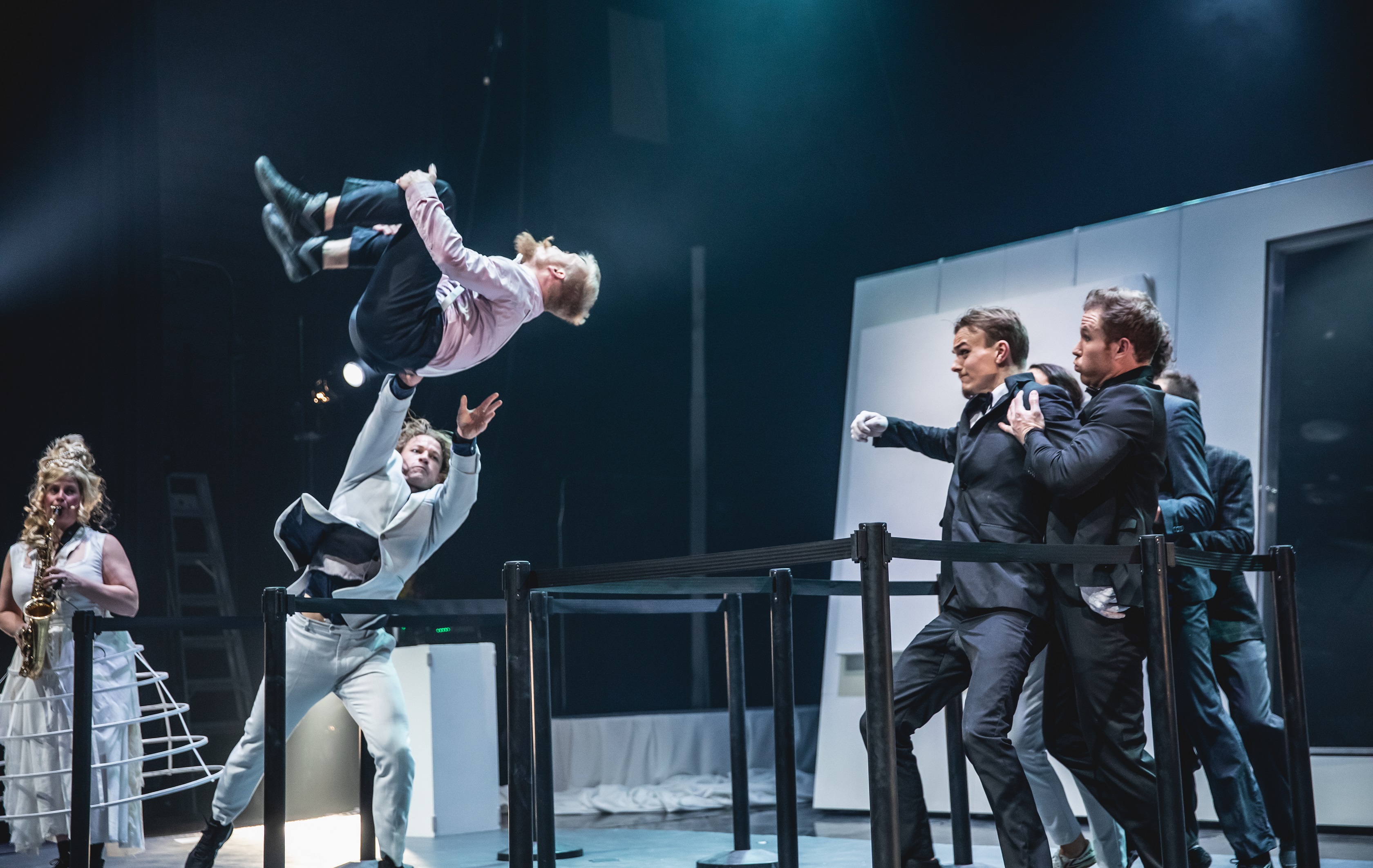 There's a moment in Bosch Dreams when Dalí passes through a gallery before going on his surrealistic travels through other dimensions. The eight performers of Machine de Cirque stick around the gallery for the eighty minutes of their new show called, succinctly enough, La Galerie. 
Like a machine created in, say, the era of silent movie slapstick, it takes a while for the cogs to connect and get a move on. Directors Vincent Dubé and Olivier Lépine deliberately let the audience wait as several elegantly-clothed art-heads mill around a pristine white gallery, inclining their heads for a better view—the paintings are invisibly hung on the fourth wall, so we the audience are effectively the objects of the viewers' interest. Then they bend their bodies, just to get another perspective on what they're looking at. Soon we're into something like a turbo-charged version of Mr. Bean as they leap, somersault, tumble and balance on one another, all the while keeping a deadpan eye on the imagined art works.
There are some fantastically conceived routines throughout, all centering on different aspects of art galleries. An auction sees the bidders bouncing higher and higher to get the auctioneer's attention. A labyrinth of crowd control barriers provides the pretext for some gravity-defying line-cutting as sneaky patrons hurl themselves over the cords, and are then hurled back again twice as high by their outraged fellow patrons. A series of Indian clubs balanced on plinths like exhibits are snatched up and used for an incredibly intricate mass juggling scene, ending with one of the jugglers, now loaded with all the clubs, being himself exhibited as a statue on a plinth.
That previously-mentioned machine analogy holds not just for the complexity of all the moving parts in such scenes as this, but in the way things deliberately grind to a halt half way through the show. A rip in a white canvas proves to be a rabbit hole into the surreal behind-the-scenes of the gallery, where ghosts of past patrons, or perhaps subjects of portraits past, drift through in their ruffs, powdered wigs and hoop skirts. 
Arguably, the show lingers a little too long in this dilatory dream-like sequence (I don't think I was the only one to get a bit fidgety here). But the machine finally cranks up again for a madcap tidying session involving a vacuum cleaner and a sea of popcorn. 
The show ends with a glorious explosion of vibrant colours as two white-clad performers use themselves as human paintbrushes—and canvases—to out-Pollock Pollock. I'm not sure how the art world would value their resulting creation, but this show, with its combination of the silly and the sublime, is surely a little masterpiece of its kind.
Editor's note: Maisonneuve will be publishing several reviews from Montreal's arts festivals this summer.
Jim Burke is a freelance arts journalist who writes about theatre and dance for the Montreal Gazette. Originally from Manchester, England, he has written for several UK publications such as City Life Magazine, Manchester Evening News, Plays and Players and Metro. A playwright himself, he has written scripts for BBC Radio and for the stage in England, Montreal and Germany.
For more information about these shows and about Montreal Complètement Cirque in general, visit montrealcompletementcirque.com