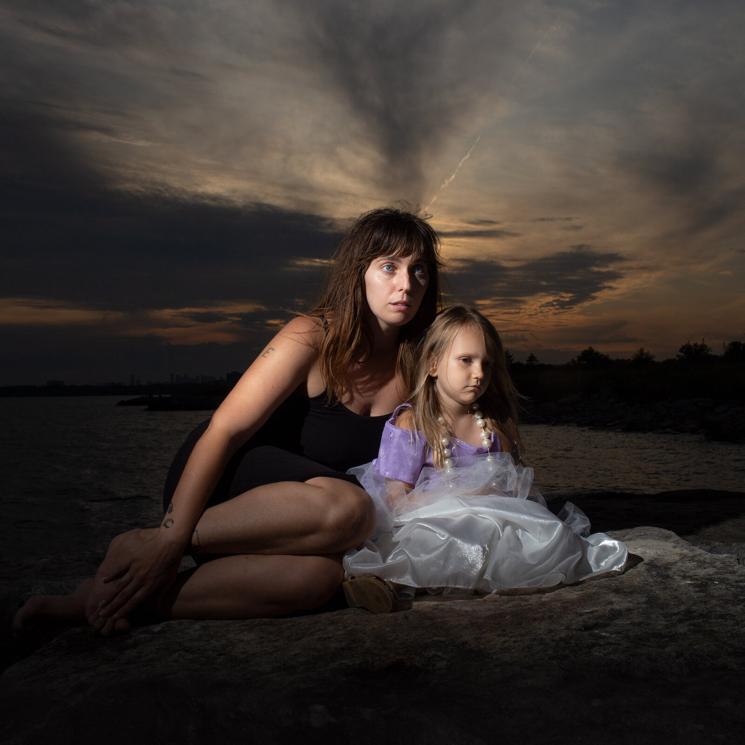 There are few instances of musicians sounding like David Bowie. This is rare—think of someone like Prince, where imitators reach for the obvious, drawing on the falsetto, the guitar-play, perhaps the alien androgyny. But with Bowie, it isn't his sound that endures in popular culture so much as his rolodex of personae. His spirit most often emerges in the form of a handsome and wealthy male wearing nail polish to a gala. Meanwhile, his out-of-key shifts, surprising bridges, and arched baritone à la Jacques Brel remain relegated to karaoke. 

But on Heavy Light, the latest album from Toronto's U.S. Girls, principal songwriter Meg Remy makes Bowie in her own image. In contrast to the political disco of 2018's In a Poem Unlimited—post-punk and avant-pop held together with studio gloss—Heavy Light is a live off-the-floor effort that showcases Remy's iconoclastic nature. 

Opener "4 American Dollars," with its backup vocals and lush arrangements, conjures the plastic soul of Young Americans. On "Woodstock '99" and "IOU," Remy parrots the Broadway-via-Britain folk of early Bowie, sounding like she's strolling through the Aylesbury market square alongside him. By Ziggy Stardust's clock, the world was supposed to end in 1977. Remy and her fellow millennials were practically born knowing they would grow up on borrowed time, and modern disasters like the stripping of the social safety net and climate catastrophe loom in the album's thunderous "The Quiver to The Bomb." 
An esoteric cover of Jack Name's "Born to Lose" is the most peculiar song on the record and also its standout. Remy adopts a self-consciously Patti Smith voice on the track, and she's as nasal and allergic to the present as any rock-and-roll adherent should be, against a fog of vibraphones and backup singers. It's a surreal, unexpected and genius song on an album that, aside from the Bowie nods, sometimes feels like a redux of the band's last release, Poem Unlimited. Another welcome redirection is the track "And Yet It Moves Me / Y Se Mueve," with its Latin percussion. 
Elsewhere on the album, spoken-word interludes weave tapestries of past traumas and childhood memories. The recordings are brief and thematically sound ("Objects in mirror are so much closer than they appear," sings Remy on "IOU"). But these Greek choruses might have a greater impact if they were incorporated into the songs somehow. When it comes to pop records, it seems it's best to speak through song, unless you're a voicemail from Frank Ocean's mother. 
Springsteen references abound in Heavy Light. And Remy, like Springsteen, knows when to let her band members take the spotlight. Among the album's twenty or so collaborators is saxophonist Jake Clemons, nephew of the late Clarence Clemons and current member of the E Street Band. The album ends with a reprisal of an early U.S. Girls song, "Red Ford Radio." While it's far from heartland rock, the song still manages to conjure the same desperate ache of Springsteen's most tortured character studies. The Boss was best at writing songs from atop the heartland about those stuck between a rock and a hard place. Here, however, even the song itself sounds pinned by the boulder: "I'd do anything to get out, get out," Remy sings. 
A song might not get us out of there, but it'll provide the solace needed most. With any luck, Remy will continue to sing them for years to come.