Conversations in Quarantine: Matthew Walsh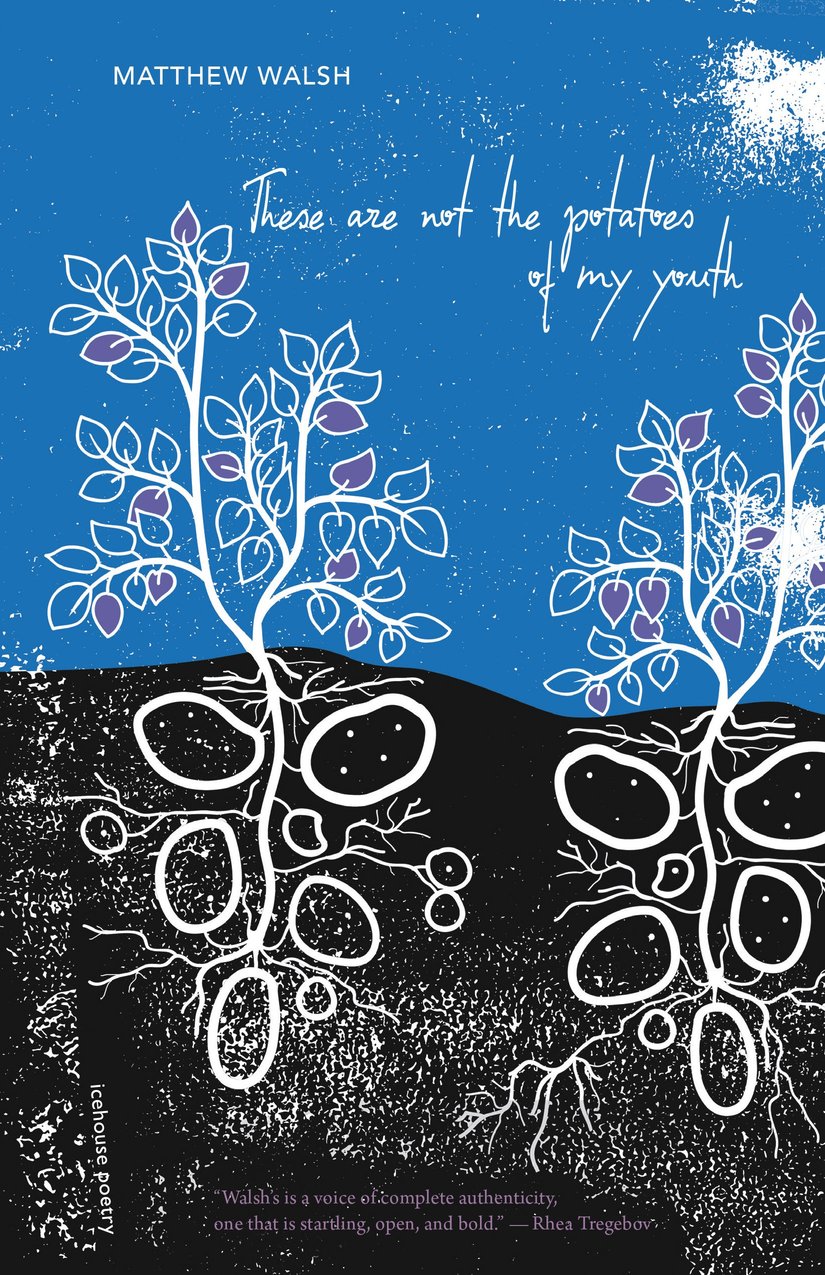 This interview is part of a series of conversations with Canadian authors about how they're coping with the pandemic, how they're writing—or not writing—and what life is like for them now.

Matthew Walsh is a poet who lives in Toronto. Their debut book of poetry, these are not the potatoes of my youth, was just shortlisted for the 2020 Gerald Lampert Memorial Award.
I first met Matthew's poetry in the mid-2000s in Guelph, when I made, with a group of friends, a zine for the Kazoo! Collective, called the kazine—we published Matthew's early poems!
andrea bennett: Could you tell me what you were doing before the pandemic and its restrictions hit, and what your life looks like these days?
Matthew Walsh: Just before COVID began, I went to Guelph to visit my friend. The virus really started taking off the day after I arrived. Everyone looked at you when you cleared your throat or coughed into your sleeve. I came back to Toronto and the restrictions were just starting to happen at the cafe where I worked, and others. Only take-out, no "for here" cups and everything to-go. More Uber Eats orders than ever before, at least where I worked. Eventually all the cafes closed and I started staying home. I live alone in the Junction area of Toronto.
It was sort of unclear to me at the time what would be closed in the area. The day I saw a line around the corner at the No Frills, I decided to just get things I needed delivered so I didn't have to be out as much. There is a corner store next to my house which I go to if I need something, like Drano, but it's very spooky because there's basically only two of each thing, then a ton of sodas and chocolate bars and candy.
These days I have been reading books—I just started My Private Property by Mary Ruefle and Indelicacy by Amina Cain. There were books I couldn't finish before the pandemic, which I've gone back to. I've been water colouring and doodling for fun, watching movies. I just watched an amazing documentary about the Filipino politician Imelda Marcos called The Kingmaker. I wrote two poems and four lines of a poem and wrote a tiny Twitter poem. I have been doing a lot of cooking. I made a chicken curry and a sweet potato purée, and had to order a new knife set because the last of my knives lost its handle—very poetic, huh?
ab: This sounds not so bad, Matthew! Well, except for whatever prompted the Drano. Did you apply for CERB, or EI? Will you be financially okay to wait things out for a while?
MW: I applied for CERB and got my first payment, so I just have to wait for their next window to open to apply again. So far I'm okay financially. I've just been spending money on basic food and necessities. Today I wondered if any art stores were delivering canvas because I'd like to have some acrylics and paint a big painting. As long as I have some books to read and little art things to do I will be okay to wait it out. Yesterday I watched an entire season of a fashion reality TV show and an Almodóvar movie.
ab: What's the thing you're finding most difficult about being in quarantine? What's the thing you miss most from the outside world?
MW: The thing I find the most difficult is I like being outside, walking around and exploring the city. I like to walk around and take pictures but I feel like I can't really do that. I know it's okay to go to Christie Pits park as long as the distance is maintained, but a lot of people don't really follow that rule so it gives me anxiety.
The thing I miss most is that it is almost park season and I love to spend my time there and sit and read or be with people, or taking the TTC to the east end and sit by the water or behind the water treatment facility, or climb the fence and sit on a rock at Secret Beach. [Note from andrea: Matthew won't tell me exactly where Secret Beach is, because it's a secret, but they say to get there you go to the very end of Queen Street, and if you get there you can see the Scarborough Bluffs].
ab: Can I share your tiny Twitter poem with everyone?
MW: Yup.
I was in the bathroom
& heard the door creak
Said Matthew
In the tone of my grandmother
Each sky in the bathtub
Is a different science of cloud
Don't know if the neighbours
Are watching something loud
Or the air exchanger
Is talking to me
Through some kind of vocal
Arrangement