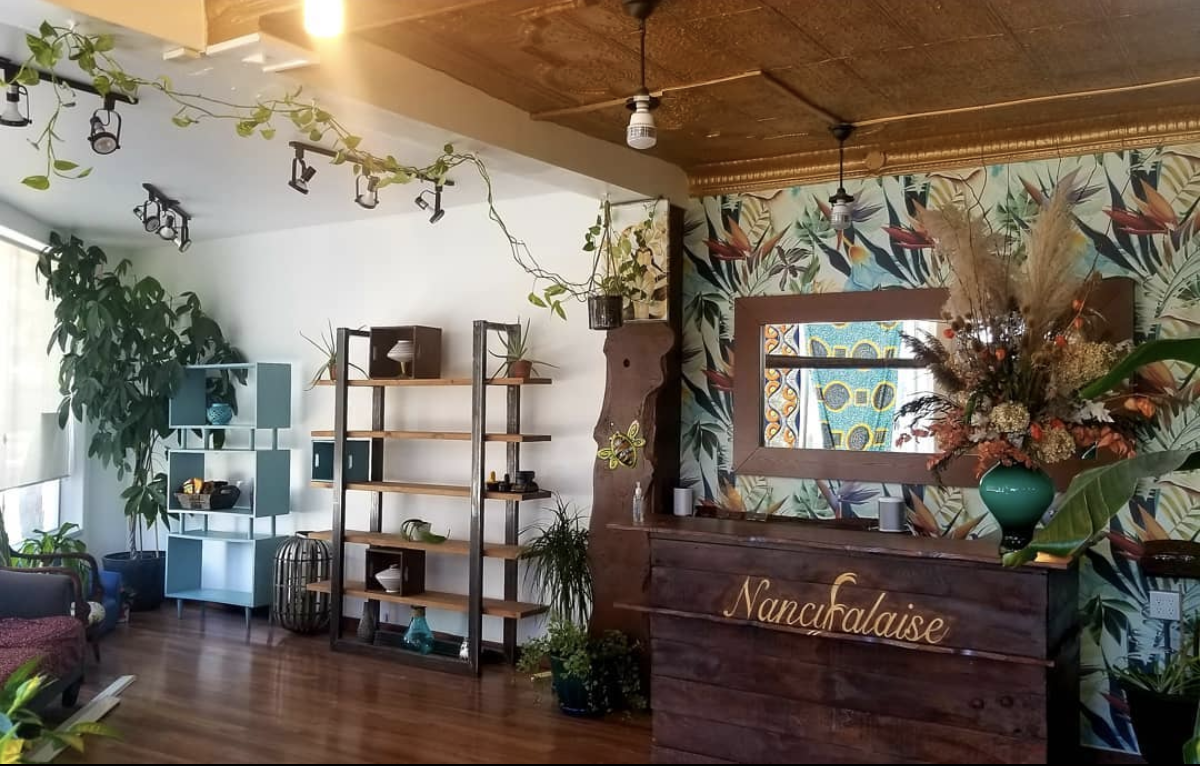 In mid-April, Nancy Falaise signed into her Instagram account at 6 PM sharp. She was seated in her empty hair studio in Montreal, alone, without the usual buzz of twelve clients chatting while getting their curls replenished. 
But nostalgic R&B played in the background to fill that void, and Falaise, dressed in a bold red blazer and wearing short caramel curls, entered the frame. "Hello everyone, bonjour tout le monde!" she said. "I really felt like getting dressed up and wearing makeup today, because meeting with you wonderful queens is the only thing I'm looking forward to all week."
It was the sixth session of "Afro Cocktails," a weekly series Falaise launched through Instagram Live. In the hour-long sessions, she teaches techniques for caring for natural hair, like how to give yourself a trim, how to do a twist out, and how to define your curls. Each week, the sessions have attracted fifty to one hundred clients from Montreal and beyond. Falaise doesn't make any income from Afro Cocktails—but times have changed, and with them what it means to run a successful business. 
Falaise always intended her hair salon, in the borough of Plateau-Mont-Royal, to be a place for people to talk, to connect. It's decorated with mid-century modern furniture, accentuated with greenery and warm lightning in every corner. "For some, coming to the hair salon is the only time you have for yourself and to communicate with others," says Falaise. "You get to talk to someone, nobody judges, there are no kids, there's no husband, there's nothing. It's a relieving time for everyone."
Earlier this year, both Falaise's career and her community engagement were soaring. On top of her regular clients, she was closing her salon once a month to host bilingual workshops at $100 per person for young girls of colour struggling with their natural hair. She was offering a similar all-ages course open to anyone, including other hairstylists. 
Her success was hard-earned after eighteen years in the industry. Nothing could have prepared her to find it all suddenly shut down due to Covid-19. "I didn't think much else apart from 'I need to stay open when this is over, and how am I going to do that?'" she said. And one answer came to her: free tutorials. Maybe they would lead viewers to schedule paid one-on-one consultations. 
Many salons' answer to Covid-19 has been to recreate the salon environment online in various ways. But it turned out that for Falaise, going online gave her a moment to underline that her hairstylists offer another major commodity beyond their haircuts: their knowledge.
People have joked that quarantine is a chance for universal disregard of personal appearances. That's not the case for people with natural hair, though. For Diane Montgomery, an education consultant from Toronto, the restrictions and salon closures have meant spending more time in the bathroom, not less. "If you're not used to doing this on your own, it's like another job that you have to do without having the appropriate experience and training to do it," she says.
Maintaining natural curly hair is not just the kind of thing you can learn by reading the instructions on a shampoo bottle. After a couple stressful weeks trying to cope on her own, Montgomery called her stylist, Keina Morgan, who owns Urban Curls Boutique in Toronto. Morgan gave her general advice over the phone and then set up a Zoom call to guide her through the process of dyeing her hair. 
Messages kept coming in from countless women who shared Montgomery's worries. So Morgan decided to move her salon online, too, like Falaise. The hairstylist offers a free consultation and Q&A on Instagram every Sunday. To stay afloat, she's booking paid individual sessions for tasks like cutting hair at home or installing hair extensions. 
While it's easy for people to get frustrated with natural hair right now, Morgan is trying to reframe that narrative and improve people's relationships to their hair in the process. "We help clients maintain and embrace the versatility in their naturally curly hair. So that is always our main mission," she says. 
A common question for Falaise is how to do twist outs, a two-strand hair-twist technique that can create a variety of curls. One of her regular clients, Rochelle Finch, tuned in for the "Afro Cocktails" livestream dedicated to that style. "I learned that you really don't need a lot of products for your hair," she said. "As a self-confessed product junkie, this was an eye-opener for me. I now plan on using up the products I have and not purchasing any more until they are done."
Falaise has also started selling her own line of all-textures hair care products online, despite having previously only offered them in her salon. While some stores have remained open to provide people with "essentials," including aesthetic products, they don't necessarily carry what's essential for everyone. When you walk down the hair aisle at your local Jean Coutu, for example, the products are full of ingredients women with naturally curly hair stray from—parabens, sulphates and chemical fragrances. There's been so much demand for Falaise's products that they went on back-order.
Not just their customers but Falaise and Morgan themselves have been reminded how much natural hair specialists have to offer in terms of cultural knowledge. "It's one thing to just do hair and make it look all pretty for people," says Morgan. "But teaching the skills on how to maintain curly hair is going to be more beneficial for them, and the longevity of our business, because it shows that we have value."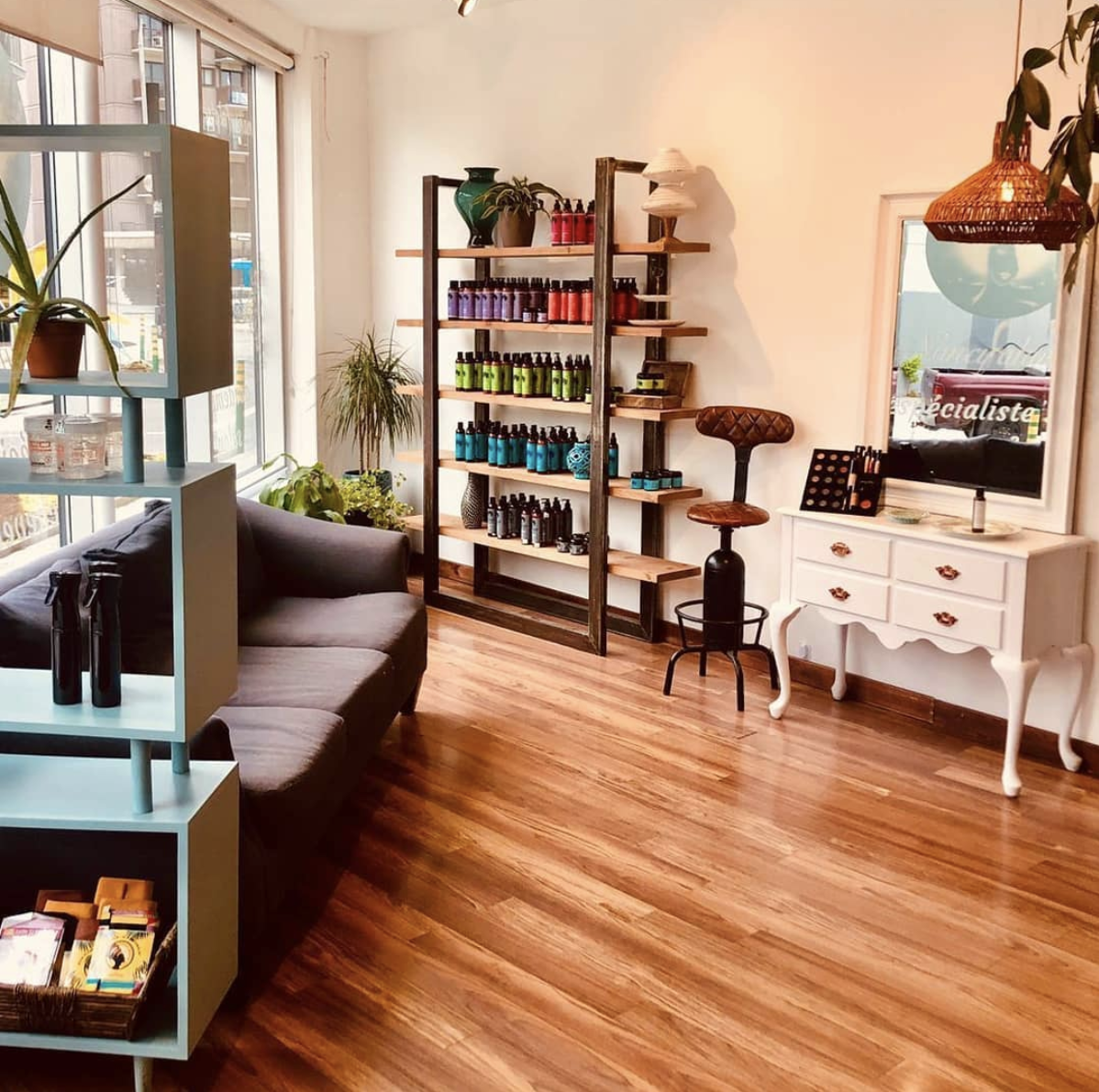 It's clear the pandemic will change the realities of their industry indefinitely; what's unclear is whether giving free advice will translate to more paying business later—or less. Falaise and Morgan predict a certain percentage of women will continue doing their hair themselves, even after restrictions are lifted, forcing many salons to keep offering online services. "Moving forward, I think that we're all going to have to readjust and find other ways for income in our businesses for us to survive, because our number of coins coming in is definitely going to drop," says Falaise.
Like all small business owners, her finances are tight, despite the relative success of her digital workshops. "I lost 75 percent of my income, so it's difficult because I have my expenses for things like rent, electricity, phone, internet, all that stuff. It doesn't just go away I still need to pay it," she says. As they've anxiously waited for the green light to reopen, Morgan has filled three full pages of her notebook with changes and new rules she will be implementing in her salon. Finally, that date has arrived—at least in Montreal—as of June 15. On Instagram, Falaise shared the news that she will be opening her doors the very next day. 
That's when she'll start to learn what "Afro Cocktails" has meant in the long term. Clients have already told her they hope the series won't go away, as they've grown accustomed to the online services. "I truly appreciate Nancy sharing her knowledge," said Finch. "The Aperos [Afro Cocktails] felt like a sisterhood. I hope she continues." 
But Falaise doesn't just miss her customers' paid appointments, either. She says that more than anything, she missed the freedom of laughing and chatting with her clients in person. She even missed bickering with fellow stylists. "Hairdressing is not just to come in to do your hair. There's a connection that you have with your clients and vice versa," she says. "There's a lot of stories being shared and people being vulnerable in the salon chair." 
She says that she's just holding onto hope that this pandemic, somehow, will be good for businesses in the long run and in the biggest sense. "We have got to make the best of it," she says. 
Editor's note: As a pandemic summer begins, people are looking for books and music—while artists and musicians can't go on tour to publicize their new work. For the next week, Maisonneuve will publish daily online reviews of Canadian writing, music, art and cultural trends.