Conversations in Quarantine: Philip Moscovitch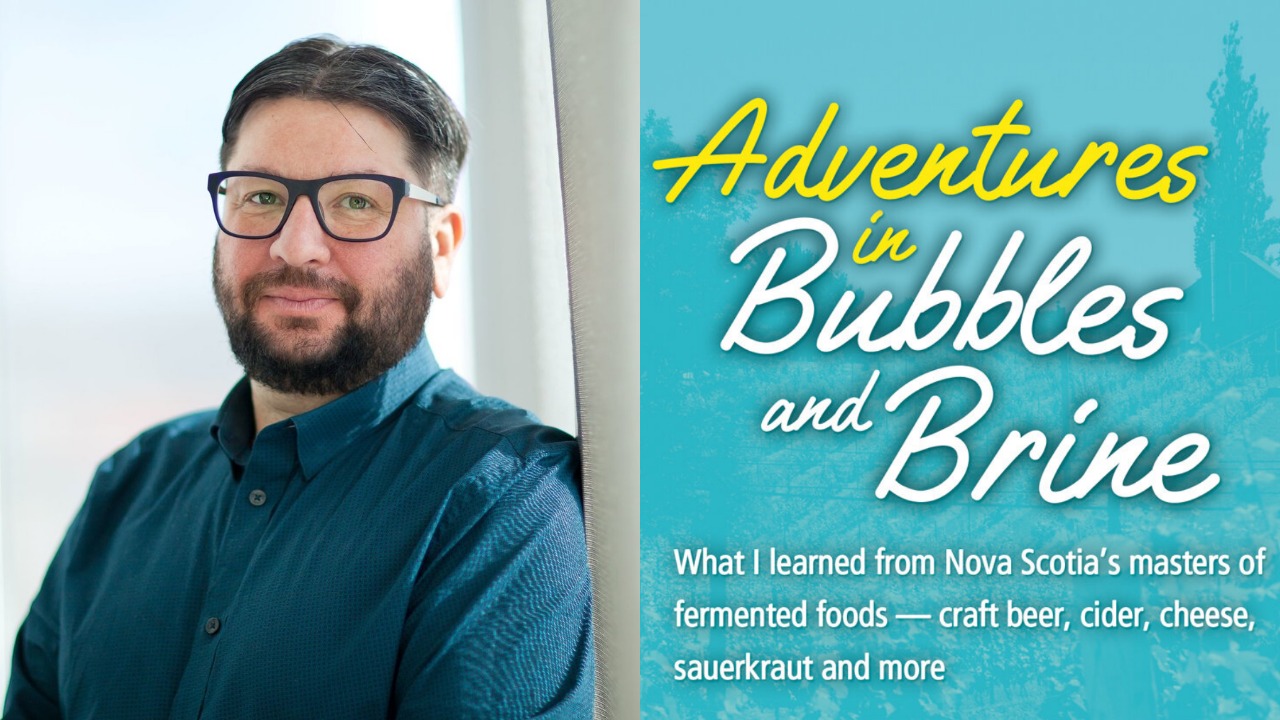 Philip Moscovitch is a freelance writer and the author of Adventures in Bubbles and Brine,  a book about fermenting and fermentation history and culture in Nova Scotia. He's a regular contributor to the Halifax Examiner, and has written for the Walrus, the Globe and Mail, and many other publications. During this period of quarantine, he is grateful to be living in Glen Margaret, a small community outside Halifax, where there is plenty of access to the outdoors. He and his partner are currently living with two of their three kids, who are back home after the pandemic disrupted their plans.
[Editor's note: this interview took place in mid-May—about ten years ago, in pandemic time—so some of the circumstances and situations mentioned have now altered and shifted.]
andrea bennett: What did your life look like before the pandemic and its restrictions set in, and what does it look like now?
Philip Moscovitch: I am a freelance writer, and unless I am actively out researching a project and meeting people in person, I usually stay home. One of the last times I left home for work was in February, when I was writing about a couple of guys who have invented a new kind of ropeless fishing system, and I went over to Dartmouth Cove to watch them demonstrate it. A few days later, I attended an industry event on innovative fishing technology put on by the Department of Fisheries and Oceans. 
Soon after, everything fell apart. In the outside world at least.Before the pandemic, I'd been slowly but diligently working at being better about connecting with people. In fall 2019 my first book, Adventures in Bubbles and Brine, came out. It's a research-heavy non-fiction project that became all-consuming. After I'd finished it, I made a real effort to connect with friends and writer colleagues. 
I was working with my publisher to plan events at wineries and cideries to promote my book, which is about the fermentation scene. I also had several school author visits planned. And I was going to get to work on a second book, which would have involved research travel in May and June.
I'd also started doing Tai Chi classes with my father-in-law, and had been going to the gym a few times a week, actually liking having that be a part of my life. My partner Sara teaches yoga too, and I've been going to her weekly class for a few years. I do not think of myself as a naturally athletic type, and I have to work at doing and maintaining this stuff. Things were pretty good.
In some ways, not much has changed externally. I was worried my work would dry up immediately. But I was lucky to have a regular gig writing a weekly instalment of the Halifax Examiner's Morning File. Once the pandemic hit, publisher Tim Bousquet decided to commission as much work as he could, take down his paywall, and keep publishing til he went bankrupt, if it came to that. The rhythm of this kind of newsier writing is new for me. I'm enjoying it. I've also had research and production work on a couple of different podcasts.
Of course, I've experienced the same cycles of anxiety, despair, adjustment, getting on with life, anxiety, panic, feeling it's okay, and so on as have so many others. But once restrictions started to come in, I also felt a sense of relief at not having to worry (for the moment anyway) about some things that had been causing me anxiety. I stopped going to the gym before it became impossible to do so, just because it felt like a terrible idea. But, should I go to Tai Chi on Tuesday? There are only six of us and the room is pretty big. Am I just not going out of laziness?
Then Tai Chi was cancelled. Perfect. I don't have to decide. Same thing for a baseball umpiring clinic in early May, the library presentation I was supposed to give, and so on. Now I feel a touch of melancholy as I see these things go by on the calendar, but all the cancellations left me feeling relieved about not having to make these individual decisions.
I've started a books podcast, with my old high school friend Jay, called Dog-Eared and Cracked, where we each read a book the other recommended and then discuss. Tai Chi with my father-in-law has become virtual, as we go through our routine on the phone with each other every morning. I join Sara's yoga class on Zoom, even though we are in the same house.
We also have two of our three kids living at home again. They're twenty and twenty-three, and having them here in some ways is great, even though I recognize that it represents a huge challenge for them and they are only here because of major disruption. My daughter lost her job in Montreal and my son was supposed to be working at a hotel in Banff right now. We watch stuff together, cook, play games in the evening (my Dutch Blitz goal is to score higher than zero).
ab: I think I'm asking this question because I have a book (that I worked quite hard on for a couple years!) coming out in the fall, and I'm coming to terms with the fact that it may not be possible to tour it in person, which is something I've deeply been looking forward to: did you have to go through a period of mourning the loss of doing in-person talks for Adventures in Bubbles and Brine? How did you adjust to the idea that you wouldn't be able to do them after all? 
PM: I was lucky that I did get to do some in-person events. My book came out in November, so I organized a bunch of workshops with branches of the Halifax Public Libraries. I'd do a combined workshop/book talk, demonstrating how to make something relatively simple like yogurt, kimchi, kombucha, kimchi, or sauerkraut. I didn't sell a lot of books on the spot, but we did get decent turnouts and it was fun.
I am disappointed about this spring though. A lot of the people I interview in my book run seasonal businesses or have really reduced off-season hours. I was looking forward to doing some events with them. I spent a lovely afternoon interviewing Bruce Ewert of L'Acadie Vineyards, walking through the vineyard, then sitting on the deck drinking wine, chatting and eating chips. Bruce and I were looking forward to doing something together this month: a talk, wine tastings, a chance to sell books.
I also never really had a launch event, and while I know these are often more important for writers as milestones rather than as drivers of sales, I did miss that and now there is no opportunity because the second fermentation season launch window possibility is gone.So how do I deal with that? I've been very busy with work, so I have something else to focus on. I've also done one online event—a forty-minute workshop on making sauerkraut—and I'm going to do another for kimchi. So that allows me to share some knowledge and stories from my book, which I do think has some great stories. 
I don't know about you, but I enjoy events when I'm doing them, but they can be exhausting. That said, connecting with people through social media can be intimate and satisfying. You (or your publisher) can set up some online discussions, or book group talks and that despite the initial weirdness, they will probably do quite a nice job of filling in for the talks you were not able to give.
There's also the idea of just letting go and realizing this is the way things are. Because your book is coming out in the fall, you have time to adjust. I feel terrible for people like Julie Lalonde, whose book was released right near the start of the pandemic, and so there was little opportunity to come up with a timely alternate plan.
ab: What's the thing you've missed most in quarantine—the thing when, restrictions are lifted and it's safe to do so, you'll do immediately?
PM: For Christmas, Sara's dad gave her a gift certificate for two to a Nordic spa that opened in January in Chester. We had been planning to go for a while, and now, of course, can't. If they survive, I look forward to being able to go together. 
This interview is part of a series of conversations with Canadian authors about how they're coping with the pandemic, how they're writing—or not writing—and what life is like for them now.