Conversations in Quarantine: Terese Mason Pierre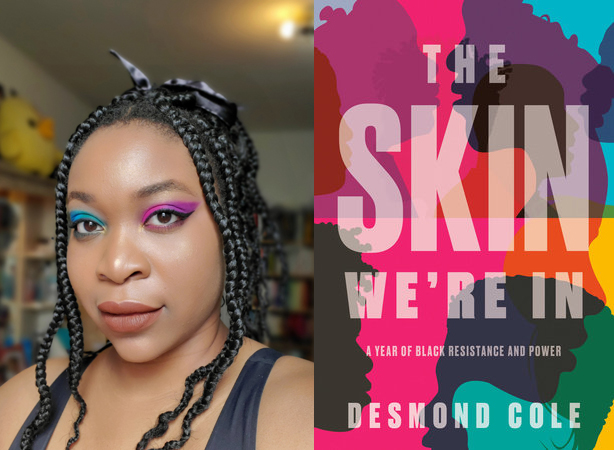 Terese Mason Pierre is a writer and editor whose work has appeared in the The Puritan, Quill & Quire, and Strange Horizons, among others. She is the poetry editor of Augur Magazine, a Canadian speculative literature journal. Terese lives and works in Toronto. Recently, she's been a prolific contributor to the #booklook hashtag, where writers are sharing their makeup takes on poetry, fiction, and non-fiction. 
andrea bennett: What did your life look like before the pandemic and its restrictions set in, and what does it look like now?
Terese Mason Pierre: Before the pandemic started, around early March, I was gearing up to participate heavily in the new spring publishing season. There were so many launches I wanted to attend, like Souvankham Thammavongsa's How To Pronounce Knife, and I was slated to perform at a number of reading series. I was also going to work with the Toronto International Festival of Authors to host the Breakdown Tour for Jillian Christmas, Vivek Shraya and Amber Dawn, which I was very excited about. I'd also just gotten a grant, and wanted to travel for research for my poetry collection. And I'd been invited to birthday parties and other outings, too. Basically, I was going to be my most outgoing, extroverted self. 
When I started to isolate and realized that everything was going to be cancelled, I felt very fatigued and lonely, at first. I really missed my friends, and I struggled to find ways to occupy myself during the day. Now, a lot of my day is dedicated to applying and experimenting with makeup. I started to do daily makeup looks based on book covers, along with writers Jenny Heijun Wills, jaye simpson, Domenica Martinello, Nisha Patel, Alicia Elliott and others. I also rediscovered my love of The Sims, and play that game for a few hours a day. Occasionally, I write a poem or part of an essay. I downloaded TikTok. I play Dungeons & Dragons with my friends. I try not to get down on myself about my productivity levels. I know that others are going through similar struggles as I am.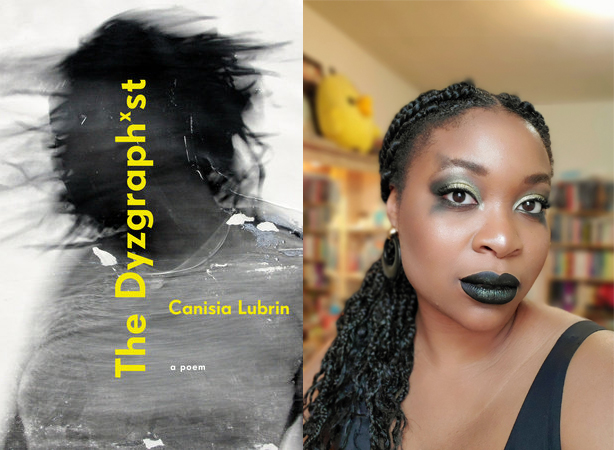 ab: What does it mean to you to connect with community and with books through makeup? Have you had any revelations about poems or essays or stories while working out a visual aesthetic for them? And would you be able to share a few of your favourite looks? 
TMP: I'm excited and happy to be able to connect with people. I've received comments and messages from writers that our book looks are getting them through this quarantine period, and because some of us post every day, our book looks become something to look forward to. I take that feedback seriously, but I try to not let it get to the point where I forget why I'm doing these looks in the first place: because it's fun and I love it and they're also getting me through the quarantine. Some people have also found these looks inspiring, and have started to do book looks themselves, which is extra special. What's also really cool is when book designers and cover artists share my looks on their social media.
People assume that I'm doing makeup looks for books that I've read, and that's a fine assumption, but it isn't the case. I choose books based on their covers alone. I have a lot of unread books on my shelves. I will, of course, also do makeup looks for books that I have read, like Souvankham Thammavongsa's How to Pronounce Knife, and Jillian Christmas's The Gospel of Breaking. When I do pick a book that I've read to do a makeup look for, I think about what I loved about the book, and channel that energy and love into the makeup. The first book looks I did—Eternity Martis's They Said This Would Be Fun, and Tessa McWatt's Shame on Me—had a strong impact on me, as a reader, and as a black woman, and it was my love of those books that caused me to do book looks in the first place. I haven't necessarily had any revelations on other books' content yet, but I'm waiting for that to happen.
A few of my favourite looks are for Canisia Lubrin's The Dyzgraphxst, Vivek Shraya's I'm Afraid of Men and Desmond Cole's The Skin We're In.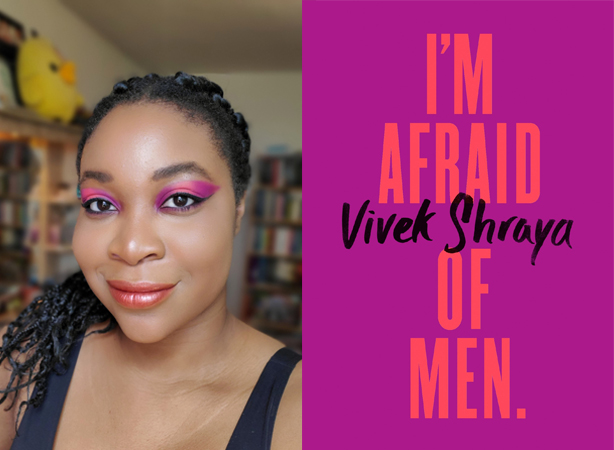 ab: There are so many talented people—predominantly BIPOC writers—doing book looks right now. Could you share a couple of your favourite looks done by other writers?

TMP: Of Jenny Heijun Wills's, I like her looks for Tea Mutonji's Shut Up You're Pretty, and Alicia Elliott's A Mind Spread Out on the Ground.  I like Nisha Patel's look for Doyali Islam's Heft.  I like jaye simpson's look for Leanne Betasamosake Simpson's This Accident of Being Lost.