Poly Styrene: I am a Cliché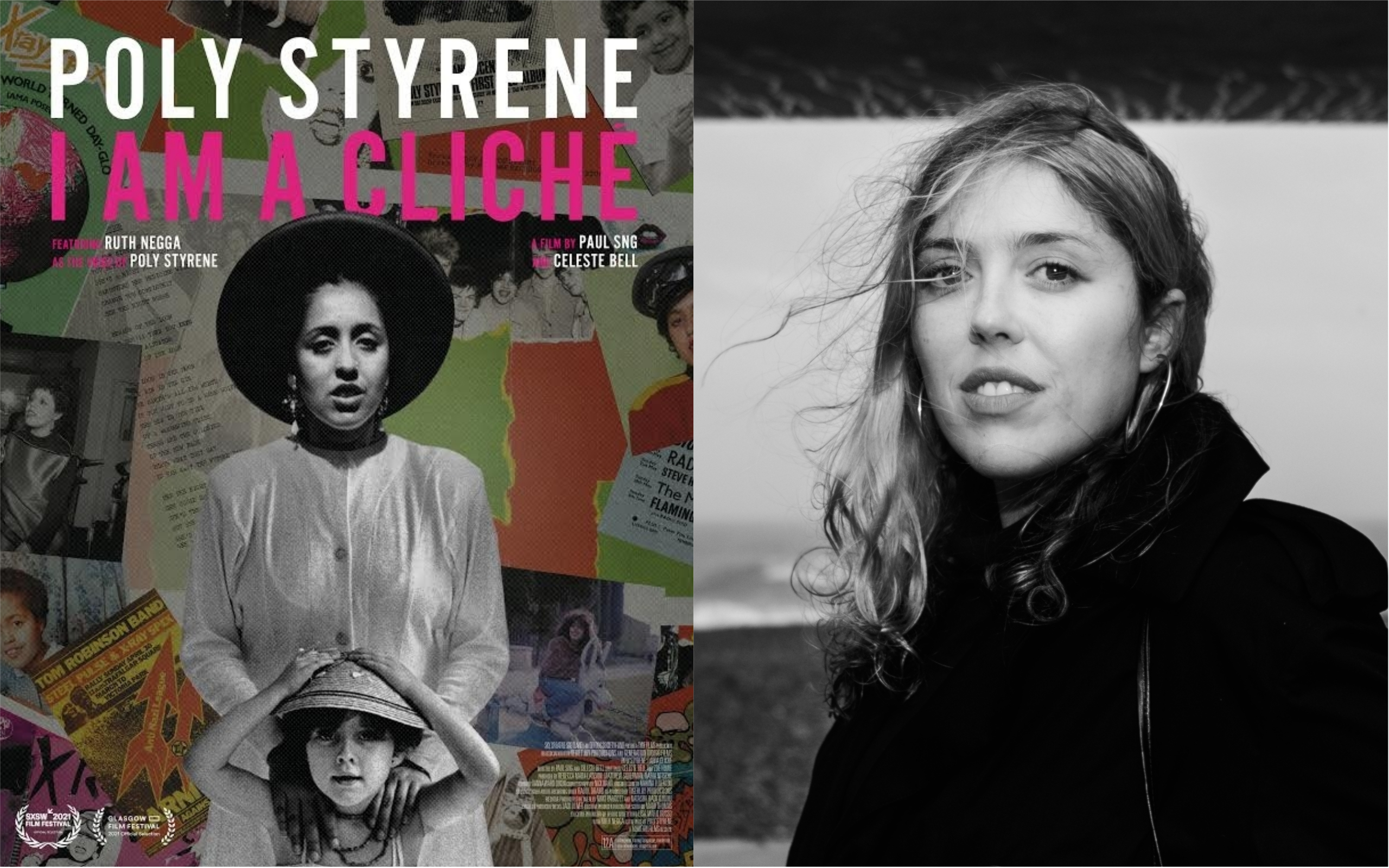 In 1977, the world was introduced to singer Poly Styrene and X-Ray Spex when Virgin Records released their debut single, the wry feminist anthem "Oh Bondage! Up Yours!" To an audience still reeling from the arrival of the Sex Pistols ten months prior, the combination of Styrene's anti-consumerist lyrics and the band's high-energy rock 'n roll in songs like "I Live Off You" and "I Am a Poseur" ensured their overnight success and punk bona fides. 
Styrene was born Marion Elliot-Saïd and entered the music business as a teenage runaway, becoming in the process the first woman of colour in the UK to lead a celebrated rock group. Eminent British fashion designer Vivienne Westwood hailed Styrene as the most important person in punk because she was "the only one telling the truth," a reputation that largely revolved around the singer's socially conscious songwriting. With its critical lens on technologically mediated existence, the contradictions within post-industrial life, and the role of individualism in an increasingly homogenized society, Styrene's output presaged the issues that would come to dominate the twenty-first century. 
Following the break-up of X-Ray Spex, Styrene pursued a solo career before retreating from the public eye in 1982. She joined the Hare Krishna movement with her daughter, the filmmaker and writer Celeste Bell, and only returned to music in the mid-nineties for X-Ray Spex's final album Conscious Consumer, a follow-up to their influential debut LP Germ Free Adolescents. On the eve of the release of her third solo recording, 2011's kaleidoscopic and genre-defying Generation Indigo, Styrene was diagnosed with an advanced form of breast cancer and passed away shortly after. 
Bell became the manager of her late mother's estate and artistic archive, spearheading three projects to contextualize Styrene's life for an international following: a gallery exhibition of her visual art, an oral history of her life in the Omnibus Press book Dayglo! The Poly Styrene Story, and most recently, a documentary entitled Poly Styrene: I am a Cliché. In addition to having premiered at the 2021 Glasgow Film Festival and SXSW Film Festival, the film aired on the Sky Arts television network in the UK, and is garnering rave reviews from critics and audiences alike.
I corresponded with Bell shortly after the release of her film to talk about curating her mother's body of work, her future projects, and historicizing the bygone punk era in ways that are relevant to present-day audiences.
Jean Marc Ah-Sen: You oversee your mother's artistic legacy. What has the experience been like navigating these responsibilities? It's an important catalogue, deserving of the widest audience possible, but were there ever times when you felt you had to turn away from opportunities because they were out of keeping with what Poly (or you for that matter) would have wanted?
Celeste Bell: I'm really lucky that most opportunities that have come along have been in keeping with what I'm trying to do with my mother's estate, which is to ensure her legacy as a multi-disciplinary artist is preserved. My mother was so much more than a performer and singer; she was a prolific lyricist, poet, and writer, as well as a visual artist. The book, film, and exhibition opportunities were really the perfect showcases for these different strands of her creative output. 
JMA: Regarding these multimedia showcases, are you planning extensions of the project into other formats or mediums?
CB: A couple of years ago now, I co-curated an exhibition of my mother's visual art alongside Mattie Loyce at the 198 Contemporary Arts and Learning gallery in Brixton, the south London neighbourhood my mother and I spent our childhood years. The plan was to tour the exhibition internationally and we were all set for exhibitions in New York and L.A. in 2020, but then the pandemic happened and everything had to be paused. As soon as travel restrictions are lifted, I shall be looking to get the ball rolling on the exhibition tour as well as a retrospective album of little-known gems to accompany it. 
JMA: What was the collaborative process like working with your co-director Paul Sng and co-writer Zoë Howe on the documentary and the book? These are very cohesive representations of your mother's life, and I'm wondering if that stemmed from a unity of vision, or from everyone having a strong connection to the subject matter and being given the space to execute their responsibilities?
CB: Zoë already had a lot of knowledge of my mother's story as she had interviewed her previously, and her work on the Slits biography Typical Girls? The Story of the Slits makes her something of an expert of the scene and era. Paul was a fan of the music, but came onto the project without knowing all the details of her biography. And then of course, I have this very personal insight into aspects of my mother's life and character that no one else could really know. I think our different connections to the story and the wider context really helped in terms of the creative process, and we all had different backgrounds and skills which also made us a good team. 
JMA: With the positive reception Poly Styrene: I am a Cliché is receiving on the festival circuit, are you considering producing and directing more film projects? Do you have a strong attachment to the documentary form? 
CB: I have always been attracted to the documentary form. I have a History major and have been passionate about documenting the past from an early age. I produced my first "'documentary" as part of a school project when I was fourteen or fifteen years old. It was about the class system in Britain and I remember having a real blast making and filming it. I absolutely want to continue directing more documentary films and I have a few ideas I am developing already. I will most likely continue to mine my own unusual life experiences for inspiration!
JMA: The book and film contain many frank stories about your mother's bipolar disorder and your grandmother becoming your legal guardian after winning custody over you. Was it important for you to talk about these subjects in an unsensational way that was also sympathetic to families navigating mental illness? The dialogue around treating mental disorders has certainly come a very long way from the environment your mother grew up in.
CB: I've always been wary in presenting a "woe is me" narrative. I felt it was important to discuss the difficulties I experienced as a child without over-dramatizing or sensationalizing the experience. My experiences, no matter how traumatic, do not define me, and I think that's an important message for people who have struggled in life. 
JMA: The documentary's unflinching depiction of certain elements of punk rock is noteworthy—there are horrifying stories about Sid Vicious [of the Sex Pistols] locking your mother in a crawlspace for no apparent reason, or of fans tearing at your mother's clothes on stage. I'm not trying to suggest that the entire movement can be reduced to this behaviour, but did you and the other filmmakers want to challenge the more rose-tinted understandings of the first wave of punk?
CB: The interesting thing about punk is that it means so many different things for so many different people. I think a lot of people have found punk's anti-establishment stance inspirational and I think that's great. But punk was much more than that. It was also a music scene, a youth subculture, a fashion movement, and more. There was a dark side to punk, from the flirtation with Nazi symbols to the nihilistic and frankly nasty behaviour it encouraged among some. I think it's important that we don't mythologize something that might not be as meaningful as we want it to be, or to ignore the negative aspects of something even if its overall influence has been positive. 
JMA: The press X-Ray Spex received was sometimes preoccupied with Poly being biracial—your grandfather Osman Mohammed Saïd was a Somali dockworker, and your grandmother Joan Nora Elliott was an English secretary. Artists want to be recognized by the merits of their work, not the colour of their skin, but this desire can be met by the press and the public with a tendency to situate the work within a broader cultural tradition. Somewhere between these poles, tokenization can occur, and it is often at minimum the price underrepresented artists must pay for having opportunities extended to them. Would you agree with this assessment?
CB: Yes, I agree. My mother was very wary of it, as the tokenism often led to fetishization and the highlighting of difference, a process we can call "othering". It was for these reasons that later in life my mother resisted all labels, preferring to define her heritage in her own terms. She considered herself a spirit-soul trapped in a material body first and foremost.
JMA: Translucence, Poly's underrated solo album, is celebrating its fortieth anniversary this year, Conscious Consumer its twenty-fifth anniversary, and her solo albums Flower Aeroplane and Generation Indigo have never been re-released. With the attention the film is sure to bring to your mother's back catalogue, are there any plans to reissue her music?
CB: I would like to reissue all her back catalogue in different formats, as there is a lot of really fantastic music that my mother made pre- and post-X-Ray Spex that hasn't really been given the attention it deserves. Translucence, for example, is a stunning album, but because it's quite far removed from punk in stylistic terms, it struggled to find an audience. I think times have changed thankfully, and tastes have become more eclectic. Younger listeners are less tribal about scenes, which all bodes well for future releases. 
JMA: You're currently working on a book called Mr. Gorbachev and the Krishna Kids about your time spent in a Hare Krishna Intentional Community. Can you describe the project and how you look back on this time in your life? You have spoken candidly about wishing your childhood had more structure and stability, and I am wondering if living in Bhaktivedanta Manor gave you those things, or was the reason that you wanted to pursue them in the first place?
CB: At the moment, the project is both a book and film concept. I am still undecided on the medium I will go with—maybe both again! There was certainly structure in the Hare Krishna community, but it was perhaps at times too rigid and austere for a child. I had to wake up at dawn to attend early morning religious ceremonies which I detested doing! I'm still a late riser to this day as a result. I think I have always struggled to find the perfect balance between structure, discipline, and rest. I'm either very focused and productive, or totally lazy and uninspired. I suppose my early experiences going from one extreme to another didn't help!
JMA: Poly impressed upon you the idea that you needed an alternate career path because creative work is often inconsistent and audiences are notoriously fickle. This is a lifestyle artists know all too well, but your output has been quite steady. I'm wondering if you can talk about the work you did in the education sector, teaching English to asylum seekers and refugees in London. How did your interest in this profession begin? 
CB: I started teaching when I moved to Spain as an English Language teacher. It was a great way to supplement my income while I worked on creative projects. When I returned to the UK, I continued to teach but this time with refugees and asylum seekers, which was really interesting and rewarding. I have been teaching for so many years. I think I will always see myself as a teacher, and I still think it's one of the best career choices for people with creative impulses.
JMA: One of the most insightful musings on the punk movement I've ever encountered came courtesy of Poly speaking to Lucy Toothpaste in the fanzine Temporary Hoarding. She said that though punk was essentially about self-expression, audiences "looked too much towards the bands for the direction," and that groups were just "symbolic of what can be done if the odds are against you, young, black, homosexual, and so on." Whether it goes by another name or not, do you think the punk DIY ethos informs youth culture and society today? 
CB: I think the DIY ethos does in a way inform youth culture today more than ever before, and the internet has been a transformational tool in this respect. However, at the same time, it's so much harder for young people to dedicate themselves to creative pursuits because the economic situation has made it very difficult. My mother used to tell me how much easier it was in her day when you could live in a squat, claim the dole, get a Saturday job, etc. That would give you enough to survive on so you could focus on music or art or whatever full-time. Nowadays, unfortunately, most creatives I know need to work multiple jobs to get by and the creative part of their life is very much part-time. This is really a sad state of affairs that needs to be addressed if we want to avoid the creative industries becoming a playground for the rich and bored.