The Cool Jew
Montreal-based musician Josh Dolgin—better known as Socalled—is taking klezmer to new heights, fusing a nearly-lost folk tradition with rap and funk.
Josh Dolgin (aka "Socalled") has made a name for himself by sampling old klezmer records, nestling the wailing voices and dancing fiddles of Jewish folk music within the beats and thumps of hip-hop and funk. This spring, Dolgin is the subject of a new documentary, aptly titled The Socalled Movie. Directed by Garry Beitel, the film solidifies the rapper's iconic status as an amalgam of the past and future of secular Judaism.

Unlike the solemn restraint of Jewish liturgical music, klezmer is characterized by a bacchanalian ferocity and frenetic fusion of fiddles, clarinets, accordions, and expressive vocals. American klezmer musician Hankus Netsky identifies the southern stretch of Eastern European Jewish settlement as the root source of klezmer as we know it today, comparing its development to the growth of jazz in New Orleans and the American South. This Yiddish folk music was saturated with Greek, gypsy, and Balkan influences, and by the nineteenth century, was being performed for Jewish and Christian audiences across Eastern Europe.

In the early twentieth century, industrialization and anti-Semitism forced Jews out of the shtetls and into North America's big cities. They cultivated a thriving Yiddish vaudeville tradition in the 1920s and '30s, but as the landed immigrant generation died off, so did the Yiddish theatre.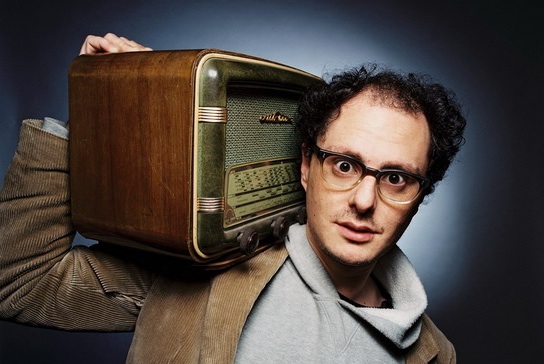 But in the '70s, the lost klezmer records made a comeback within the Jewish community. "The revival was a kind of falling-in-love with a lost culture that was on the brink of extinction," says Garry Beitel, director of The Socalled Movie. In a post-Holocaust world, klezmer gave Jews a sense of identity. Socalled, however, is raising the stakes—rather than reviving a lost history, he fuses the musical legacy of his past with the sounds of his present.

Dolgin was raised in a small town north of Ottawa, where he started to make his own beats after being exposed to funk and hip-hop. "I swear to God, I didn't want to be in the music business," he insists. "The only reason I am is because I was addicted to it."

About fifteen years ago, he started collecting records to sample, and came across a record by 1920s Russian-Jewish vaudeville star Aaron Lebedeff, whose music, despite Dolgin's secular Jewish upbringing, was foreign territory. "I came basically as a funk fan, which led me to be a hip-hop fan," he recalls. "That's what brought me to old records, brought me to klezmer and Hasidic and all that old music."

At first, he says, he was using klezmer to prove that hip-hop can come from anywhere. "It was, at first, corny, like a joke. I could celebrate the sort-of kitsch of it," he admits. "From there, it led me to the realness of the music and the tradition and the virtuosity of the playing and the arrangements and the songwriting."

Fifteen years and three albums later, the mix maestro has perfected the fusion of euphoric klezmer melodies with the rhythmic, beat-based formulas of rap and funk. With contributions from funk legend Fred Wesley, klezmer clarinetist David Krakauer, and others, Socalled's unlikely marriage of genres has garnered critical acclaim and mainstream success—his innovative, unnerving video for "You Are Never Alone" has received over 2 million hits on YouTube.

"It was totally about finding these old melodies and sharing them with new audiences," Dolgin explains. "They could be curious about where that comes from, the sources, and they could check out the real old stuff," he says.

Like Al Jolson's jazz singer, who expresses unease in his new, Americanized identity, Socalled is not entirely comfortable with the focus on klezmer as the crux of his artistic identity. "I'm sorry, I'm Jewish, but that's not the story, you know?" he says. He is drawn to klezmer's repertoire, but he doesn't "even think about religious questions or the Jewishness of it," he insists. Socalled also points out, that in addition to klezmer and hip-hop, his music also incorporates Romanian, house, salsa, funk, and even classical influences.

Beitel suggests that Dolgin's reluctance to accept his status as a Jewish icon is reflective of his sense of alienation from the culture. "He accidentally found this Jewish identity through this music that he discovered, and then he becomes the darling of the Jewish community that's looking for a cool Jew," laughs Beitel. "He doesn't want to be thrown back to the Jewishness as the predominant definition. He wants it to be part of the picture."

Despite Dolgin's own ambivalence, The Socalled Movie seems to cement his heroic status as a redeemer of Eastern European folk culture. In spring 2007, Dolgin organized the first klezmer cruise, which sailed the Dnieper River. While organizing the cruise, Dolgin ran into Beitel, his former professor, and convinced him to film the expedition.

The germ of the film came about while Dolgin was travelling the Yiddish folk festival circuit in Eastern Europe. After visiting the Ukrainian town from which grandfather hailed, the idea came to him. "I thought, wow, we should do one of these festivals, but bring it back here,'" he recalls. "I had sort of heard of the Dnieper River as this mystical place when I was a kid, where my grandfather would go down on shabbat. So I thought, let's do it on this boat."

"It was a brainwave," he continues. "When you can get into an idea, like, a hundred percent, because it just has to happen and it's a crazy situation."

In April 2007, over 170 people boarded the MS Dnieper Princess, including Dolgin, his family, a variety of renowned klezmer artists, and Jews from across Canada. In the tradition of the travelling klezmorim, the group ambled along the banks of the Dnieper River, supplementing regular jam sessions with shore visits to Odessa and Kiev along the way. During the day, travelers had the opportunity to take Yiddish dance lessons and hear lectures about Jewish culture, language, and literature in Eastern Europe.

In the film, Dolgin posits his klezmer cruise as the antithesis of what he calls "Holocaust tourism"—organized tours which paint Eastern Europe as the site of Jewish hardship and Israel as a glowing beacon of the future. The klezmer cruise, on the other hand, sought to recover the vibrant culture of European Jewry. The film's footage captures the ebullience and infectious spirit onboard.

"You forgot that people were different ages," recalls Beitel. "He's crossing generations as well as crossing cultures. He reaches a very interesting cross-section of people."

Although The Socalled Movie was originally meant to document the cruise alone, the NFB urged Beitel to keep filming Dolgin, which he did for the next two-and-a-half years, at which point Beitel was faced with a challenge: "How do I get into this wonderful creative energy that's just driving him every minute of the day?" he asked.

Inspired by Francois Girard's 1993 biopic, 32 Short Films About Glenn Gould, Beitel decided to assemble a series of vignettes. The final product is a whirlwind of images and brief narratives encompassing all aspects of Dolgin's livelihood, from his origins in hip-hop and funk to his discovery of klezmer and the cruise to his other artistic pursuits, including magic and film.

Dolgin himself even contributes a short film to the mix—a fantasy sequence starring Fred Wesley. The Socalled Movie, as it turns out, is a testament not only to Dolgin's career, but to his own creative process—as he says, "I like to secretly make things happen. I'm a facilitator."

"Sometimes he cooperates and sometimes he doesn't," chuckles Beitel, describing Dolgin's penchant for trying to steer the filming in particular directions. "There's always this little creative tension between us," he reflects. Ultimately, the kaleidoscopic portrait mirrors the nature of Dolgin's sample-based music. Both are collages, pieced together to create feverish, energized, wholly original entities.

Whether Socalled will prove to be the secular messiah by reviving a cultural legacy in a contemporary context remains to be seen, but for him, the politics are an afterthought. "It's really just trying to make music, trying to use all the lessons of hip-hop, of klezmer, of folk music, of funk, of classical, of anything, and just trying to make catchy tunes."
The Socalled Movie's national theatrical run starts June 3 in Toronto, Montreal, Ottawa and Vancouver. Click here for the trailer.
Related on maisonneuve.org:
—Outlaw Country
—When Canadian Jazz was Good
—Earplugs Unplugged
Follow Maisonneuve on Twitter — Join Maisonneuve on Facebook