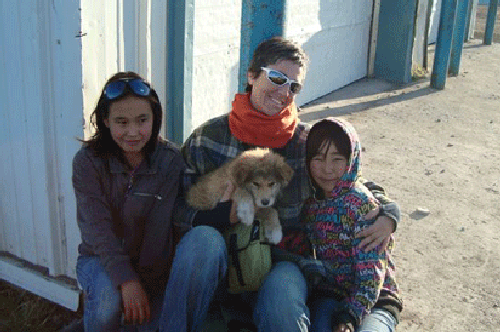 Issue 37 Launch: Interview With Kathleen Winter
Kathleen Winter talks about her new novel and surviving an Arctic shipwreck ahead of Maisonneuve's Issue 37 launch on September 21.
Kathleen Winter with friends in Kugluktuk.
Kathleen Winter is an expat Newfoundlander now settled in Montreal, but her new novel Annabel returns to her home province. The story of an intersex child growing up in Labrador's hyper-masculine seventies hunting culture, Annabel is already receiving heaps of praise, with the Montreal Gazette calling it "a poignant and powerful first novel." Winter's first collection of short stories, boYs, won several awards, and Winter will read an excerpt from Annabel at Maisonneuve's Issue 37 launch party this Tuesday.
Matthew Brown: When you've put all this work into this book-and a lot of your life, I was wondering how the reception of the work feels.
Kathleen Winter: It's really exciting. For the first time I will have had a lot of readers, like writers that I've read all my life. The short collection was like that to an extent, but with a bigger press, and with the history of that story collection behind me—it won two prizes—I know people are actually reading this novel.
There's a whole lot of writing that you can do, and maybe only four hundred people at the most will ever read it. And a lot of writers can never really get beyond having that. I feel really fortunate that I know a lot of people are going to read this book—they already have. The world of writing was always my world—ever since I learned to read I knew that I wanted to write books—but the difference between knowing that and actually being through the gate, where you're a part of the world of people who write books—it really took a long time for me to get there.
MB: Yeah. I imagine it can seem like an impossible dream at some points.
KW: The only way that I could get through it was by writing little notes to myself on the outside of my self-addressed envelopes, which I knew would come back to me with rejection slips in them, and they said, "Kathleen, you are a good writer, keep going and don't give up."
So you get that six months later—'cause that's how long it takes sometimes to get rejection slips—and I was just crazy enough that it actually encouraged me. Even though I wrote it myself and it was actually quite pathetic! [Laughs]
MB: So you're a fairly new transplant to Montreal? How long has it been?
KW: Yeah, it's been two years exactly.
MB: Are you starting to feel like a Montrealer now?
KW: Oh, I am, because people are starting to call me one. And that's really fun.
MB: The power of the name...
KW: I love Montreal. I knew that it would be a good place to write, especially coming from a really woodsy place. I lived right in the woods in Newfoundland for fifteen years. But I have an urban and a rural side to my soul, so I knew I was ready for a city but also this city. I've been here for a summer before. I knew that I could get lost here and that there would be a wall of sound that I could only partially decipher. I've been learning French but I still don't understand all the background sound.
MB: That's interesting, hey?
KW: Yeah. I went to Toronto recently and it was like I was in kindergarten and everybody was shouting at me and over-explaining everything and it felt really hilarious. "Okay, I get it!" [Laughs] Whereas here it's just in sort of whispers and I have to really try to understand everything.
MB: But do you find Montreal is changing your perspective in a fundamental way, or is it changing your writing?
KW: I wouldn't say Montreal is, but I just came back from a trip to the Arctic, and I have completely, fundamentally changed—in two weeks.
MB: Yeah, I saw that mentioned on your website and I was totally intrigued. What was this trip?
KW: I was invited as a freelance writer onboard the Clipper Adventurer, which is a boat chartered by a tour company called Adventure Canada. So they take people around, and it's like a floating classroom: they have scientists, geologists, marine biologists, historians, and they have Inuit people from Greenland and Nunavut. And they get all these really detailed and knowledgeable and precise perspectives on one aspect of life in the north.
And then you get off the ship and you see polar bears, and you see the wilderness, and you see the night that never gets dark, and I was not prepared for what it would do to me, emotionally and physically. I didn't realize. Especially now, with everything that is descending on that place, in terms of what is called sovereignty, and oil exploration—they're just all in a big, huddled get-together waiting for the big sprint now.
MB: You have a few pictures on your website, and they look really beautiful. You should put more up there, if you have any.
KW: Yeah, the only reason I didn't put more up is because I want to maybe use them in something that I write, so I don't want to give them away.
MB: You said on your website that on your Arctic trip you had to be rescued. What happened there?
KW: Well, it was a two-week voyage and on the second-last day there was a big shuddering, heaving crash, and I thought the ship was going to sink, because we had actually run aground onto an uncharted rock. And the ship was there until yesterday. It ran aground on the twenty-seventh of August and yesterday was the fourteenth of September, and they needed four tugboats from a Florida salvage operation to get it off that rock.
MB: Wow. It's treacherous up there, from what I understand, even for experienced captains.
KW: Yeah. They say that charting it would take a couple hundred years at the current rate of investigation to get it up to the rest of the world. And that we know more about the surface of Mars than we do about the ocean floor.
Kathleen Winter will read at Maisonneuve's Issue 37 launch at Drawn & Quarterly on September 21 at 7 p.m., alongside Marius Kociejowski, Sean Michaels and James Irwin. The event is free and refreshments will be served. Check out the launch on Facebook.
Related on maisonneuve.org:
—Issue 37 Launch: Interview With Sean Michaels
—Interview With Sheila Heti
—Crossing the 85,000-Word Line
Subscribe — Follow Maisy on Twitter — Like Maisy on Facebook