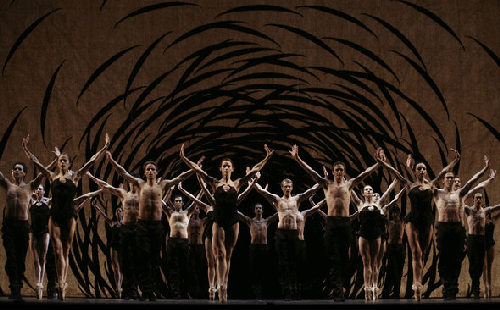 The Choreographic Amalgamation Phenomemon
Why do contemporary choreographers insist on changing up their styles when they create works for classical ballet companies?
Dancers from The National Ballet of Canada in Crystal Pite's Emergence. © Cylla von Tiedemann.
It's a funny thing, contemporary choreographers creating commissioned works for classical ballet companies. More often than not, the results are disappointing; you frequently get the sense that the choreographer in question is trying a bit too hard to satisfy the ballet audience. Maybe a choreographer normally influenced by street dance blends her usual aesthetic with more traditionally balletic movements, or someone known for working in bare feet decides to put dancers in pointe shoes. Whatever the culprit, it often results in dances that feel wishy-washy and underdeveloped. You wonder why these choreographers don't just stick to doing what they do best.
This phenomenon was on display last weekend when The National Ballet of Canada swung through Montreal—their first visit here since 2003—with an all-contemporary program of dances created for the company by two of the most well-known Canadian choreographers working today, Marie Chouinard and Crystal Pite. It seemed like it was going to be an excellent bill, but in each of the works, something was off. It was like the spark had fizzed out before it could really ignite.
Chouinard's 24 Preludes by Chopin opened the performance with a dose of the Montreal-based choreographer's trademark strangeness. Chouinard's work has always been weird, and whether it comes across as innovative or incongruous varies from piece to piece. 24 Preludes falls into the latter category. Dressed in sheer black body suits with strategically placed opaque rectangles and punk goth hairstyles, the dancers took the audience through a series of highly episodic vignettes that were stylized almost to a fault. If this was theatre, the proper description would be "over-acted."
The result was 45 minutes of rather robotic, passionless dancing. At its best, the piece clearly aims to get at some meaning—as in one section that features a group of six men engaged in an over-the-top competitive frenzy, clearly an ironic poke at traditional conceptions of masculinity. But at its worst, 24 Preludes is inconsistent and scattered, taking on a hint of something you might see in a contemporary improvisation class for young ballet dancers. Chouinard has her dancers spin in circles, jiggle around when the music gets fast, and jump up and down in place. There's no thread that connects the disparate parts of the work, and the audience is left wondering what they're supposed to take away from it all.
Pite's contribution to the evening, Emergence, was a more interesting piece to watch, but was almost more frustrating, because her wonderfully unique movement vocabulary was all but absent from the work. Perhaps that had to do with Pite's goals for the piece: she wanted to explore the similarities between hierarchy in insect colonies and in ballet companies, and much of the movement does, in fact, feel jittery and insect-like. But twenty-five minutes seemed inadequate to fully explore the concept, and I would have likely missed it entirely if I hadn't read the program notes. What was noticeable was that the stage often felt overcrowded—thirty-eight dancers at one point!—and that somehow, in spite of all this, they managed to produce some very powerful moments of strongly-felt dancing.
It's likely that the reason for the often-unspectacular nature of these contemporary creations for classical companies doesn't lie solely, or even mostly, on the choreographers themselves. They may be the result of restrictions set by the ballet companies, or of the need to work very quickly and with unfamiliar dancers. Pite told the Gazette that she had only 18 days with the National Ballet's dancers in which to create Emergence. This is certainly a far cry from the way contemporary choreographers usually create new pieces: in lengthy, exploratory creative sessions with a small group of dancers that often result in ideas that are developed over evening-length works rather than short ones. We'll never really know for sure what's to blame—large companies rarely, if ever, allow their audiences to observe what goes on behind the scenes. So I, at least, will go back to seeing these choreographers' works as performed by contemporary companies. They do them better justice.
Related on maisonneuve.org:
—Interview With Zab Maboungou
—Where Have All the Monologues Gone?
—Shock of the Old
Subscribe — Follow Maisy on Twitter — Like Maisy on Facebook