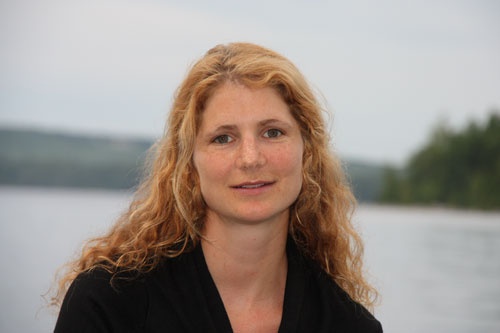 Interview With Johanna Skibsrud
The Giller-nominated author of The Sentimentalists talks about war, memory and the space between fact and fiction.
As soon as you've read even a few pages of Johanna Skibsrud's Giller-shortlisted debut novel The Sentimentalists, you realize that Skibsrud has a keen instinct for the inner workings of the mind. The book tells the story of a young woman who retreats to rural Ontario to live with her father, a Vietnam War veteran. Over the course of the time that she lives with him, the narrator gradually learns about the events that shaped her father's life, and, by association, her own. "The story emerged for me," Skibsrud says, "through the interconnection between the father's stories...and this idea I had of exploring memory through the image of [a] buried town."
Though Skibsrud says that it was sometimes challenging to balance a focus on introspection with the need to advance the book's plot, it doesn't show. The Sentimentalists never feels plodding, although it gives the reader plenty of space to pause and ponder Skibsrud's thoughtful observations on memory, history and the effects of war. Skibsrud spoke with Maisonneuve in advance of next Tuesday's Giller announcement.
Amelia Schonbek: A lot is being made of all the small-press books on this year's Giller shortlist. The Giller has this reputation for gravitating toward books from major publishing houses; why do you think this year is different?
Johanna Skibsrud: I don't know enough to speculate as to why it's different this year, but I can say that I'm really pleased that it is, and pleased to see a number of debut books, and books from small presses [on the shortlist]. I think that it brings attention to what awards can be, and should be, about—drawing attention to writing and writers—and so many emerging writers and small presses being on the list makes really brings that out.
AS: The first book you published was a book of poetry, and quite soon after your novel, The Sentimentalists, came out, you published another book of poems. When you think of yourself as a writer, do you feel more drawn to poetry, or prose? Do you think you'll continue to write both?
JS: I write both simultaneously, though I do sometimes focus more on fiction or more on poetry. But I don't think of them as separate identities, really. I do find that some things sort of just work themselves out better in fiction, and other things in poetry. I do experiment—if something's not working in one genre, I'll try it out in the other. Sometimes I do find that I'll be writing something and it's not working in a story, and I'll realize it's a poem, or the opposite. So I do sort of play between them a little bit. But mostly it just seems to arrive more naturally—an idea will naturally fall into place as a story or as a poem.
Also, I'm really appreciative of the experience of being a poet and of editing poetry [when I'm] in the later stages of editing fiction, because I find that what's really lovely about fiction is its freedom—being able to take an idea and, especially in a longer format, just run with it. But I find that what's hard with fiction is then taking what you've come up with and putting it in the shape that you eventually want it to be in. And it's at those times that that sort of poetic sensibility comes in handy, in the editing stages.
AS: You do bring a lot of elements of poetry to your fiction—I'm thinking of the way you use images in The Sentimentalists, how they're really important conduits of mood and meaning. Is that an intentional attempt to blend the genres, or do the poetic elements seep in on their own, by virtue of the fact that you're often working in both forms at the same time?
JS: I don't have an intentional desire to make the work poetic, but I think that there is an intentional desire that's behind my interest in being a writer at all—paying attention to language, and to rhythm as well, and perhaps, like you say, to images. Those things just come, in both genres, from the more general preoccupations I have with writing itself, and [for that reason] would show up in both my fiction and my poetry.
AS: For me, at least, The Sentimentalists is really a novel about the mind, and memory—in terms of the importance of specific memories in driving the plot, but also in terms of the theory of memory that you develop throughout the book. Could you talk about that aspect of the novel, and how you developed this theory of memory?
JS: That was a big concern, throughout writing the novel. There's been a lot of focus on the war stories and the father's experiences, and of course that's a huge aspect of it, and that's almost the result of exploring this idea of memory in a way that that sort of bubbles to the surface at the end.
But I think for me, really what the story is about it is, like you say, the daughter's experience of exploring the idea of memory and the idea of the flooded town—[in the book] I talk about how we exist at the surface, and everything beneath, obviously is important in creating that surface. Without what's beneath there wouldn't be the surface.
So I agree with you, that that's the real thrust of the novel—that exploration for the daughter character. The story emerged, for me, through the interconnection between the father's stories (which were based on my own father's stories) and this idea I had of exploring memory through the image of the buried town. It was natural for me to really expand on that image of the way that our presents are always deeply affected by, and deeply connected with, a past that we're not always able to access or see. [I wanted] to develop that, and to have that hopefully reflect upon the stories that come through from the father's past.
AS: I do want to talk about how the book is about war, and the effects of war. One of the most memorable moments in the book, I think, is when Napoleon wonders, while he watches his captain hit a woman with the butt of his gun, whether the captain's name was written on the gun, or alternately, "Might that be a privilege of rank? An anonymous gun?" Can you talk a bit about the roots of this critique of war? You've mentioned that you think one of the reasons your father started to talk to you about his experiences was the conflicts in Iraq and Afghanistan.
JS: Yes, a huge part of my father's impulse, I think, to talk about his own experiences was a growing rage, over his lifetime, that finally came to the surface during the Iraq War in 2003, when he spoke of it, and he had a lot of anger toward the [US] government for what he thought to be a repetition of history. I am constantly aware, and wanted, ultimately, the reader to be aware of the continuities and going back and forth from the past and the present, and the emphasis on memory hopefully leads to that as well.
I've been asked a lot about the ways that fact and fiction weave themselves throughout the novel, and I know that that's a very natural impulse: to try and weed out what's true from what's not, and it's interesting to me. Because when my father told me his stories they were so vague. I mean, he had repressed them for thirty years, he hadn't spoken them aloud until he did, in 2003, to me, so they had become very, very vague, and there really were only the spare details, so the rest I had to fill out on my own. So it's in a way too bad, but [it's also] in keeping with my greater project, that I have forgotten at this point, sometimes, what my father told me and what later arose through my own fiction.
What I'm really hoping is that through this novel, and I hope through my fiction in the future, too, is to create a space of exploring not the way that [fact and fiction] intersect, but a sort of in-between space of neither fact nor fiction that is, I really believe, the space we actually inhabit. I don't believe we inhabit a world of fact, and neither fiction, but that we are always in this sort of in-between space. And I do think that that is the tremendous strength of fiction, and I think that's also why [fiction is] incredibly important in terms of our thinking about the way that we live in the world. For that reason I really think it has a place in creating a space of contemplation of the decisions that we make, of the facts that we create, of our world. And I hope that the book doesn't finally resound on any decisive note or pronouncement about our current situation or current events. But I do hope that it opens up a space that I think is so necessary—and increasingly so—to pause, to reflect.
Related on maisonneuve.org:
—Interview With Alexander MacLeod
—Interview With Kathleen Winter
—Interview With Sheila Heti
Subscribe — Follow Maisy on Twitter — Like Maisy on Facebook