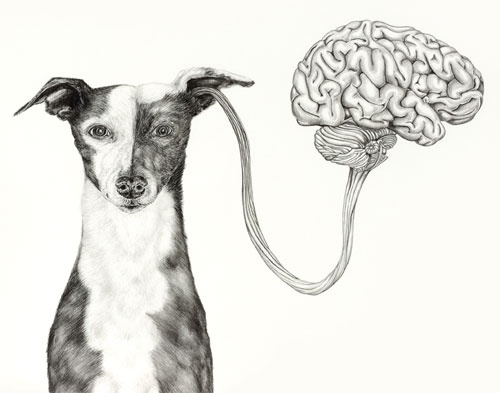 2 Poems
"Against Sense" and "Post Hoc."
Art by Tara Tucker, "Man's Best Friend Thinks Alike." 2007, graphite on paper, 17.25 x 21.75 framed.
Against Sense

Bonjour tristesse
Tu es inscrite dans les lignes du plafond
Tu es inscrite dans les yeux que j'aime
—Paul Eluard
Bonjour tristesse: up all night fidgeting
with your corsage, luggage roped
to a kite. When in Rome, gullage begets
gullage, fingers trained to scope
fatigues, rustle up a handsome sum.
Still, you linger: fox-headed, faunal,
driven underground with the soon
to be hunted hawk, black-faced cardinal.
All this and I've forgotten the Fawkes
of penny dreadfuls, last seen in silver,
augered to a ring. Let's lift our rocks
O Blue Bloods, and pitch from cover
into his parade: bodily, tusk-sleeved,
against sense. Adieu tristesse, take your leave.
Post Hoc

It was a hunch that drove me there,
Bishamon, harried by fortune
on the loveliest day ...