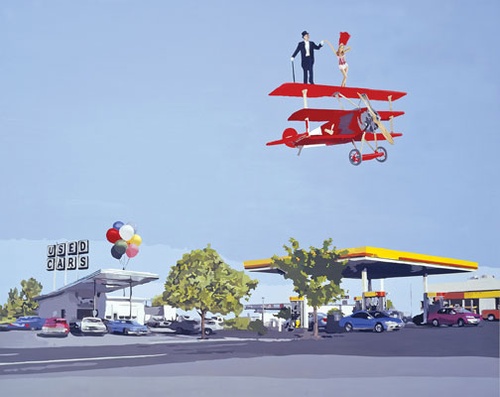 Fed Up Yet?
From the story collection Are You Married to a Psychopath?, shortlisted for the 2009 Governor General's Awards.
Art by Stephen Ibbot, "Wing Walkers." 48 x 72". stephenibbot.com
We are everywhere. At the office, in the grocery store, on the elevator, on bridges, in cars, at the museum, in the subway, on our balconies, on our bikes, at the bank, at the airport. Whether we're Ph.D.s, autodidacts, brunettes, redheads, thin, fat, jewellers, bureaucrats, lawyers or radio hosts, it doesn't matter. We are single. Fed up yet? We've been fed up for eons.
And yet: goddesses, we would drive the Olympian gods mad; sirens, we would make monarchs of the waves lose their bearings. But it's all gone wrong. We've become virgins, witches, nuns, courtesans, governesses, tuberculars, unwed mothers and old maids with cats. These days we inspire soppy novels (some with a comic bent), films set in cities, prime-time television series, books on personal growth, blogs, names for martinis. But ...