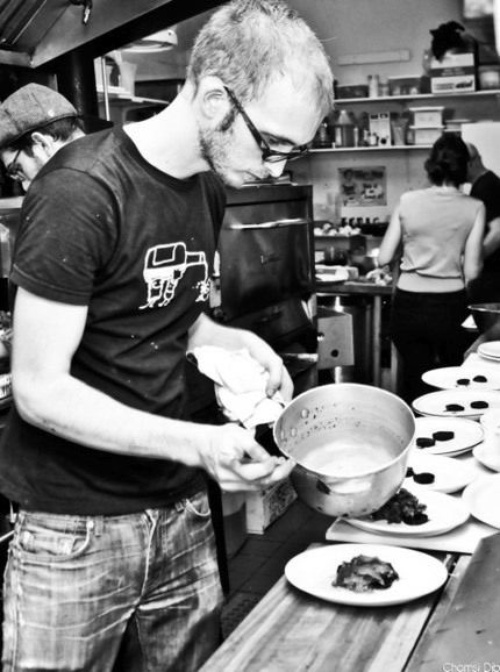 Can Cookies Unite! Stay True to Great Food?
The Montreal dinner series is the hottest ticket around, but some worry it's too popular for its own good.
Aaron Langille working at his Cookies Unite! event last November. Homepage and above photos by Chamsi Dib. Courtesy of Cookies Unite!
What do you do with five pork shoulders and fifteen pig heads? According to Sunny Stone, a sous-chef at Montreal's Le Comptoir Charcuteries et Vins, you make barbecue pork with super-crispy skin, fried shallots, an egg and "sexy barbecue sauce." Then you follow it up with bone-marrow shortcake with apples and caramel—"equal parts marrow to sugar," she insists—for dessert.
Hardly a meal for the timid. But Gita Seaton, a chef and co-owner of resurrected diner Nouveau Palais, insists that "cooks are actually really shy people." So Seaton started Cookies Unite!, a monthly Montreal dinner series that allows up-and-coming cooks like Stone to let their creative juices flow. The concept: Take talented young cooks who have been whipping up gourmet food for years in someone else's kitchen and give them complete control. The catch: tickets to the event cost $30, which means participating cooks can only spend about $10 a head.
That doesn't seem like much of a budget for high-end meals, but in this case it's a labour of love—an "opportunity to have total creative freedom with a menu for one (most likely sold-out) night," says Stone.
Seaton, who once worked at Le Club Chasse et Pêche, likes to think of the menus as "well-executed" rather than "gourmet"; the ticket price is relatively low, and menus range from Singaporean street food to Seaton's take on her family's Jewish comfort food. That doesn't mean every invited cook keeps it simple. At Aaron Langille's dinner last November, his all-local menu included Jerusalem artichokes roasted in butter and rolled in celery root ash, served with barley, cranberry sauce and fennel greens. Langille, a veteran of Chasse et Peche and Copenhagen's Noma, followed that up with slow-cooked beef cheek with beets, and home-made honey pear and juniper ice cream to finish.
From its humble beginnings last May, with sixty seats at the Depanneur Le Pick-Up, Cookies Unite! has grown, giving up its BYOB format. The event moved to Mile End's Nouveau Palais after Seaton and her Le Pick-Up partners bought the aging landmark, which allowed them to offer double the seats. The Montreal Gazette and the Mirror started championing the event as young, hip, innovative and affordable, and the crowds rushed in. The food is still delicious, but as Cookies Unite! becomes increasingly popular, the question is whether the attendees are interested in the headlining cook—or if they simply want to be seen at the right event.
Because the young cooks accept the role of executive chef for one night only, there's a competitive edge to Cookies Unite!, and anticipation of how good the meal will be is the stuff of reality television. It's only gotten tougher since the move to Nouveau Palais. Patrons for the 7 p.m. service are expected to leave promptly so that the organizers can prepare for the 9:30 p.m. service. This requires the cooks, who usually have one or two friends helping them out, to have everything prepped for the second service before starting the first. It also means they have to cook the entire meal twice—an exhausting process more like banquet prep than restaurant line work. "It's a learning experience," says Seaton. It certainly was for Langille, who "learned to not try to make fifteen litres of ice cream in a non-commercial ice cream maker."
The venue change also altered the atmosphere. "I liked it better before when it was small and quaint," says Beaver Sheppard, this month's guest chef. "Now it's like 120 people, and the food will suffer dearly! It doesn't have to be like this, but money ruins everything good."
Langille and Stone both worked as prep cooks at Cookies Unite! events before being offered their own slots. They also noticed changes when a second seating was added, and when the event was changed from BYOB to fully licensed. "Instead of being a small community thing that every month was filled with the same people all there for the food, it became much larger: inviting clients who were maybe there for the event itself, not for the food," says Langille of his dinner in November.
Good business sense says that when demand is high you should expand. But the popularity of Cookies Unite! meant that Nouveau Palais was the place to be on the first Monday of each month—whether you could eat the food or not. Vegetarians arrived without warning to events that were (and still are) meat-heavy. "You can't come to a fixed-menu event with dietary preferences. Restrictions, maybe—we can try to work around those. But, as a meat eater, I can't expect to go to Crudessence and demand a steak, can I?" says Langille. "Should vegans go to, for example, Au Pied du Cochon, where the meat is in the name, just because it's a popular place, and then act indignant when the restaurant only offers salads?"
Langille insists he isn't trying to criticize vegetarians or dismiss dietary restrictions, but he asks the customers "to put in a little effort, too. Do a little research; ask the organizer of an event like this if your no-beet preference will affect your enjoyment of the evening. If there's a chance that it might, and you can't for one night eat a beet, then free up your spot for someone who might be more open."
The posters for Cookies Unite! now ask that attendees indicate food preferences when emailing for a reservation. Each cook is asked to prepare a special vegetarian menu, but if they don't know how many are coming, it's difficult to be accommodating. It's also a hassle when "vegetarians" suddenly decide they'd like to eat pork-a problem so common that Seaton now has a request for all patrons: "If you're vegetarian, can you please stay vegetarian?"
Beaver Sheppard is very aware of the limitations he'll have to place on his menu tonight. "With the mass addition of all these extra seats, I'm forced to create a menu that can sit around a little more," he says. "And that's fine, but not ideal." Mass production means that the food can't compare to that of a high-end restaurant. The event's "extremely low price tag and group-catering-type delivery offers very little to the finishing touches you would get in a restaurant," Sheppard says. "Try cooking hamburgers for sixty people at once." Diners will just have to keep their mouths shut if a plate arrives lukewarm, or with slightly less celery root ash than their friends'.
Cookies Unite! could be an opportunity for pros and veterans to see what the younger generation is working on. How many chefs pickle milkweed like Sunny Stone? How many ferment litres and litres of cabbage like Aaron Langille? How many promise a "Newfie-grandma-gangster-gangbang" like Beaver Sheppard? Sometimes executive chefs come to check out their protégés' work, but according to Joe Beef and Liverpool House owner David MacMillan, there isn't much driving restaurant proprietors to check out Cookies Unite! "Isn't it a hipster thing?" he says. "I wouldn't go. I'm older and work a lot."
Finding a balance between atmosphere, price and demographic appeal is difficult. There are plenty of restaurants in Montreal that are considered too expensive or stuffy for young people, but there are places like l'Express or Kitchen Galerie that act as generational common ground. When the food is amazing, the top cooks and eaters will come.
Tonight's event with Sheppard is definitely aimed at the eaters. "I've had so many expensive, boring meals in my life," he admits. He hadn't figured out the menu yet when he spoke to Maisonneuve, "but," he says, "I guarantee—unlike some past Cookies events I've attended—people will leave fed!"
If Cookies Unite! were a reality TV show, the camera would focus on the cooks. In reality, it's all about the diners, insists Langille. "As cooks, we're here for the client. We're not artists, we're craftsmen and -women," he says. "We make food for the customer to be happy, so we feed off the comments, both good and bad. If you really liked your meal, tell someone—tell someone to tell the cook. It'll make their evening."
The next Cookies Unite! takes place tonight, March 7, and features Beaver Sheppard. Tickets for Restaurant Le Filet's Josh Lauridson's April 4 event will go on sale March 8, and are available by emailing reservations [at] lmqcooks.com. Indicate your dietary preferences and stick with them. More information can be found at the LMQCooks website, by signing up for the Cookies Unite! newsletter, and on Facebook.
Related on maisonneuve.org:
—How to Fit in at a Raw Food Potluck
—Montreal Comfort Food: Pasta
—Montreal Comfort Food: Soup
Subscribe — Follow Maisy on Twitter — Like Maisy on Facebook