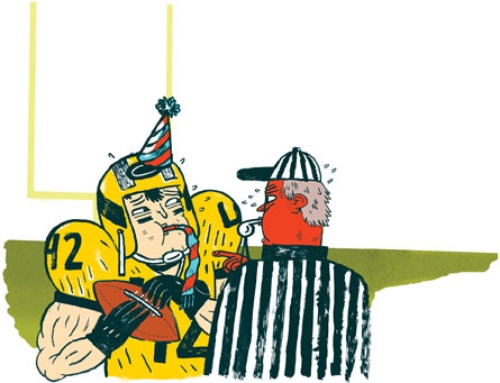 Canada's No-Fun League
Why officials are getting tough on one of the CFL's most beloved elements: hilarious touchdown celebrations.
Illustration by Josh J. Holinaty.
The clock was ticking late in the final game of the 2009 Canadian Football League regular season, and the Winnipeg Blue Bombers were trailing by six. Winnipeg, up against the Hamilton Tiger-Cats, needed this victory to qualify for the playoffs. Bombers quarterback Michael Bishop dropped back to pass, but Ticats defender Markeith Knowlton intercepted the throw and ran it back the other way for a defensive touchdown. The Bombers' season was toast.
Parked just beyond the end zone that November afternoon was a Lund Explorer powerboat, a promotion for a local sporting-goods store. When Knowlton scored, he heard fellow Ticat Chris Thompson shout, "The boat! The boat!" Taking the cue, Knowlton and four teammates followed Thompson into the boat and started hamming it up. Knowlton leaned back and kicked his legs in the air, pretending to drive a paddleboat. Thompson and linebacker Jamall Johnson cast ...