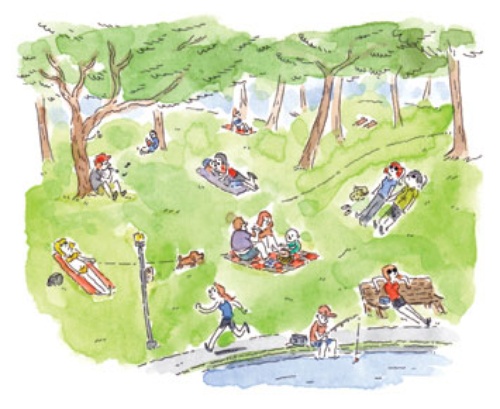 Letter From Montreal: Parc Lafontaine Times Two
I said, This is the fucking Bukowski Lawn-Bowling League.
Illustration by Pascal Girard.
—One—
Jean said ever since his book was published, women kept assuming he wanted to give it to them up the ass. You know what they say, I said, about making an ass out of you and me. But he wasn't listening. He said he'd pick up whatever girl at whatever foosball bar on Mont-Royal and get her back to his place—you know, slam the door with your hip, ma belle, and mind the recycle bins in the hall. Then there'd be some Scotch and some sofa and some clothes off and she'd turn, and he'd grudgingly give it to her like that scene in the book, at the end. He said that part wasn't even true, or maybe it was true, but he didn't even like it that much, he just felt like he had to do ...