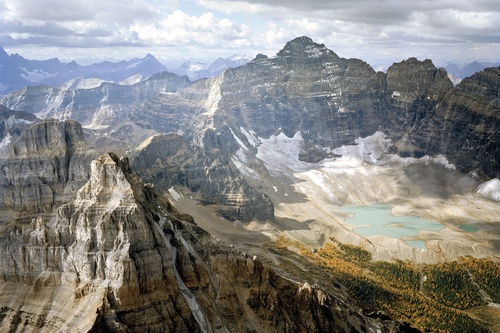 Virtually There
Mountaineering in the age of Google Earth.
N 51º 20' 54" W 116º 12' 26". Photographs and text by Andreas Rutkauskas.
"Virtually There" was realized during residencies at the Gushul Studio and the Banff Centre in the summer and fall of 2009. It explores the impact of online research and technology on wilderness recreation and exploration. Before leaving for these residencies, I spent one month taking virtual "trips" online. I examined historic photographs of the Rockies, topographic maps, and images and GPS tracks on websites. After considering this data, I composed views of the mountains using Google Earth. Upon physically arriving in Alberta, I re-enacted these simulated explorations and created photo­graphs from the same vantage points using a large-format camera.
In some ways, the process of capturing a view in Google Earth is equivalent to my photographic process; I use the controls of the software to position my virtual body and frame the image. On the ...