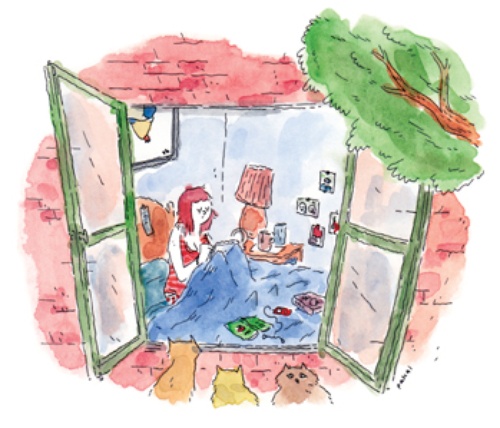 Letter From Montreal: La Misérable
"You came to Montreal for what? Your own pleasure?" asks the nurse in strangled English.
Illustration by Pascal Girard.
A few months ago, I moved to Montreal because Toronto was beginning to feel like a plastic bag tied tightly across my throat. My sublet is a palatial two-bedroom on Mordecai Richler's St. Urbain, just up the street from Wilensky's, an inexplicable sandwich shop that keeps drug-front hours. Our gas stove is an antique holdover from the early 1900s; you have to light it with a match. My landlady reserves the upstairs flat solely for her eight cats, and visits sporadically to feed them and lecture me about leaving the windows open when it rains. One day I hang my clothes to dry and accidentally drop a pair of pants into her yard, which is below my balcony. I ask her if she can retrieve them. She finally returns them a week later. My pants smell faintly of cat urine, but I wear them ...