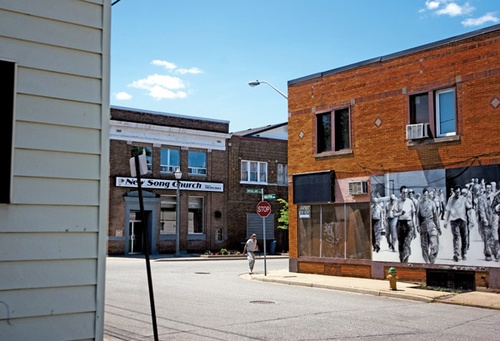 Photo Essay: The Town That Ford Built
The decline of Ontario auto manufacturing.
A man crosses Drouillard Road on his way home. Photograph by Ben Nelms.
The Ford City area is rich with automotive history. Ford Motor Company founded the Ontario company town in the early 1900s on the outskirts of Windsor; Detroit loomed not far away. In the early 1930s, Ford City was amalgamated into Windsor and, thanks to the expanding automotive industry, transformed into a modern industrial area. The Ford engine plants, overlooking the Detroit River, drove the community to an economic boom during the 1940s. But in 1953, the same factories responsible for Ford City's success moved to Oakville—nearly four hours away—leaving thousands of workers unemployed. The neighbourhood, once a major cultural hub filled with shops and restaurants, is now a place of artifacts and boarded-up buildings.
The decline of "the town that Ford built" has continued to the present day. But the people who still live ...