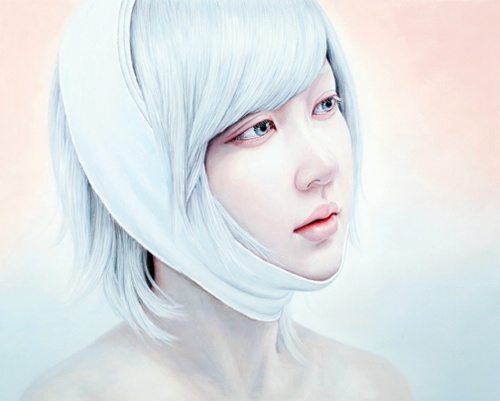 The Negligee
From Nelly Arcan's collection Burqa de chair. Translation by Melissa Bull.
Painting by Kwon Kyung Yup.
A whore is a woman in appearance alone. She is a woman made expressly for perversion. Depending on your point of view, she is fired, dismissed or freed from married life. A whore is nothing more than a negligee. Her skin is a garment excommunicated from all that is not her body: love, friendship, marriage, begetting. A whore is the opposite of company, even if we pretend otherwise with the word escort. Nothing is ever escorted in this world. Everything is distance and frigidity; a body disrobed to its disintegration, trussed up in the frou-frou of its disembodiment. Bleakness cradled in white. A whore is like Canada: a village where there is nothing. It's Quebec, a missed boat, its cockpit punctured by the submerged body of an iceberg. It's winter, as someone said.
We act like it's nothing. We act as if ...