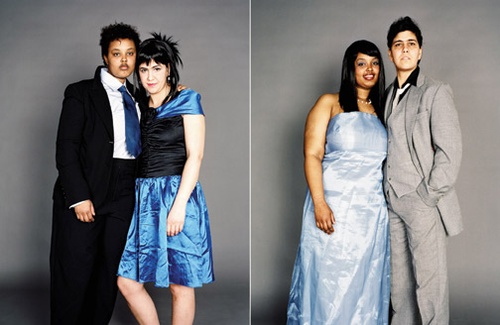 Photo Essay: Switch
Queerness and identity in portraiture.
Photograph by J.J. Levine.
"Switch" presents a series of queer photographs that question the stability of gender, identity and aesthetics. Through masquerade and drag, this playful set of diptychs portrays pairs of seemingly different "heterosexual couples" interacting intimately in a contrived studio setting. Upon closer examination, however, the viewer will recognize that each pair of couples is composed not of four models, but two. This parody of prom-style portraits challenges the gender roles espoused by such photographs.
The project's title plays on the multiple meanings of the word "switch," a term often used in homosexual sex to signify a fluidity of power positions. Unlike normative prescriptions of biologically determined gender roles, "Switch" portrays these dynamics as subject to change according to dress and mannerisms. The polarized identities represented in each photograph reveal the different facets of each subject, and how they interact with one another.
In addition to ...