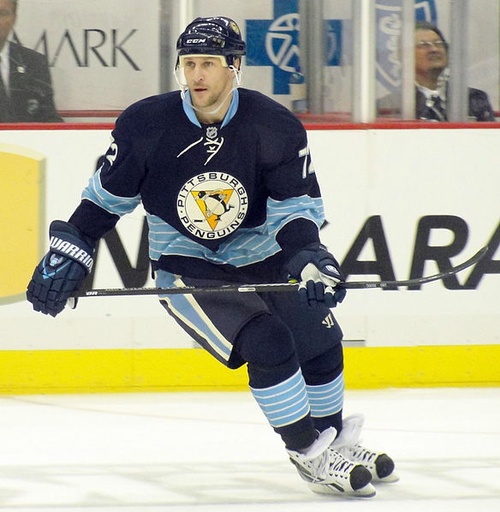 Photograph by Michael Miller.
What If Alexei Kovalev Had Been a Hockey Player?
A look back at the career of the most graceful question mark ever to don a pair of skates.
Alexei Kovalev, the man they called "l'Artiste," retired from the National Hockey League last week. He didn't hold a press conference. He didn't sit in front of a team logo and hold back tears for the cameras. With two goals and three assists in fourteen games for the Florida Panthers, and on the back of a month's worth of healthy scratches, the team had let him go. It was the third underwhelming turn with a different NHL team in the past four years for Kovalev, who did time in Ottawa and Pittsburgh before taking a year off to play for Atlant Moscow Oblast of the Kontinental Hockey League in 2011-12. The man who said he wanted to stick around until he was fifty saw himself out a decade ahead of schedule. Just like that, the Alexei Kovalev story was over.
There's a clip of Kovalev I must have watched dozens of times by now on YouTube. It's from the 2004 World Cup of Hockey, five minutes into the third period of a match between the US and Russia in St. Paul, Minnesota. The game is tied, one-one. The clip, the bit that is preserved, cuts in, like Milton's Paradise Lost, in medias res.
"...back into the middle, down the middle, the centering pass—Score! What a move by Kovalev!"
"Oh my gracious."
"Are you. Kidding. Me. Look at this goal, I can't believe it! You can't turn a—you can't turn someone inside-out like that, and then, even from the goal line, put it on the top shelf! That's not right!"
There's something about the reaction of the commentators that's sublime to me, the sheer shocked quality of the response. When faced with a really nice goal, the kind that ends up making the highlight reels and being remembered, there's a certain class of hockey announcer that will immediately sense the need for a matching quote and go for it, guys like Boston's Jack Edwards or Dallas' Daryl "Razor" Reaugh.
But this was a goal against the Americans, in an international tournament. It wasn't homerism. It was just a bunch of hockey fans at a game, seeing a man defy the laws of physics and actually step through the body of another man, a bunch of fans collectively losing their shit.
There was a reason that TSN named Kovalev as the fourth most-skilled player of all time when it did its countdown in 2010. He could do things that would make you say, "That's not right!", the way the crowd reacts in Semi-Pro when Will Ferrell invents the alley-oop. That was Alex Kovalev: a career full of invented moves, a one-man disappearing act, a Nightcrawler on the ice. Now-you-see-him-now-you-don't.
Some commentators have suggested that Kovalev's name should come up in future Hockey Hall of Fame discussions. Kovalev won a Stanley Cup in 1994 with the New York Rangers, something no Russian had ever done before. He put up over a thousand career points, and was an All-Star in 2001, 2003 and 2009, and All-Star Game MVP in 2009. He retired with more points than Maurice Richard and a points-per-game average within throwing distance of Ted Lindsay's. He had hands that would make a puppeteer jealous and Allen-Iversonesque ankle-breaking moves that Zdeno Chara probably still has nightmares about.
But for many people, it's hard to imagine him in the Hall. The main problem, I think, when it comes to discussing Alexei Kovalev's hockey career, is that Alexei Kovalev was not a hockey player.
I know what you're thinking. He was paid handsomely for many years by professional hockey teams to wear a suit to the hockey arena, to dress up in high-performance hockey equipment, to go out and skate around on a hockey rink, chasing after a hockey puck. To the untrained eye, that's all a hockey player is. But Kovalev was something else. You could see it, if you stared long enough and close enough, if you knew what to look for. You could hear it, when the commentators started to talk, when the cheap shots came out, as retired fourth-liners had their say.
The talk about Kovalev was always about what he wasn't. He wasn't a hockey player. He was a disappointment wrapped in a mystery wrapped in a legend. He was a man with a strength unthinkable to many of his peers, who had a vision for what was going to happen to the puck, and it always involved him.
He was a man with a pilot's license who did most of his flying in the airspace over the offensive zone. He was a man who, losing his helmet, could morph in front of the eyes of millions into Guy Lafleur, and whip la rondelle top shelf to prove it was really him.
He was a man who could dance on the ice, whom you could no more body-check than a flag in the breeze—and yet there he was, running over Darcy Tucker the way a bus might run over a schoolchild.
He was a man who once skated a seven-minute shift in the National Hockey League and not only survived, but came out of it with a goal for his trouble, thank you very much. And his peers could tell you: he was one of the most gifted men ever to carve a skateblade on an NHL ice surface.
And yet the story of Alex Kovalev will always be one of what ifs. What if he had the drive of someone else, the consistency of that other guy. What if he played like a third-liner whose minutes depended on it? What if he showed at the rink every day like it might be his last? What if he wasn't the cocky kid at the back of the classroom, mouthing off to the teacher, not bothering to study for the test? In its most basic formulation, the question is this: what if Alex Kovalev were a hockey player?
What if he were a hockey player, like they breed them out on the prairies where the wheat gets whipped by the wind, and not a prima-donna-ballerina-Russian-enigma straight from the Bolshoi Academy?
What if he were a hockey player, and not an enormous black stallion trying desperately to wrench itself free from the reins and buck its rider, the weight of a hockey-mad public digging in its uncomprehending spurs?
What if?
Kovalev had a few seasons that might be construed as delivering the goods. In 2000-01, playing on a line with Jaromir Jagr for the Pittsburgh Penguins, he scored forty-four goals, fifty-one assists and ninety-five points. He averaged nearly a point a game over the next two seasons, got traded twice and finally landed in Montreal, where he played for four more seasons before signing with the Ottawa Senators, at which point his career reached its long, final nosedive.
It was his playoff numbers with the bleu-blanc-rouge that were truly unimpeachable, though: in four trips to the dance over a six-year span that included the 2004-05 lockout, he put up seventeen goals and fourteen assists in thirty-three games—well above his career goals- and points-per-game numbers in the regular season or the playoffs.
The fact that he seemed to play his best on the biggest stage in the NHL, in the pressure cooker that is the island of Montreal during hockey's second season, was testament to the fact that Kovy was more of a moments guy than a stats guy.
Where was that goal-every-two-games pure finisher during the rest of his career? Many young talents will burn through their most impressive seasons in the first five years of their careers (see: Ovechkin, Alex; Selanne, Teemu; Hull, Brett) but Kovalev's best four seasons were (respectively) his ninth, fifteenth, eleventh and tenth.
Of course, he wasn't exactly a fine wine, either—the end of his career was a series of bad-to-worse landings every time he ended up somewhere new. From the end of his storied turn in Montreal to his brief, fruitless stint with the Florida Panthers, he put up a combined thirty-six goals and fifty-two assists in 165 games for the Senators, Penguins and Panthers, not counting the year and a half he spent back in Russia in the KHL.
So what does that make him? A career under-performer whose numbers jumped when he was paired with the right people? Of course, Jagr helped his numbers in Pittsburgh. But I think it was what it always seemed to be with Kovy: a question of motivation.
How else do you explain a man who, between October 30, 2009 and January 16, 2010—a span of thirty-five games with the Senators—scored just seven goals, knowing that those seven goals came courtesy of a three-goal game on December 12 and a four-goal game on January 3? Kovy was like a tap that you could turn on. The question was always how. But that, again, gets at it from the wrong angle, suggests Kovalev was just another hockey player. If you could get points for style, Kovalev would have been one of the all-time best.
It's a sort of truism that a goal attempt that doesn't end in a goal cannot be a highlight for the attacking player. The goal is the ultimate, the be-all and end-all of the offensive intent. There is nothing a skater can do on a play that will make it noteworthy enough to be remembered if he does not end it in a goal.
Try finding highlight clips on YouTube—of any forward—that feature them not scoring. Fights and bodychecks aside, they're close to non-existent. If the player hasn't scored, the play is a wash. Why remember it, unless the save was particularly spectacular? And in that case, it's the goalie's highlight, not the forward's.
Despite his 430 career goals—good for sixty-sixth all-time, although the Chicago Blackhawks' Marian Hossa, with whom he is tied, is likely to pass him soon—Kovalev was the human highlight reel of the unscored attempt. For every puck he put in the back of the net, he made three or four other dazzling plays that would have been sure highlights if only the finish had been there, a sort of word-on-the-tip-of-your-tongue feeling being played out by a Russian on skates, night after night.
It's particularly Kovalevian that one of his defining highlights didn't end up in the back of the net, and didn't even involve a shot, either. It was in a Montreal-Boston game. Between March 2007 and October 2008, the Habs ran roughshod all over their hated Beantown rivals, an unlikely period of brutal dominance that they could somehow never manage over their statistically much-worse rivals, the Toronto Maple Leafs.
This strange streak saw them beat the Bruins twelve straight times in the regular season over parts of three seasons, outscoring them fifty-two-twenty-two, to go along with a seven-game first-round victory in the 2008 playoffs. During that time, every new win over the Bruins felt like another foot wandered over a cliff. So long as they didn't look down, they could keep beating the Bruins forever.
It was in this spirit that Kovalev pulled the glove grab.
On January 22, 2008, in a game the Habs would win eight-two despite being outshot thirty-one-twenty-four, Kovy wheels into the offensive zone, dancing past Bruin defender Dennis Wideman as he aims to circle behind the net. But in the contact, his left glove flies off.
A hockey player would have fought to finish the play without a glove and grabbed a new one from the bench. At worst, he might take a second to grab his glove from the ice after the play had moved on, before jumping off the ice.
But Alex Kovalev is not a hockey player. He keeps skating, stops in front of Wideman and turns tail, the puck on a string. With a little breathing room, he slows, scoops up his glove with his free hand—and voila. As you were. Zdeno Chara charges in, but Kovalev is unfazed.
He doesn't score, but he doesn't have to. It's a little nyah-nyah to the Bruins, I-can-do-this-and-you-can't. It's just a tiny moment, a few seconds out of a game that never appeared on any score sheet. If you'd blinked you might have missed it during the actual game.
Yet it was all people were talking about in the sports radio call-in shows afterwards. That's why Kovalev was perfect for Montreal, a city where hockey is a religion—he was a man who made the small moments monumental, who was consistently missing the big picture.
There were other issues, of course—allegations of diving, of not being a team player, the time he nearly cost the Canadiens a playoff series by trying to play up a slash, his penchant for vigilante justice when slights, perceived or real, were not addressed by the officials.
There were the candid interviews he did in Russian, criticizing the team, or the coach, or the city, that always danced around the campfire of the real-or-invented discussion we had back home. There was the fact that he left by signing a free-agent contract with the Ottawa Senators, geographically the closest team to the Canadiens and ideologically possibly the furthest, a team whose fans reportedly moved on to care about other teams when they were struggling, a feat of apostasy unthinkable in the 514.
But we loved him. Alex Kovalev was a beautiful failure—and for a time, for Montrealers, he was our beautiful failure.
The CBC audio for Kovalev's 2004 World Cup goal against the Americans is markedly different from the American feed, highlighting veteran announcer Chris Cuthbert's confusion as much as Kovalev's grace.
But that was another feature of Kovalev's career—he was confusing. Half the time, you were bedazzled by his brain-defying moves, and half the time, you were left scratching your head, wondering where he was.
"And Russia breaks out, with Kovalev. Over the line, Alexei Kovalev, great move, oh, Kovalev, scores! Or did he? No light! But [referee] Paul Devorski says yes! Kovalev has scored a highlight reel goal… that may need video confirmation."
"I hope there's video, so we can watch it again!"