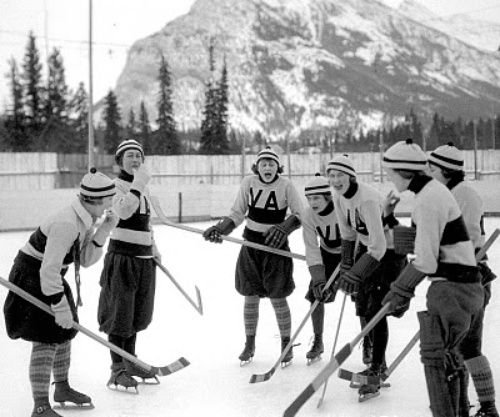 While the Women Watch
Does the lack of female analysts in hockey broadcasting reinforce sexism?
I grew up in a male-dominated arena. The majority of my twelve years of junior hockey were played on boys' teams, and I was often the only girl at the rink or in the dressing room. I was privy to a great deal of locker-room talk that didn't exactly hold women in high regard. And while I'd like to pretend my presence affected my teammates' view of women, or that I used my position to challenge their sexist remarks, most of the time I just joined in. I considered myself "one of the boys," as opposed to a "girl" who didn't understand sports. It was just playful banter, after all, and especially in the context of the hockey talk at the rink or on TV, it seemed normal. The only time I remember seeing women represented positively in hockey-related programming was every four years at the Olympics, and even then, their games were usually reported on or discussed by men.

I'm hardly the only one to notice this trend. Don Cherry's recent suggestion that female sports reporters shouldn't be allowed in the dressing-room press scrum at male hockey games has put sexism in sports broadcasting in the spotlight. But the lack of female voices in Canadian sports commentary has long been a problem. 

During the Stanley Cup Finals last year, the CBC did its part to further gender stereotypes when, in an attempt to attract more female viewers, it featured a show called While the Men Watch. Widely described as "ESPN meets Sex and the City," it only lasted a few episodes. The backlash from sports fans and commentators was immediate and widespread, and, in a takedown of the show, the Score blogger Ellen Etchingham said it wouldn't have been so offensive if there were other prominent roles for women in the hockey media. "Women have been covering sports on the local level for many, many years now," she wrote. "Women have written their way to prominence on the internet, but somehow they are still almost totally invisible in the national media." 

Mike Spry, a writer and co-founder of the sports blog the Barnstormer, describes the CBC's choice to feature While the Men Watch as horrific. When Spry and his colleagues started their blog, they made gender diversity among contributors a part of their mandate, publishing feminist writers like Stacey May Fowles and Natalie Walschots. He says sports networks are missing out on a big opportunity by not doing the same; for example, by not featuring more female personalities like Olympic-hockey-player-turned-CBC-correspondent Cassie Campbell-Pascall. 

Colour commentary is the goal for most athletes who pursue jobs on the air, and Campbell-Pascall became the first woman to do colour on Hockey Night In Canada by chance. It was October 14, 2006, her second day at the CBC, and longtime commentator Harry Neale got snowed in. Freshly retired from play, she had briefly covered women's hockey for TSN before CBC hired her as a sidelines reporter. "It was a bit of a shock for everyone," says Campbell-Pascall. Since then, she says, she's done colour commentary about thirty times, and the opportunities usually arise when she asks for them.

Campbell found the controversy surrounding While the Men Watch "kind of funny," and thinks most of the people who complained probably never watched the show. She thinks women who don't watch sports on their own, but spend a lot of time watching games with their significant others, was a good niche audience for CBC to pursue. Female sports fans, she says, don't need their own show: regardless of the gender of on-air personalities, these women watch Hockey Night in Canada. 

But Spry thinks there's room for change, especially since the CBC doesn't have any competition for hockey on Saturday nights. In his opinion, they should be willing to take more risks. "Even the most misogynistic troglodyte's not going turn off hockey because a woman is offering her opinion on a trade rumour," he says.

So I posed the question to Joel Darling, CBC Sports Director and former executive producer of HNIC. Why don't they feature Campbell more? Darling called Campbell "an important part of our commentators," and when I asked him if the CBC plans to employ more female analysts in the future, he responded that they do make an effort, and referenced Campbell's March 30 appearance at the Canadiens-Rangers game, her second as an analyst. 
Campbell-Pascall, Beth Mowins at ESPN and New Jersey Devils colour commentator Sherry Ross might be the beginning of a welcome shift. The addition of Andi Petrillo as HNIC's first female full time in-studio host is also a good sign. Campbell-Pascall says there are also a lot of women behind the scenes at the CBC, like Julie Bristow, an executive director of studio and unscripted programming who helps run HNIC.  According to Campbell-Pascall, an influx of other retired women's hockey players will hasten the change. She points to former teammates Tessa Bonhomme, at Leafs TV, and Cheryl Pounder, a women's hockey analyst for TSN. "They're educated. They're smart. They're great hockey people," she says. But, she admits, the shift is probably happening more slowly than most female sports fans hoped.
A January 16 discussion on the Barnstormer focused on the culture of misogyny in sports, a conversation many contributors thought was missing from mainstream sports journalism. "I think we all had a very emotional response to that conversation," says Spry. He says if broadcasters don't change soon, it will cost them the next generation of socially progressive viewers.  "I don't know what they're afraid of," he says, "especially the CBC." 

"I'd love to see more colour people being women in the NHL," says Campbell-Pascall. "It would be great. But it's kind of the way it is now and you just kind of hope." I wonder, as I watch another panel of white middle-aged male experts, is hoping enough?