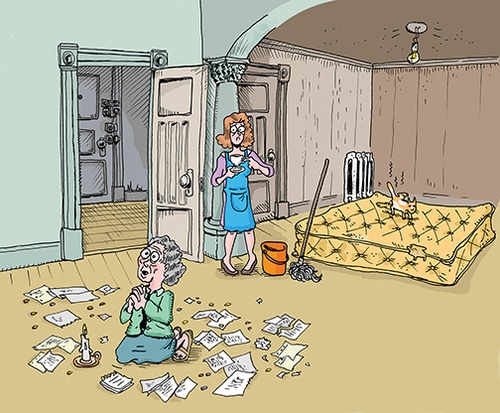 Illustration by Michel Hellman.
How to Clean a Conspiracy Theorist's Apartment
She didn't sound like a serial killer on the phone.
SHE DIDN'T SOUND LIKE a serial killer on the phone. She hired me, off Craigslist, to clean her home near the southeast corner of Jeanne-Mance Park. I needed quick cash, so I chose to ignore the flashes of Miss Havisham as she led me through her grimy sunroom. Paint was peeling. Small cobwebs were forming. Dust covered everything. I asked her where I should put my coat.
"You'll have to forgive me," she said. "I've been working through a lot of childhood memories recently, of when I used to belong to a Vatican satanic cult."
"Right. Of course," I said, breathing in cat piss. "So ... should I just put my coat on this chair?"
I followed her through the house, trying to ignore the signs that a B-movie might later be made about my tragic demise here. It's funny what you'll convince yourself is "safe ...