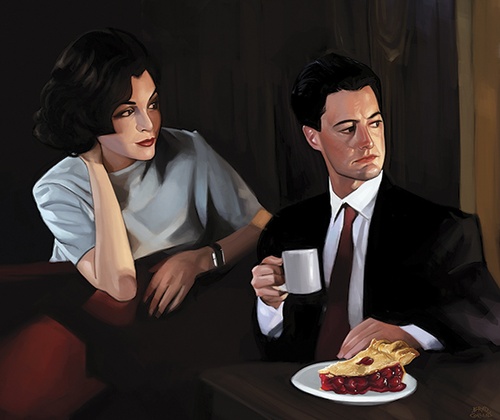 Illustration by Brad Collins.
A Fish in the Percolator
On Andy Burns' fan-pleaser Wrapped in Plastic: Twin Peaks.
"SHE'S DEAD. WRAPPED IN PLASTIC."

In a town called Twin Peaks, a horrified Pete Martell drawled these words to Sheriff Harry Truman. Pete had been ambling along the beach with his fishing rod, the characteristic Angelo Badalamenti soundtrack foreshadowing his discovery of the blue-lipped body of Homecoming Queen Laura Palmer.
That name would become familiar to North American TV audiences. The creation of filmmaker David Lynch and TV writer Mark Frost, Twin Peaks premiered in April 1990, and "Who killed Laura Palmer?" was suddenly a t-shirt slogan. In Wrapped in Plastic: Twin Peaks (ECW Press), pop culture writer Andy Burns pays homage to the series that he claims was "the first to bring the style and approach of art house cinema into the living rooms of North America." Burns' central argument is that Twin Peaks "redefined the boundaries of network TV, creating one of the most influential series in ...