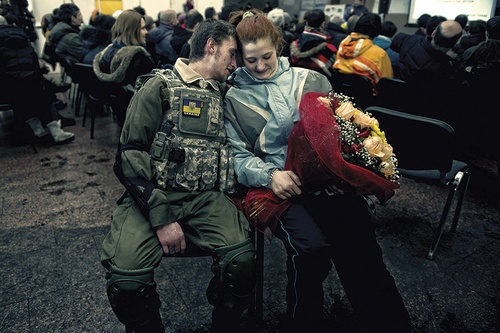 The Maidan
Photographs from the "Revolution of Dignity."
INDEPENDENCE SQUARE, IN THE HEART OF KYIV, UKRAINE, became the centre of the "Revolution of Dignity" during the winter months of 2013–2014. People from all corners of Ukraine joined together to express their unwillingness to live under a corrupt regime. This area, also known as the Maidan, turned into a micro-city; everyone had a role and worked together to keep each other safe, warm and fed. But after two months of standing peacefully with little acknowledgment from the government, there was only so much that the people could take. "How much water could this helmet hold?" one protestor said, pointing to the army-green helmet he was holding by its strap. "Maybe one litre. But after that, it will start to overflow."
A violent crackdown by the government left nearly one hundred protesters dead. Corrupt president Viktor Yanukovych was eventually ousted, but it was only a small victory in what ...