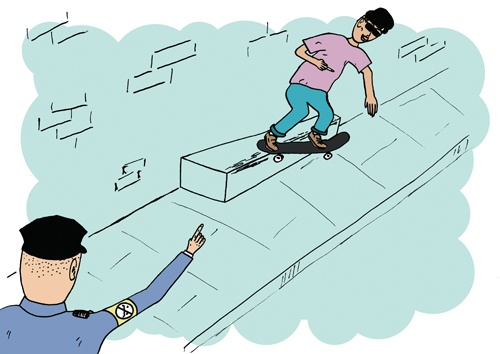 Illustration by Liam Ashley Clark
Ollies in Outremont
One weekday afternoon in August 1999, when I was a high school student, my friend Akber and I were skateboarding in Place de la Paix, a then-unofficial skatepark in downtown Montreal. Two police officers arrived soundlessly on bikes. We expected to receive a warning since we hadn't been there long, and the park was quiet that day—we were bothering no one. Citing a noise complaint, they took our IDs and issued us tickets. We were each fined $65 for disturbing the peace. 

We were shocked. The black granite ledges that edged Place de la Paix were too tall to be steps, too short to be benches; like so much of Montreal's terrain and architecture, they seemed made for us. My friends and I skirted the pavement in thunderous packs, threading the traffic of Sainte-Catherine, or swerving between tourists at city hall.

We hurled our bodies over the ...