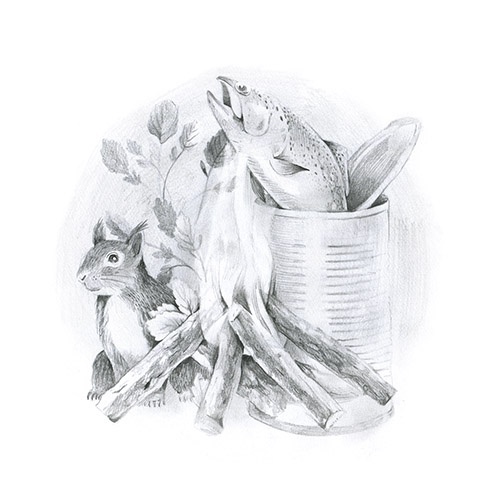 Illustration by Mathilde Cinq-Mars.
If You Can't Take the Heat
A survivalist tests recipes for the apocalypse.
Editor's note: Last November, the owners of the high-end Montreal restaurant Joe Beef—chefs who frequently hosted the late culinary star Anthony Bourdain, not to mention Barack Obama, when he came to town—published a cookbook for the end of the world. Joe Beef: Surviving the Apocalypse is "a book about doing it yourself, about making it on your own, and about living—or at least surviving—in style."
Every good review is written by an expert in the field. So we asked Jen Moses, a wilderness guide renowned for her survival skills, to try out the recipes, using the most realistic post-apocalyptic conditions possible. Moses lives near Dingwall, at the northern tip of Cape Breton. 
She enlisted her children, ages eight, twelve and sixteen, to help. What follows are her emailed dispatches, printed nearly verbatim.
March 12: I read the ingredients list mentioned in the book promo: "Think ...