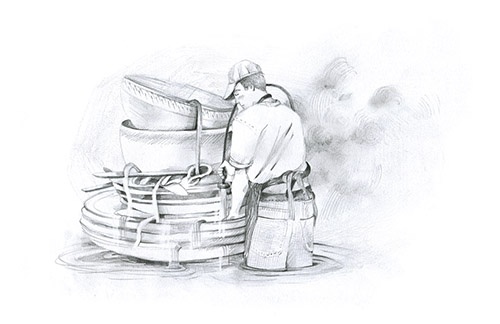 Illustration by Mathilde Cinq-Mars.
Melting Pot
Letter from Montreal.
No doubt I was making a mess of things. It was half an hour until close on my first dishwashing shift at a Rosemont smokehouse, and the pots, the vats, the pans all piled up reproachfully in the sink, covered with stubborn smears of Carolina barbecue and Quebecois gravy.  As I hunched over, scrubbing, the odd bead of sweat dripping onto the sponge, I noticed a goopy yellow liquid with strands of green oozing up from the drain; judging by the colour, a mixture of mac'n'cheese and spinach had clogged the sink. I was jerkily thrusting the plunger when suddenly the chef turned to me and shouted a question. 
I was agog, as if cold-called in lecture; I was light-headed. It was July at the height of the heat wave, with temperatures cresting at 40 degrees with the humidity. Was it the heat? Or did I just not ...