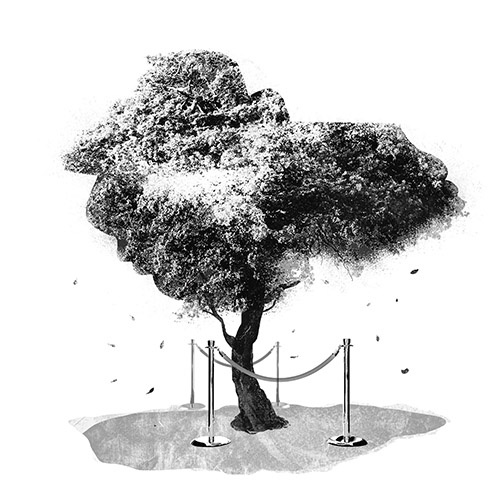 Illustration by Dushan Milic.
In the Shadow of a Doubt
What was a climate-change denier doing on the board of Canada's most famous science museum?
From his part-time home in Palm Springs, Jim Silye explains his position on climate change. "Everything has been good, I believe, in green bins, yellow bins, blue bins, black bins, cleaning out the oceans and all that stuff," says Silye, a retired oil executive and former member of Parliament. But, he says, "don't use absolute terms to say climate change is man-made."
For the past eight years—until June 30 of this year– Silye has been on the board of trustees of the Crown corporation that runs three federal science museums in Ottawa. Americans have tried to remove a climate-change denier from their own museum boards, but Canadians have not paid attention to Silye. For him, nonhuman causes—tectonic shifts, balls of fire from the sun, and so forth—could be what's disturbing the troposphere.  "You're an idiot if you question it, so fine, call me an ...