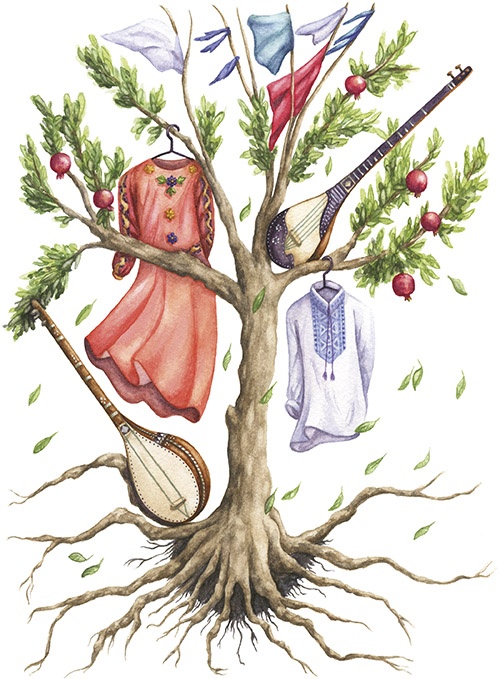 Illustration by Josianne Dufour.
Living Prayers
China is attempting a modern-day genocide, but Uyghurs living in Canada won't let their culture be erased.
A woman named Ayhan watched about forty children climb onto a stage in a Mississauga community centre one Sunday last summer. She felt nostalgic; she recognized their clothing from her own childhood. The kids wore white kaniway könglek, shirts with colourful embroidery cross-stitched along their necklines, plackets and cuffs, and some had golden-trimmed square caps called doppa. 
The children began singing two national anthems: Canada's and that of the East Turkestan Republic, a former country in central Asia. The land is home to the Uyghur people, who twice succeeded in winning short-lived independence from China in the early twentieth century. Now, with those borders long dissolved, they live in the northwestern Chinese province of Xinjiang. Ayhan is from there, but she can't go back.
The anthems marked the start of the 2018 graduation ceremony of the Uyghur Canadian Learning Centre. On Sundays, Uyghur children from all over Toronto ...