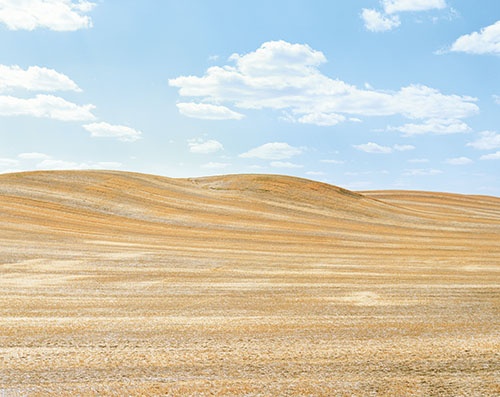 Photographs by Kyler Zeleny.
Bought the Farm
Small family farms are disappearing, but not for the reasons people tend to think. As investors rush in, farmers can't hold on to their land.
It was late October and I was driving along a turkey trail in western Manitoba with my father on our habitual crop tour. The autumn air swept bitterly over the prairie, threatening to drop the world into winter. Already an early blizzard had passed through, leaving slashes of dirty snow over the brown crumb of the harvested fields. Only a few remaining squares of soybean, ready to be reaped, rattled in the breeze. 
These were familiar, reassuring sights. I travel for work now, but as often as possible I return to my parents' farm in Manitoba's heavily agricultural southwest, where for years I lived and worked with the rest of my family. One-handing the steering wheel through slick patches of rotten mud, my father brought me up to speed on the local gossip: a laundry list of farm sales, retirements, and deaths. For a place renowned for nothing ever ...