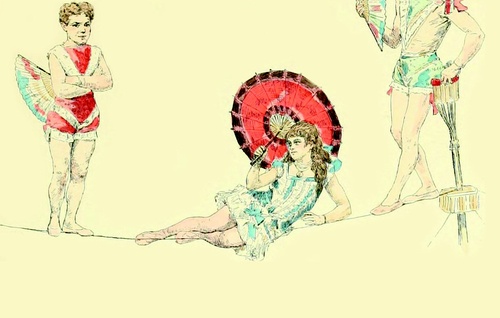 Art by Jules Garnier (1889) via Flickr.
Vanishing Act
Letter from Montreal.
After spending months mostly inside, the border between the skin of my thighs and the fabric of my couch had become indistinct. One Saturday afternoon in May, I finally took this as my cue to venture outside. 
It wasn't an original idea; the warm weather had drawn Montrealers out in droves. Once outdoors in the sun, I was tempted to stay there, but it wasn't the euphoria I had expected. I was wary of the proximity of strangers. Locked into a cycle of anxious thoughts and craving a return to privacy, I ducked into an alley to make my escape.
To my surprise, I instead found myself face to face with twenty or so people in wild costumes. They skipped, laughed and shouted down the alley to the tune of "Twist and Shout," which blared from the speakers accompanying their socially distanced fleet. A clown in Victorian face ...