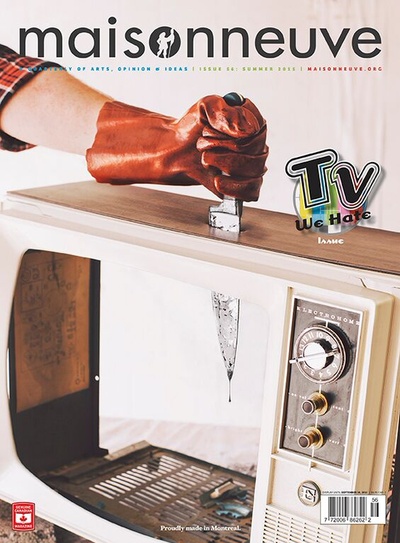 Our Summer 2015 Issue
June 10, 2015
The court of public opinion cuts TV shows apart on a daily basis. Our relationship to serial entertainment is impossible to parse from the discourse it inspires. In an era when our taste in television often comes up more than our taste in music, film or novels, we inarguably love TV, but we love to hate it, too. In our TV We Hate package: 

Daniel Viola on how Lost lost the plot.
John Semley pulls back the skin of Hannibal.
Laura Wright explores how women are used as props—and not seen as people—on television.
Adam Nayman explains his dislike for both Seinfeld and Jerry Seinfeld. 
Maija Kappler says not to get too excited about the reboot of Twin Peaks.
And:

Chantal Braganza explores how losing a mother tongue is akin to losing a part of yourself. 
Lyndsie Bourgon looks at the sexism that takes over Calgary's streets during Stampede season. 
Arielle Piat-Sauvé investigates Canada's new prostitution laws and how they put workers in danger.
Michelle Siu looks at the lives of migrant workers in Canada. 
Melissa Bull translates Nicolas Langelier's Notes from Mile End.
Shannon Tien reviews the new English translation of Melody: Story of a Nude Dancer.
Sara Black McCulloch goes for a walk to remember. 

PLUS new fiction from Sofi Papamarko, poetry by Laura Ritland, comic by Corinne Mucha and more!

On newsstands June 12. Subscribe here!