The Conversationalist: Interview With Pierre Minn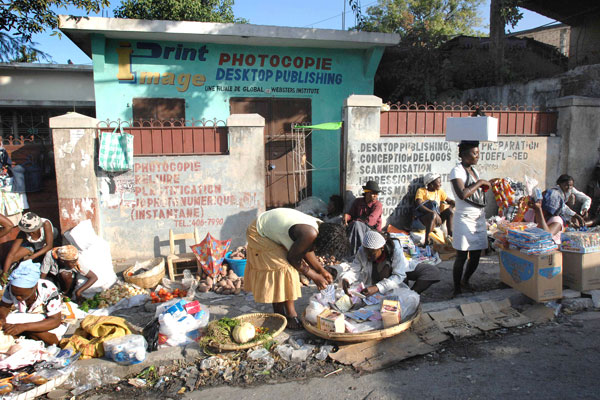 Haitian women sell their goods at a roadside market.
Haiti is not a country that's best known for its artistic output. In fact, the images of Haiti that most familiar, at least in recent memory, are probably the scenes of destruction that were all over the news following January 2010's 7.0 magnitude earthquake. But Pierre Minn thinks that needs to change. The Montrealler, who is currently completing at PhD in anthropology at McGill, is also the curator behind an exhibition of Haitian art called "Haiti: Making the Magic Work." Comprised of three disparate styles of art—brightly sequined Vodou spirit flags, metal sculptures made from old oil drums, and folk paintings—the show is currently on display at Espace les neuf soeurs in Pointe St. Charles. Minn told Maisonneuve the story behind his most recent project.
Amelia Schonbek: So what's your connection to Haiti? How did you come to curate this exhibition?
Pierre Minn: I've been travelling to Haiti since 1997 to do research, and I since then I've lived there for about two and a half years. In 2007 some friends were holding a Haiti fundraiser, and I thought, 'Oh, I could bring back some pieces of art and we could sell them.' And we sold everything I'd brought in a day. So I realized that this could be an effective tool for fundraising, something I had not been involved in significantly before. But I started realizing that I needed to be contributing in this way.
Since then, I've been meeting artists, finding art cooperatives, and basically bringing back as much art as I can for different fundraisers. I've sold art [to benefit] rural hospitals, development projects, and currently, for a group that supports peasant cooperatives, market women's associations, and other rural initiatives. My research is on international aid to Haiti, so I've had a chance to see a lot of different groups, and I'm very careful about who I choose to fundraise for. There are certain groups doing tremendous work, but they don't get a lot of recognition, and it's hard for them to get resources.
AS: Hey, do you ever listen to This American Life?
PM: Yeah, the episode about the mango farmer, right?
AS: Yeah! I just listened to that show recently. So, so interesting.
PM: One of the things that came out in that show, and that I'm also trying to highlight, is that a lot of the time when we think about Haiti, the people of Haiti are presented as victims who are waiting for outside help. When in fact they are making enormous efforts—and have been since before the [January 2010] earthquake—to improve their situation, to organize in their communities, to try to get the resources they need. Highlighting that has been important in this exhibition—showing the work and the capacity of these artisans.
AS: Have you been back to Haiti since the earthquake?
PM: Yes, twice. In January [2010], shortly after the quake, and also last June and July.
AS: Can you talk a bit about the impact it had on art in the country?
PM: A lot of the artists had their work interrupted. Especially those situated in the quake zone. There were tremendous losses, in addition to the tremendous losses of life, losses in terms of art and architecture.

In terms of the way art production has changed, I've seen a lot of very dramatic paintings of the earthquake—it's showing up in visual art for sure. For example, people making paintings of destroyed buildings …. It's definitely entered into the popular and performing arts, in terms of songs, in terms of storytelling and popular culture.
AS: Looking at what's on the walls, there are really a lot of different aesthetics represented in the exhibition.
PM: It's clear, if you look around, yeah, there are a lot of different aesthetics represented. And Haiti is very much at a crossroads of a number of different influences, historically, geographically, economically, politically. You can see them if you pick apart any of these individual works.
AS: How does your research and work in anthropology inform the decisions you make when you curate an exhibit like this one?
PM: My field of specialization is medical anthropology, and I did my doctoral research on international medical aid in northern Haiti from 2007-2009. I've always thought of the art as a parallel project. It puts me in contact with different people than the health workers and nurses and doctors that I'm with during my research.

But at the same time, in anthropology, because so much classical anthropology was written, for instance, about Haitian religion, I had to study a lot of the background that shapes the creations of pieces like these spirit flags. And so I think one of the reasons I'm attracted to them is because I've read a lot about the religious system that they belong to.

The paintings I chose, especially the ones by Jean Emmanuel ... I've been moved by his work because it tells us about what's happening in Haiti today. A lot of painters in Haiti work with very classic themes that repeat themselves—landscapes, markets the countryside, or a village—these idealized scenes of life. They can be really beautiful, but they're part of a movement that developed in the 40s and 50s. What struck me about [Emmanuel's] art is that it's very contemporary, but at the same time you see some of the best aspects of Haitian folk painting in his work—the attention to detail, the innovative composition, the brightness of the colours—they're also a historical record of what's happening today, in 2010, and I find that really compelling as well.
AS: What have the responses been to the exhibit?
PM: Very positive. One of the neat things about doing this in Point St. Charles is that I've had a lot of people come in to the exhibit who live in the neighbourhood who just see the door open and walk in, and most of them have never seen Haitian art before. Everyone's heard about Haiti, especially this year when there was a lot of media coverage, and are aware of one aspect of the situation, but many have never seen any Haitian visual art. I think they're really excited to see another side of the country.
"Haiti: Making the Magic Work" is up at Espace les neuf sœurs (1900 Wellington) through October 10. The gallery is open by appointment during the week, and from 11 a.m. to 3 p.m. on Saturdays and Sundays.
Related on maisonneuve.org:
—Shockwave
—Disaster Myths
—Mean Streets
Subscribe — Follow Maisy on Twitter — Like Maisy on Facebook